Knowing (stylized as KNOW1NG) is a 2009 science fiction mystery thriller film directed by Alex Proyas and starring Nicolas Cage. The project was originally attached to a number of directors under Columbia Pictures, but it was placed in turnaround and eventually picked up by Escape Artists. Production was financially backed by Summit Entertainment. Knowing was filmed in Docklands Studios Melbourne, Australia, using various locations to represent the film's Boston-area setting.
Purchase KNOWING on Ultra HD Blu-ray Today!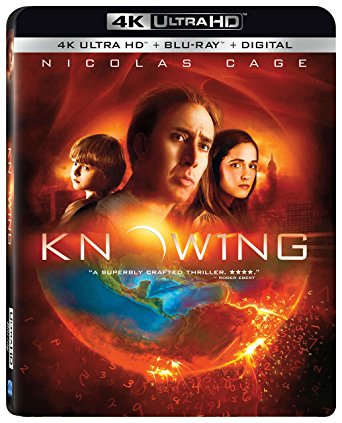 THE MOVIE:
The film starts fairly simple. In 1959, a group of students decide to place their visions of the future (in the form of drawings) into a 'time capsule'. A girl (a creepy girl, if I might add) by the name of Lucinda Embry writes down a series of numbers. Those numbers get placed into the 'time capsule.' As weird as that may sound this becomes a big part of the film. We Flash Forward fifty years and we see John Koestler (Nicolas Cage) and his son Caleb receiving the envelope in which Lucinda had placed the numbers. That night, Cage plays with the numbers, and makes a discovery. After an intense plane crash scene, the viewer is, in my opinion just as shocked as Cage's character. The numbers and the girl are more then what they seem… And what comes next may very well lead to death or salvation. Now I don't want to give too much away about this film as I'd like for viewers to enjoy it for themselves. There are certain surprises that I will not reveal and I know you are probably wondering "What kind of review is this?" Well, it's my review.
Moving on – the film couldn't have made it through without the main star of the film, Nicolas Cage, who manages to do a nice job with the role. He plays the typical character that we are used to seeing him portray. But that character simply seems fitting for the role. There was a surprisingly good performance by Chandler Catenbury. I won't say an Oscar-worthy performance, but Cage definitely turned in one of his better performances.
I don't have a complaint with the ending. I found it rather refreshing, although a lot of folks might disagree. I know it wasn't what was expected. The film did seem to be building up to something more. But as always there will be some who are happy with an ending and some who are not. Luckily, I was one of the pleased viewers this time. I will keep the ending to myself, or else where's the fun in watching the flick right? I am going to leave it up to the viewers to check it out.
VIDEO QUALITY:
The Ultra HD Blu-ray of Knowing brings lots of improvements and perhaps the best we're ever going to get for this title. It is however a digital intermediate 2k while the VFX was rendered in 2k but the film was shot in 4k. The film looks great tho and likely largely in part to the 12 bit Dolby Vision goodness.
AUDIO QUALITY:
Gotta love a Dolby Atmos track and Knowing comes to UHD with just that! The regular blu-ray disc has a DTS HD Master 5.1 track and while that is great and all, it's the 4k ultra HD blu-ray that we're most excited about in the audio department. Knowing is almost like a slow burn sci-fi so in that it doesn't take a lot of work to handle this load, but when the score and sound effects kick in the atmos track really keeps things lively! Immersion at it's finest.
SUPPLEMENTS:
Director's Audio Commentary: With Knowing you can't help but feel a hint of some religious undertones. I have to agree with the director's view. The guy leading him just could not take a hint. I found this commentary to be useful but somewhat annoying. The unnamed guy in the commentary, accompanying Proyas, was good at getting the director to talk about his view of the film. Every so often this companion would bring up religion. I found this annoying, but the director kept cool.
Visions of the Apocalypse: This feature deals with the mythology and ideas of the film.
Knowing All: The Making of a Futuristic Thriller: Another feature about the script and ideas taken from the film.
5 Things Worth Knowing About Knowing: (4k Disc Only) While all the special features are on the 4k disc this feature is only on the 4k disc and it runs about no more than 5 minutes. It feels more like your typical informative countdown youtube video or one of those film fact montages they play before trailers in theaters.
The film was released on March 20, 2009, in the United States. The DVD and Blu-ray media were released on July 7, 2009. Knowing grossed $186.5 million at the worldwide box office, plus $27.6 million with home video sales, against a production budget of $50 million. It met with mixed reviews, with praise for the acting performances, visual style and atmosphere, but criticism over some implausibilities. – wikipedia