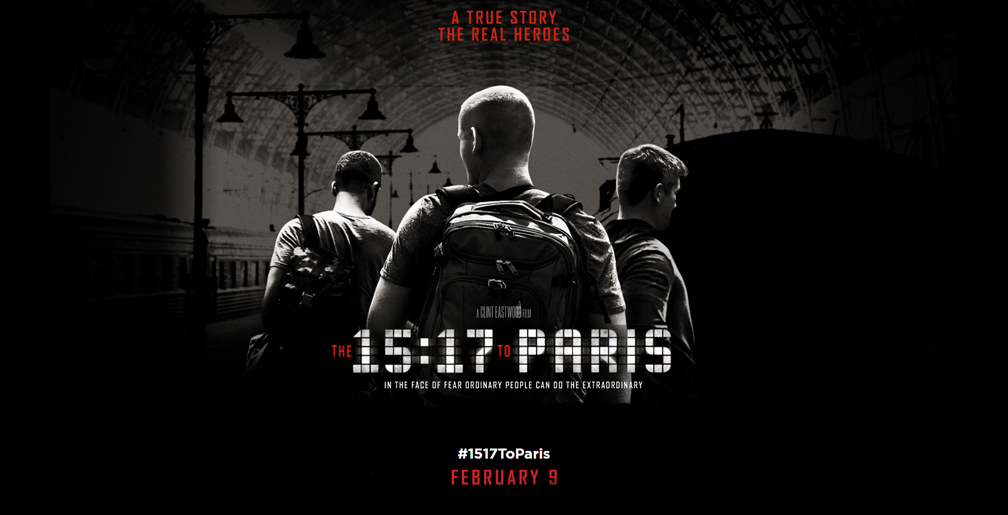 From Academy Award winning director* Clint Eastwood comes "The 15:17 to Paris," which tells the real-life story of three men whose brave act turned them into heroes during a highspeed railway ride.

The heroic trio is comprised of Anthony Sadler, Oregon National Guardsman Alek Skarlatos and U.S. Air Force Airman First Class Spencer Stone, who play themselves in the film. Starring alongside them are Jenna Fischer ("Hall Pass," TV's "The Office"), Judy Greer ("War for the Planet of the Apes"), Ray Corasani (TV's upcoming "The Long Road Home"), PJ Byrne ("The Wolf of Wall Street"), Tony Hale (TV's "Veep") and Thomas Lennon ("Transformers: Age of Extinction"). Paul-Mikél Williams plays the younger Anthony, Bryce Gheisar plays the younger Alek and William Jennings plays the younger Spencer.

Eastwood ("Sully," "American Sniper") directs from a screenplay by Dorothy Blyskal, based on the book by Anthony Sadler, Alek Skarlatos, Spencer Stone and Jeffrey E. Stern. Eastwood also produces the film, along with Tim Moore, Kristina Rivera and Jessica Meier.  The film's executive producer is Bruce Berman.

Own it Early on Digital on May 1

 Blu-ray debuts on May 22
Get your Copy of THE 15:17 TO PARIS on 4K UHD Blu-ray from Amazon Today!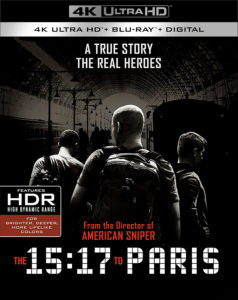 Get your Copy of THE 15:17 TO PARIS on Blu-ray from Amazon Today!