Up in Smoke is a 1978 American stoner comedy film directed by Lou Adler and Cheech & Chong's first feature-length film. It stars Cheech Marin, Tommy Chong, Edie Adams, Strother Martin, Stacy Keach, and Tom Skerritt.
Purchase Cheech and Chong UP IN SMOKE on Blu-ray Today!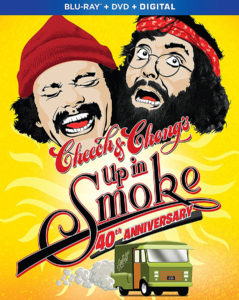 THE MOVIE:

What can be said about one of the most iconic comedies of all time? Cheech and Chong's UP IN SMOKE is iconic in that it created the stoner comedy sub-genre that still exists to this day. Cheech and Chong were already touring the Country as a duo with their comedy before re-materializing much of it to make this movie. That being said there are plenty of funny moments that were well tested through their early success both on the stage and on Vinyl's, tapes, cd's (to come later) etc. and if you've never seen this film even without being a smoker you can find lots of hilarity through out.
My personal favorite is that of NEXT MOVIE which is also available now on blu-ray from Shout Factory. I would have to even go as far as to say all Cheech and Chong movies are great entertainment except for The Corsican Brothers. Ha. Be sure to check out STILL SMOKIN' , NICE DREAMS, and THINGS ARE TOUGH ALL OVER.
Cheech and Chong's UP IN SMOKE follows the two as they randomly meet on the highway, get deported, and not long after they unknowingly smuggle a van made of marijuana from Mexico to L.A. while Sgt. Stedenko is chasing along hot on their trail.
VIDEO QUALITY:

Cheech and Chong UP IN SMOKE looks better than ever and whilst that can be an easy task with a first to blu-ray release it's still to be said that the film transfer for this type of film is quite nice. In fact it'll likely blow your socks off as here is yet another very old release that rivals the video quality of films being produced today. We really got a treat with this one, and although its taken far too long to come to blu-ray perhaps the wait was well worth it. Let's hope STILL SMOKIN' can pick up where UP IN SMOKE leaves off.
AUDIO QUALITY:

Cheech and Chong UP IN SMOKE hits blu-ray for the first time ever with a 5.1 DTS HD Master Audio Track. Thank the heavens Paramount has finally released this comedy classic and what with the music, scores, sound effects (good for the time) we finally have it and with an HD Master audio track to boot. The film comes with Dolby Digital audio tracks for French, Spanish, and Portuguese. (mono)
SUPPLEMENTS:
The Blu-ray Combo Pack features a brand new mini documentary entitled "How Pedro Met the Man: Up In Smoke at 40," which follows the pair's history. We also learn of the origins and impact of the film over the course of 40 years. Packed with new interviews with Cheech Marin, Tommy Chong and producer/director Lou Adler make for a nice recollection.
The combo pack comes with the blu-ray, dvd, and digital copy.
Commentary by Cheech Marin and director Lou Adler
How Pedro Met the Man: Up In Smoke at 40-NEW!
Roach Clips with Optional Commentary (deleted scenes)
Lighting It Up: A Look Back at Up In Smoke
"Earache My Eye" featuring Alice Bowie: Animated Music Video
Cheech & Chong's "The Man Song"
Vintage Radio Spots
Theatrical Trailer
Cheech & Chong had been a counterculture comedy team for about ten years before they started reworking some of their material for their first film. Much of the film was shot in Los Angeles, California, including scenes set in Tijuana, while scenes set on the Mexican border were actually filmed at the border in Yuma, Arizona.