FATHER FIGURES REVIEW
The Movie

Video Quality

Audio Quality

Supplements
Owen Wilson ("The Grand Budapest Hotel," "Zoolander 2") and Ed Helms ("The Hangover" films, "We're the Millers") star in the Alcon Entertainment comedy "Father Figures," marking the directorial debut of veteran cinematographer Lawrence Sher ("The Hangover" films). Wilson and Helms are Kyle and Peter Reynolds, brothers whose eccentric mother raised them to believe their father had died when they were young. When they discover this to be a lie, they set out together to find their real father, and end up learning more about their mother than they probably ever wanted to know.
Purchase FATHER FIGURES on Blu-ray Today!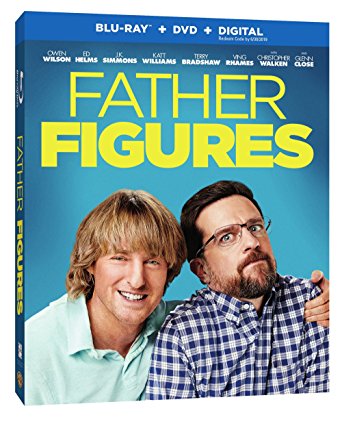 THE MOVIE:
FATHER FIGURES is a film where two fraternal twin brothers search for their long lost father after their mother admits that due to her promiscuous past that she doesn't really know who their father really is. Owen Wilson and Ed Helms, two stars often attached to comedies are not enough to save the film from coincidentally no pun intended also not being able to find out it's true identity. Is this a comedy or a drama? This isn't to say the film falls short of any enjoyment though as their is enough witty dialogue and shenanigans to limp it a long until the few more laugh out loud moments the film has. The bit with Ving Rhames' introduction is some hilarious dialogue.
Lawrence Sher makes his directing debut, and while he has previously done amazing work as a cinematographer one can only hope that this film's setbacks with audiences world-wide falls more on the script that his directing ability as he has always provided wonderful shots and camera work in the past that he may be a new name to watch out for under the right circumstances.
VIDEO QUALITY:
FATHER FIGURES releases on to blu-ray in a 1080p transfer that is fitting to the release with no major complaints and as mentioned earlier first time directorial debut of famous cinematographer Lawrence Sher can definitely assist in making for some beautiful shots that shine all the more in blu-ray quality. The dark night scenes even show off quite well in regards to black levels.
AUDIO QUALITY:
FATHER FIGURES releases onto blu-ray with a DTS HD Master 5.1 audio track that is a front heavy score for your set up and accomplishes the film quite well. This is most often the case with dialogue driven movies, and it can be quite hard to really do it wrong while having a DTS HD Master track.
SUPPLEMENTS:
An audio commentary by the Director might have been nice but never the less we are left with very few special features.
Deleted Scenes – A surprising 11 deleted scenes here. A few are very funny and make you wonder why not left in the film, but I guess something had to get cut for time wise. One particular scene where Ed Helm's character visits his ex-wife's to pick up his son is quite hilarious dialogue, but I suppose it ending with a cancer joke might have been why it was left out.
Hilarious Gag Reel – A decent gag reel and look behind the scenes for the star studded film