Celebrates the birth of show business, and tells of a visionary who rose from nothing to create a spectacle that became a worldwide sensation..
Purchase THE GREATEST SHOWMAN on Ultra HD Blu-ray Today!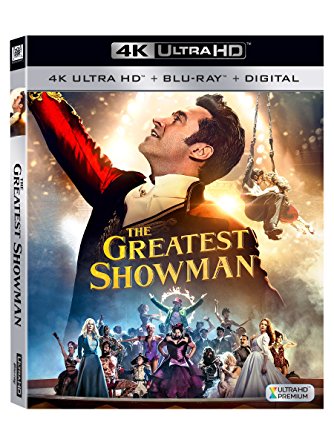 THE MOVIE:
Having not seen the movie in theaters, but being interested to see it it was a pleasure to get the chance to review THE GREATEST SHOWMAN. The film did quite well at the box office and for some it was a bit more then what was expected. At first glance many thought it was going to be a straight up biopic of P.T. Barnum of Barnum and Bailey Circus fame. However what we got was perhaps likely only 10% or less the true life of P.T. Barnum and more so just a new imagination while using his namesake.
It's no secret that THE GREATEST SHOWMAN is a musical and a much better outing at that for Hugh Jackman this his last singing performance. THE GREATEST SHOWMAN while likely hard to transplant many into the world it creates is that of prestige, charm and a pop like pulse that'll have you equally excited and impressed as the story unfolds no matter how silly at times it may actually be.
Zendaya comtinues to impress hot off the heals of Spiderman Homecoming, but in THE GREATEST SHOWMAN her role had a bit more meat on the bones. Her trapeze stunts and musical number with Zac efron is amazing, and even more insane that she did all her own stunts!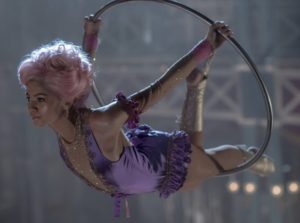 Rebecca Ferguson is an absolute scene stealer and you'll quickly think you are watching American Idol or The Voice in that her singing performances will give you goosebumps, tho perhaps the real credit goes to the dubbed in singer of Loren Allred. Never the less by far the best synced singer of any dub is that of Ferguson and while you may not recognize this Swedish starlet, she is a rising star to come with her recent casts in the previous Mission Impossible and additionally in LIFE. We will get to see her next in Mission Impossible Fallout.
One might wonder why to gush over her, but given her background in music only makes this performance all the more impressive and she did in fact sing to the extras while auditioning. If you can get past the plot that you can likely predict, and lose yourself in the film disconnecting the fact that the music in itself is not of the time period then you will find yourself a grand ole time.
VIDEO QUALITY:
The Ultra HD Blu-ray shines in the beautiful scenery of the film, wardrobes, and barrage of "adventurous and interesting" people. A vivacious color palette that allows the brights to shine through deep and dark in 4k resolution with HDR10. You can't go wrong with this disc.
AUDIO QUALITY:
A musical must have kick ass audio or you flat out done it dead wrong. THE GREATEST SHOWMAN is no victim to bad audio or selections in that the Ultra HD Blu-ray comes with a heart pounding, foot thumping, Dolby Atomos track that straight up rocks. The Blu-ray disc even comes with a 7.1 DTS HD Master audio track.
SUPPLEMENTS:
Alamo Drafthouse can attest that sing-along viewings are all the rage. Who is old enough to remember the sing-along disney vhs versions back in the days? THE GREATEST SHOWMAN comes to blu-ray including a sing-along version of the film as well.
Sing Along
Audio Commentary by Michael Gracey
The Family Behind The Greatest Showman
The Songs
The Spectacle
Concept Art
Storyboards
Galleries
Theatrical Trailers
Some will call Barnum's wide collection of oddities, a freak show; however, when the obsessed showman gambles everything on the opera singer Jenny Lind to appeal to a high-brow audience, he will somehow lose sight of the most important aspect of his life: his family. -Nick Riganas