If the LEGO Star Wars Solo set announcement earlier this week wasn't enough for you, LEGO Systems, Inc., in partnership with Warner Bros. Consumer Products have announced a collection of sets inspired by the Wizarding World. The sets which will be available in the second half of 2018, will let fans recreate storylines from both Harry Potter™ and Fantastic Beasts in LEGO form and feature a cast of fan-favorite wizards, Muggles and magical creatures in LEGO form – from Harry Potter, Ron Weasley and Hermione Granger to Newt Scamander and more.
Fans of all ages will also be able to collect their favorite Wizarding World characters in new LEGO BrickHeadz building sets.
[Update 4/14/2018]
Grindelwald´s Escape
132 pieces
Price $19.99 USD
Available August 1, 2018
Recreate iconic scenes from the upcoming Warner Bros. Pictures film, Fantastic Beasts: The Crimes of Grindelwald. Features a buildable articulated carriage with opening doors and a removable roof.  Flap the Thestral's wings to make a flying escape! Also includes shooting spell accessories on the hands of Seraphina and Grindelwald.  Includes Gellert Grindelwald and Seraphina Picquery™ minifigures, plus a Thestral figure with posable wings.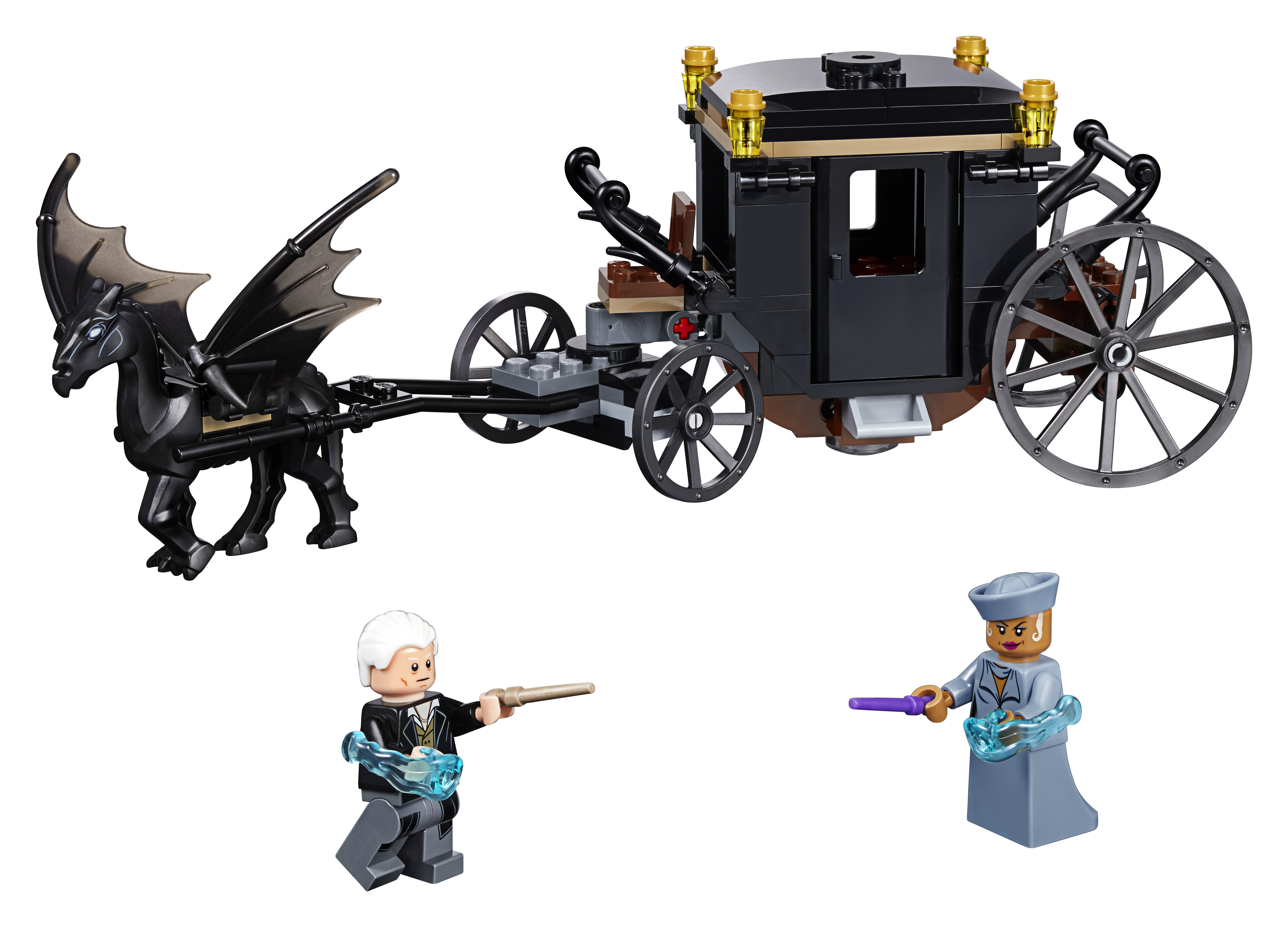 [Original Sets Revealed 2/16/2018]
So let's take a look at the first set announced in the series – Hogwarts™ Great Hall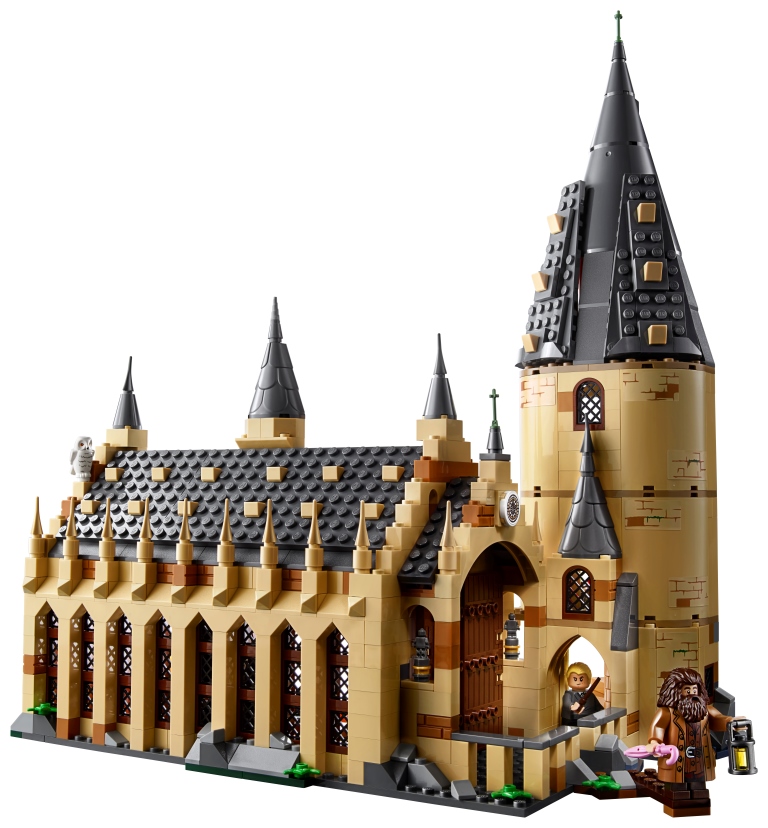 Hogwarts™ Great Hall (75954)
878 pieces
Price $99.99 USD
Available August 1, 2018
Measures over 14" (37cm) high, 6" (17cm) wide and 11" (30cm) deep
Welcome to magical adventures at the Great Hall at Hogwarts™!
Build and recreate magical scenes from the Harry Potter™ movies with this detailed 4-level LEGO® Hogwarts™ Great Hall play set, featuring a fireplace, benches, tables and reversible house banners, plus a tower with a spiral staircase, potions room, treasure room, sorting hat, Mirror of Erised with a changing image and lots of assorted magical artifact accessory elements. Hogwarts™ Great Hall play set includes 10 minifigures (Harry Potter™, Ron Weasley™, Hermione Granger™, Draco Malfoy™, Susan Bones, Professor McGonagall, Professor Quirrel with dual Lord Voldemort™ face, Hagrid™, Albus Dumbledore™ and Nearly Headless Nick); buildable Basilisk and Fawkes™ creatures, as well as Hedwig™ and Scabbers™ figures. Accessory elements include 7 wands, 3 tumblers, umbrella, lantern, broom, sorting hat, cauldrons, potions, candles, 2 wizard brooms, food, trophy, teapot, chest and a spider.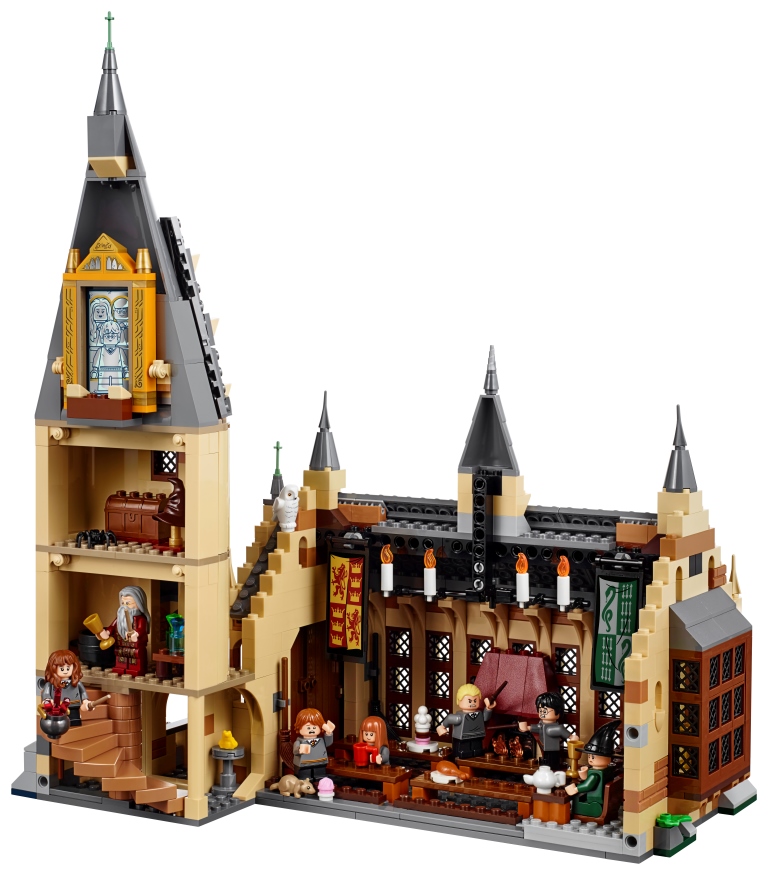 Whether you are being welcomed to Hogwarts for the first time by Hagrid, Dumbledore and Professor McGonagall; being sorted in the Great Hall; battling the giant Basilisk; or just dueling against Draco in the Dueling Club this set will provide hours of fun for the Harry Potter fan in all of us.
Combine this set with the Whomping Willow (75953) for even bigger adventures.
Be on the lookout for my coverage at the Toy Fair for all the newest Lego sets including some live shots of the Great Hall and a look at the Lego Live NYC event.