HOSTILES
THE MOVIE

VIDEO QUALITY

AUDIO QUALITY

SUPPLEMENTS
Hostiles is a 2017 American Western film written and directed by Scott Cooper, based on a story by Donald E. Stewart. It stars Christian Bale, Rosamund Pike, Wes Studi, Ben Foster, Stephen Lang, Jesse Plemons, Rory Cochrane, Adam Beach, Q'orianka Kilcher, and Timothée Chalamet. It follows a U.S. Cavalry officer who must escort a Cheyenne war chief and his family back to their home in Montana in 1892.
Purchase HOSTILES on Ultra HD Blu-ray Today!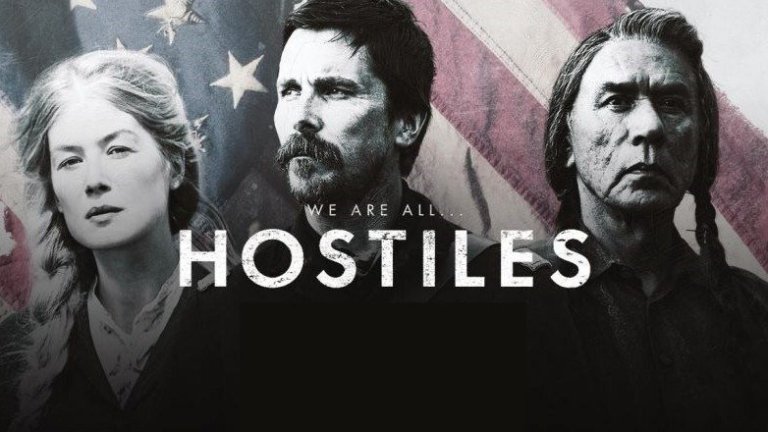 THE MOVIE:
HOSTILES is a film about an Army Captain who is close to hanging it up, whom had many battles with the Native Americans in his career. However his toughest battle is just beginning as he is tasked to do one more assignment in which he must escort one of his long-time enemies who had been imprisoned by him for many years back to his home front in western Montana since the government has decided to free the captured Natives.
You can feel the tension in this film, as both sides have a huge lack of trust for one another. All the while there are still blood thirsty Apaches throughout the region who will stop at nothing to kill anyone in their party. At times its a bit of slow-burn but the anticipation of what will happen next keeps the film running smooth along with great visuals due to the scenery changing many times since the film is about the travel from New Mexico to Montana.
HOSTILES was getting a lot of Oscar buzz at the time, but it never received a nomination. While it earned a lot of awards in the local city scenes of film critics it's a shame it didn't get a bigger spotlight. HOSTILES is an expertly crafted directed film by Scott Cooper, who by no surprise has also directed some other great edge-of-your-seat type films in OUT OF THE FURNACE, BLACK MASS, and CRAZY HEART. If you are looking for a gripping filmmaker look no further than Scott Cooper. His next project appears to be called ANTLERS, so be on the lookout.
VIDEO QUALITY:

HOSTILES is an absolute beauty in Ultra HD Blu-ray as we are treated not only with 4k resolution coming in at 2160p, but High Dynamic Range in the colors providing the deep darks and vibrant natural colors that is the wild wild west in this journey in which the Army Captain takes traveling from New Mexico to Montana. Whether its the rugged territory in New Mexico offering desert like hues, or the travels through dense dark woods while raining HOSTILES has plenty to offer in the video quality department.
AUDIO QUALITY:

HOSTILES hits blu-ray and Ultra HD Blu-ray with a 5.1 DTS HD Master Audio Track. While the track more than takes care of the film's more pressing scenes, it would have been great to have an atmos track for a film that was getting Oscar buzz. 7.1 is at least understandable as its not like the film as epic scores, but there is enough gun fire that it could have benefited from it. Never the less, the 5.1 track does take care of the job as this is borderline a slow burn as Christian Bale's character the Army captain has an epic journey from New Mexico to Montana on his hands. HOSTILES is arguably more a visual treat than an audio treat, but there are no real complaints here in the AQ department.
SUPPLEMENTS:

Well you may not have a lot in terms of selection, but you do have one great long special feature in terms of quality.
HOSTILES lone special feature is A Journey of the Soul: The Making of Hostiles which clocks in a bit over an hour long. An in depth look at the filming of HOSTILES.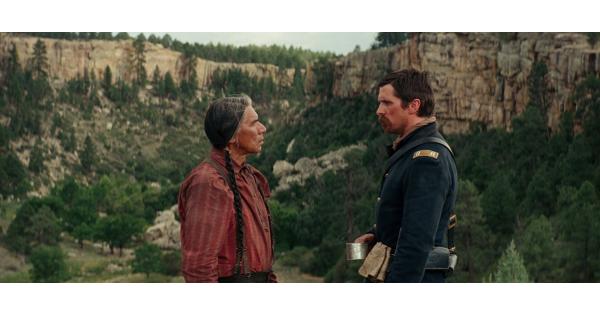 The film had its world premiere at the Telluride Film Festival on September 2, 2017, and had a limited release in the United States by Entertainment Studios starting December 22, 2017, before going wide on January 26, 2018, and grossed $31 million worldwide. – wikipedia