The Movie

Video Quality

Audio Quality

Supplements
Saving Private Ryan is a 1998 American epic war film directed by Steven Spielberg and written by Robert Rodat. Set during the Invasion of Normandy in World War II, the film is notable for its graphic portrayal of war, and for the intensity of its opening 27 minutes, which includes a depiction of the Omaha Beach assault during the Normandy landings. It follows United States Army Rangers Captain John H. Miller (Tom Hanks) and a squad (Tom Sizemore, Edward Burns, Barry Pepper, Giovanni Ribisi, Vin Diesel, Adam Goldberg, and Jeremy Davies) as they search for a paratrooper, Private First Class James Francis Ryan (Matt Damon), who is the last-surviving brother of four servicemen.
Purchase SAVING PRIVATE RYAN on Ultra HD Blu-ray Today!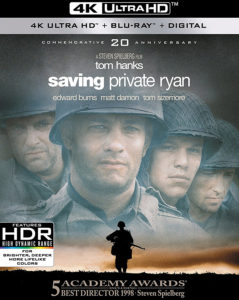 THE MOVIE:
Ask anyone for their top 10 war films list and you'll be hard pressed to find anyone who doesn't have SAVING PRIVATE RYAN on that list. Likely there is high chance its in their top 5 at that. Steven Spielberg is a master of realism when it comes to films, history and recreating the visceral footage of history's past. Schindler's List is a masterpiece, and Saving Private Ryan is nothing short of that riding neck and neck on perhaps just a different parallel.
The A-Listers turn in Oscar worthy performances, (Hanks, Damon) but it's the ensemble cast of guys that were barely known at the time that etched their names in history with their part in this film and have since went on to have great careers. Vin Diesel, Barry Pepper, Paul Giamatti, Edward Burns, Giovanni Ribisi, and while known before Tom Sizemore turned in a stellar performance as well.
Not much can be said about SAVING PRIVATE RYAN that hasn't already been said before. I can only sing it's praises and know that it's a war film that is worth rewatching every so often or however many years based upon personal film tastes. If you haven't seen "SPR" then do yourself and favor and correct that travesty now.
VIDEO QUALITY:
SAVING PRIVATE RYAN comes to home media for its 20th anniversary in beautiful Ultra HD Blu-ray with HDR. The storming of Normandy never looked so great. Can that even be said? How can such a tragic moment in history look great? Well, you know what I mean. The darks and muggy fog like dense scenes are riveting while the explosions are absolutely immersive with the sand even showcasing fine details. Insane quality with Dolby Vision and Dolby Atmos making this a certified UHD Premium release. (hence the stamp)
AUDIO QUALITY:
Here is the film to shake your sound system and knock your socks off. SAVING PRIVATE RYAN comes to Ultra HD Blu-ray with a Dolby Atmos track that is just as much explosive (quite literally) as it is immersive. The Blu-ray disc is that of before with the DTS HD Master audio track 5.1. Surprised we never got a 7.1, but the Atmos on the UHD disc makes up for it. From an audio perspective (and video for that matter) this is likely the last SAVING PRIVATE RYAN release you'll ever need. (Only new special features might merit a future purchase.)
SUPPLEMENTS:
Alas, the same special features. I was holding out hope for something new with the 20th anniversary, but the 25th has a better ring to it. I known Spielberg and cast just recently took time out for a reunion screening at tribeca for Schindler's List so perhaps with that and Ready Player One the man has just been a tad too busy. Looking for the 25th. Either way "Shooting War" , "Making SPR" and "Intro the Breach" are all splendid special features despite being recycled from the BD release.
The only big ding to this release is that of the special features department for a lack of HD supps, and nothing new.
An Introduction
Looking into the Past
Miller and His Platoon
Boot Camp
Making Saving Private Ryan
Re-creating Omaha Beach
Music and Sound
Parting Thoughts
Into the Breach: Saving Private Ryan
Theatrical Trailer
Re-release Trailer
Shooting War
The film received widespread critical acclaim, winning several awards for film, cast, and crew, as well as earning significant returns at the box office. The film grossed $216.8 million domestically, making it the highest-grossing film of 1998 in the United States, and $481.8 million worldwide, making it the second-highest-grossing film of 1998 worldwide. The film was nominated for 11 Academy Awards, including Best Picture; Spielberg's direction won his second Academy Award for Best Director, with four more awards going to the film. Saving Private Ryan was released on home video in May 1999, earning another $44 million from sales. – wikipedia