BRAVEHEART ULTRA HD BLU-RAY
The Movie

Video Quality

Audio Quality

Supplements
Braveheart is a 1995 American epic war film directed by Mel Gibson, who stars as William Wallace, a late 13th-century Scottish warrior who led the Scots in the First War of Scottish Independence against King Edward I of England. The story is inspired by Blind Harry's epic poem The Actes and Deidis of the Illustre and Vallyeant Campioun Schir William Wallace and was adapted for the screen by Randall Wallace.
Purchase BRAVEHEART on Ultra HD Blu-ray Today!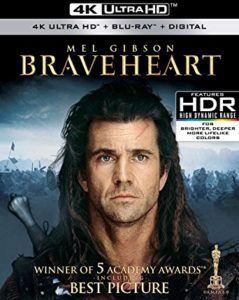 THE MOVIE:
An epic tale of one man's courage, devotion, and quest for his country's freedom.
Braveheart is based on the life of a Scottish knight named Sir William Wallace who lived around 1272-1305 A.D. He helped lead the resistance during the Wars of Scottish Independence. Along side Andrew Moray he defeated the English army at the Battle of Stirling Bridge. In the movie itself its more commonly know as just the battle of Stirling. Eventually he was defeated at the Battle of Falkirk, but escaped, and then a few years later he was captured near Glasgow and handed over to King Edward I of England who had him executed for treason.
Mel Gibson directs and also plays the part of William Wallace. The movie opens during the years of Wallace's youth, in the rugged hills of Scotland, and ends with the memory of Wallace spurring on the resistance after his death. The wars with England would continue for another 52 years after Wallace's death. A good bit of this story is based on the the poem "The Acts and Deeds of Sir William Wallace, Knight of Elderslie, by the 15th. century minstrel Blind Harry. Blind Harry was known to fabricate stories, and isn't viewed as an accurate source for historical fact. Nevertheless, Braveheart is a remarkable film that is full of passion.
Winner of five Academy Awards® including Best Picture, the exhilarating epic Braveheart is one of the most beloved movies of the last 25 years. Braveheart is a heartfelt tale that accomplishes passion and brutality collectively in unison in a breath taking experience. There were plenty of exaggerations and elaborations that went into the making of Braveheart that many critics like to point out. However, I'm not one to pay too much attention to something so minute. Especially based on the point that there wasn't a whole lot of fact to go off of besides just a few known outcomes of certain particular battles to begin with. In history England portrayed Wallace as a thief and common criminal but a lot was believed not to be true and sheer propaganda.
Braveheart has stood its stand in time, and even today in my eyes is one of the greatest movies ever made. When I think of Mel Gibson, I think Braveheart and then of course of the Lethal Weapon series. If you haven't seen this film, then please stop your injustice and take part in this film as soon as possible.
It truly is a quintessential triumph over adversity and an absolute EXPERIENCE to watch this film!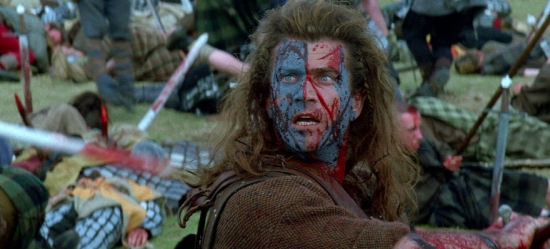 VIDEO QUALITY:
The video quality on this release is the best video quality for any Braveheart release to date. I know that may be stating the obvious with a Blu-ray release, let a lone a 4k release! However we are living in spoiled times where we now have Braveheart in HDR Dolby Vision.
The battles are enormous and the visuals of the luscious land side are that of remarkable beauty. Although said to be in Scotland most all filming was done in Ireland and the panoramic views are totally breathtaking.
AUDIO QUALITY:
The Audio quality is superb. BRAVEHEART On 4k comes with a Dolby Atmos track. Battlegrounds will shake your house with the bass and the clarity of swords clashing will ring through your speakers. Additionally on the BD disc there is a top of the line Dolby TrueHD 5.1 lossless soundtrack. Speaking of soundtracks, the soundtrack to this movie is wonderful! The bag pipes blaring and drums beating really set the tone for this movie and when the heartfelt scenes come across the screen the music ties hand in hand to wrench at your human emotions! The clinking of metal, banging of swords, pounding of thunder, and sounds of nature all engulf you in the presentation. This is by far one of the most spectacle performances of audio in a film in the past few decades! Clarity to the 10th degree in regards to dialogue reproduction.
SUPPLEMENTS:
• Audio commentary by Mel Gibson – Love him or hate him, Mel gives a great commentary track which can be found on the UHD Disc and BD first disc.
• Interactive Timelines—Three distinct timelines featuring a combination of video, images, text and audio that can be accessed linearly or randomly. Really cool feature that all can take some type of enjoyment from.
BD Disc 2
• Battlefields of the Scottish Rebellion— Topography, weapons, troop movements, and leadership data can also be accessed. I really liked this interactive feature as it was really cool to get facts of the cities/towns of battles. Two of them even have video interviews tied to them.
• Braveheart: A Look Back (A Company of Equals, The Sound of Laughter, The Measure of Film – 1:00:21 – Really awesome special features in regards to the making of and what the film means today.
• Smithfield: Medieval Killing Fields (25:19) – Very gruesome details of what went on at the location before , during and after at Smithfield. Lots of cool informational background. Even had information of what happen to Wallace's body during his execution that was not seen in the movie for obvious reasons.
• A Writer's Journey (21:30) – Cool informative peice on the screen writers journey on making this film come to life from his imagination and the small facts of events.
• 2 theatrical trailers (1:40 + 2:54) – Case in point, Trailers.
Extras also have Optional English, French, Spanish subtitles.
It grossed $210.4 million worldwide. Braveheart was nominated for ten Academy Awards at the 68th Academy Awards and won five: Best Picture, Best Director, Best Cinematography, Best Makeup, and Best Sound Editing. – wikipedia