Die Hard is a 1988 American action film directed by John McTiernan and written by Steven E. de Souza and Jeb Stuart. It was produced by the Gordon Company and Silver Pictures, and distributed by 20th Century Fox.
Purchase DIE HARD on Ultra HD Blu-ray Today!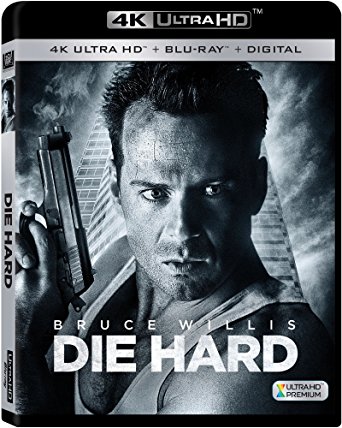 THE MOVIE:
One of the best more serious tone action films from the late 80s. DIE HARD made Bruce Willis an all out Hollywood superstar. The franchise that helped boost his career to super stardom and what most folks quickly associate him with when thinking of Bruce Willis. DIE HARD is a film that is required viewing when introducing millennial's to the films of yester-years. A widely debated piece of pop culture of whether it's to be considered a "Christmas Movie" which we here at HDN of course agree it falls into that category and others. (Like Action, ha) The trilogy is a great set of action packed fun, while the last couple releases have fared so well.
The DIE HARD 30th Anniversary comes to us in an awesome 4k viewing experience that reminds us that we are living in amazing times.
VIDEO QUALITY:
John McClane is back and he's looking sharper than ever. Die Hard is one those films that has had more releases than I've had hot dinners, but this one really tops the rest. the 4K restoration on this release looks flawless, with deep darks and bright, full colours filling the screen. There are zero drops in picture quality and sharpness throughout the run time. To experience the film at its best, I would highly recommend viewing it on both a 4K enabled Blu-Ray player and TV as I did.
AUDIO QUALITY:
Although there Is no difference in the audio when compared to the previous Blu-ray release of Die Hard, it remains quality and worthy of the excellent picture quality. Dialogue is clear and background audio and sound effects are sharp. The excellent score by Michael Kamen sounds wonderful on this release and really shines through, even in some of the more gun heavy scenes. The only part lacking is that I wish it had a Dolby Atmos track, but there is always the next release right? Ha.
SUPPLEMENTS:
Commentary by Director John McTiernan and Jackson De Govia
Scene Specific Commentary by Richard Edlund
The Newscasts
Interactive Still Gallery
Trailers
TV Spots
Made for $28 million, Die Hard grossed over $140 million theatrically worldwide and initially received mixed reviews from critics, although it garnered acclaim in later years. The film turned Willis into an action star, and became a metonym for an action film in which a lone hero fights overwhelming odds. The film's success created the Die Hard franchise, which includes four sequels, a number of video games, and a comic book, and later in 2017 was selected for preservation in the United States National Film Registry. – wikipedia