There Was A Crooked Man
Picture Quality

Sound Quality

Special Features

Film Rating
Summary
A good film that suffers from drops in visual quality due to the age of the negative used. Sound quality is great, and the special features are half decent and will please any fans of Norman Wisdoms work. A decent release from Network.
Synopsis (From the Network Website)
Unseen for over fifty years, this exceptionally rare feature sees comedy legend Norman Wisdom at his best playing a naïve explosives expert who finds himself involved with a criminal gang after uncovering nefarious dealings by a prominent industrialist! There Was a Crooked Man is featured in a brand-new High Definition transfer taken from the best available film elements.

Hailed as one of Wisdom's finest films, it was one of two features he made independently, and marked a departure from his more familiar and endlessly popular comic creation, 'the Gump'. Co-starring Alfred Marks and Susannah York, There Was a Crooked Man was directed by the BAFTA-nominated Stuart Burge.

Picture Quality
Although it looks great for it's age, the movie does suffer from a fair few drops in picture sharpness and quality throughout the runtime. There a visible specks and black lines that appear in many scenes and the opening credits are where the age and condition of the negative used shows. I do feel like the drops in quality are the faults of age and not the restoration done by Network. They did the best they could with what they had.
Sound Quality
Unlike the picture quality, the quality of this release is certainly in the rendering of the sound. All voice and dialogue sounds clear and there are no overbearing drops in quality during the films run time. The score sounds crisp and the quality and sharpness is a real compliment to this release.
The Specs
Region Code: ABC
Aspect Ratio: 1.66:1 Black and White
Disc Format: 1080P HD
Language: English
Subtitles: English
Running Time: 103 Minutes
Special Features
Image Gallery
Original promotional PDFs
Booklet by Norman Wisdom expert Richard Dacre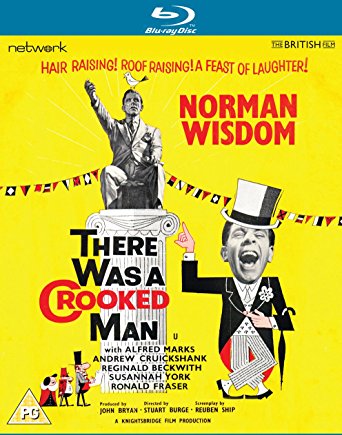 There Was A Crooked Man is available from all major retailers now.