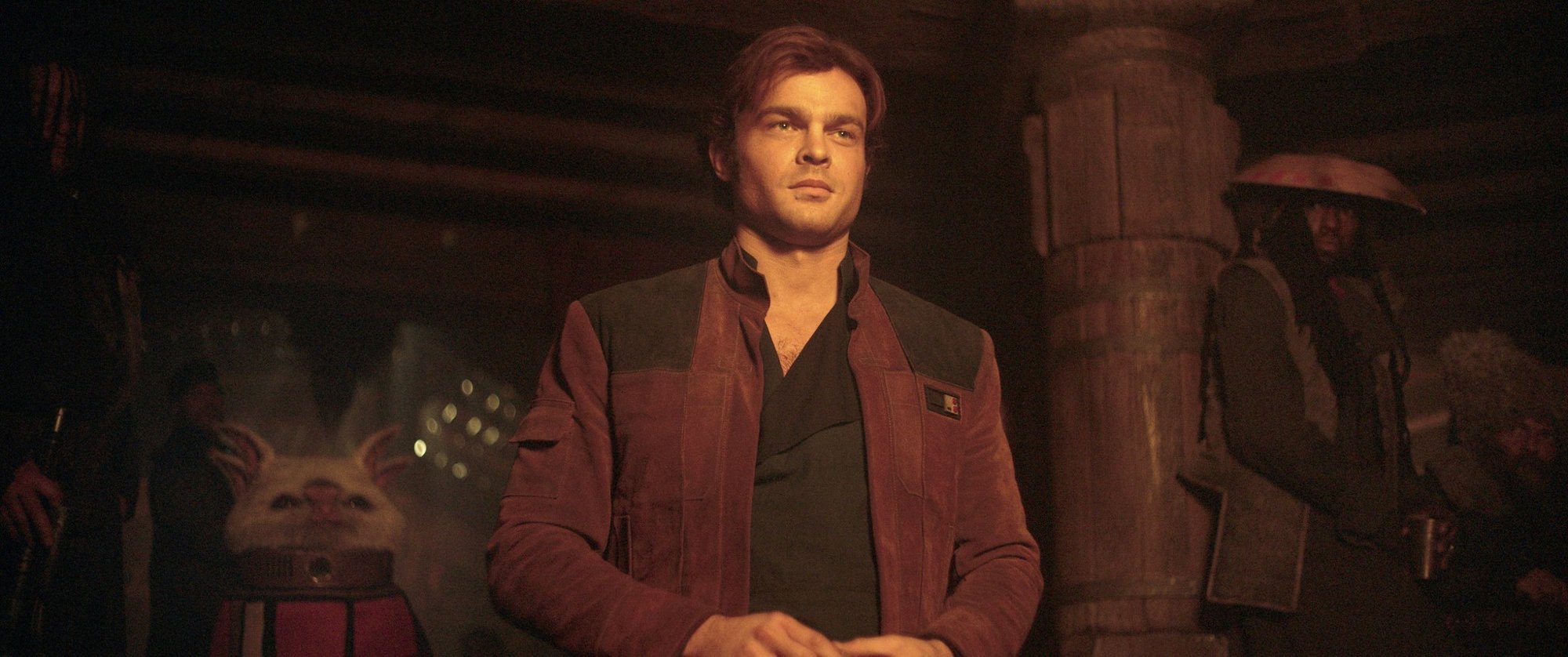 The not-so-bad SOLO: A STAR WARS STORY shoots us into a hyperspace lane we never knew that we wanted (or needed).
By Matt Cummings
In the category of "I didn't know I needed/wanted an origin story," here comes SOLO: A STAR WARS STORY, a film that also experienced its share of behind-the-scenes drama. Original helmers Chris Lord and Phil Miller were fired after dailies revealed a slap-stick origin story in the works, forcing Lucasfilm to call in Director Ron Howard who ended up reshooting 80% or more of the film. The result should have been a Jar-Jar Binks-sized disaster; instead, it manages to fully entertain, filling in several necessary origin blanks while even throwing a couple of planet-sized curveballs along the way.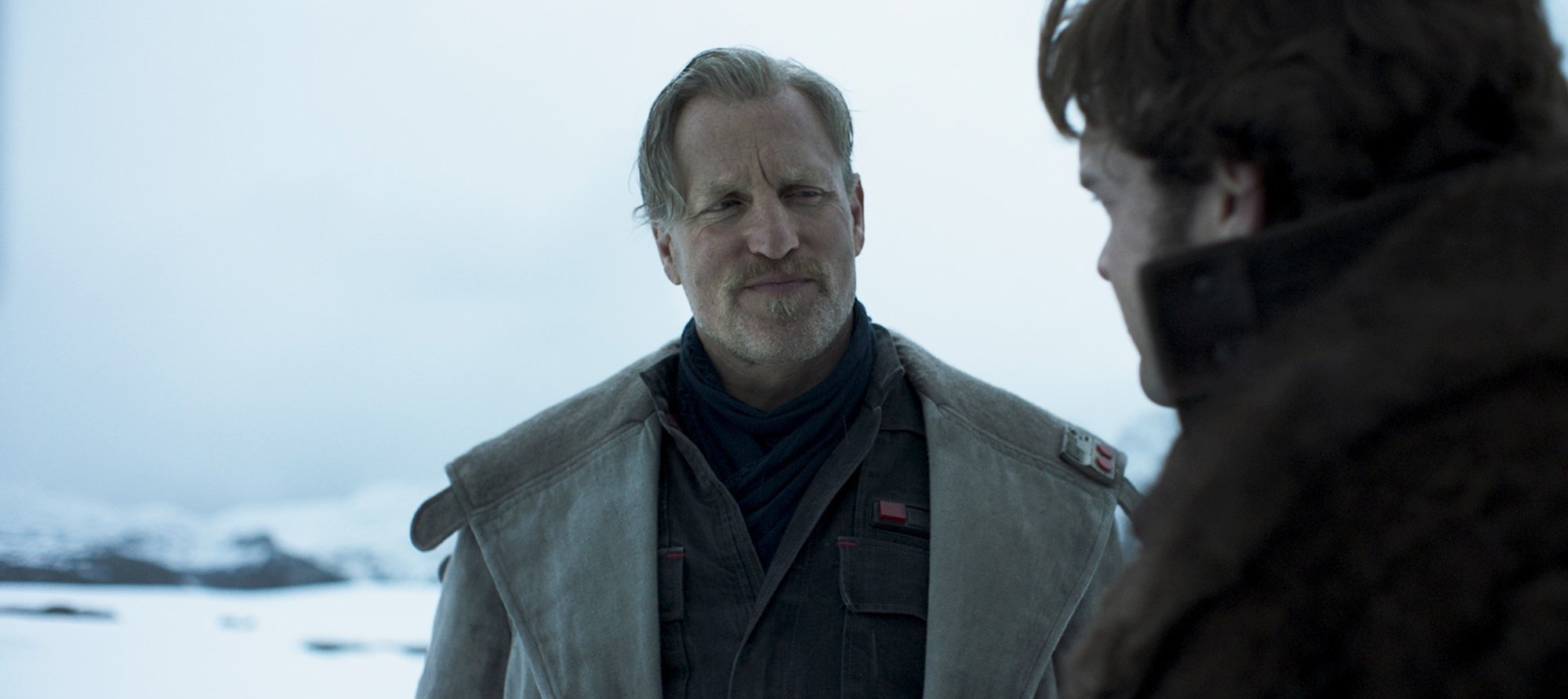 THE MOVIE
Growing up on the planet of Corellia, the impetuous dreamer Han Solo (Alden Ehrenreich) is also a slave, committed to escaping with his girlfriend Qi'ra (Emilia Clarke). Only one gets out – you can probably figure out who – and soon he and fellow slave Chewbacca enter into an uneasy alliance with the smuggler Beckett (Woody Harrelson), who's ready to retire courtesy of a big job offered by the gangster Dryden Vos (Paul Bettany). To get there, Beckett hires the duo to replenish his recently-depleted team, which includes the robot L3 (voiced by Phoebe Waller-Bridge) and girlfriend Val (Thandie Newton), along with the smuggler Lando Calrissian (Donald Glover) whose possession of The Millenium Falcon becomes the subject of a card game that Han wants desperately to win. But when Qi'ra mysteriously enters the picture, Solo must decide if his lost love is playing both sides, all while learning about a much bigger struggle between Rebellion and Empire.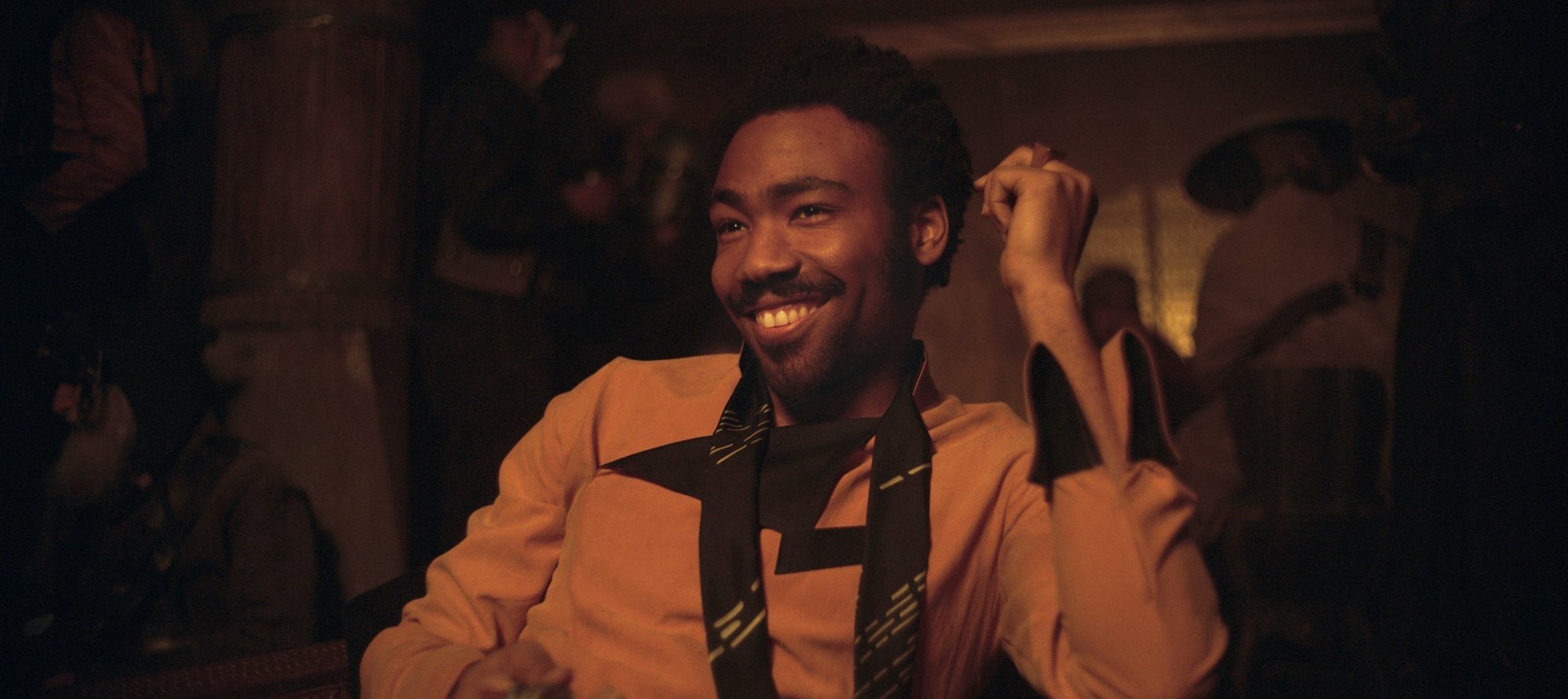 SOLO works for a lot of reasons, mostly because it's not really a Star Wars movie. There's no Jedi, no Death Star, no Darth Vader; it's a story about people just trying to make a buck (most of which is done illegally) and a lot more who are stuck on dirt-ball planets with zero chance of improving their lives. At first, Solo is stuck just like the rest, but it's his ability to both fly and fly off at the mouth that gets him to the table with Beckett. His interactions with Chewbacca are some of the best parts of the film, as the two bicker with Ehrenreich filling in the zingers for an audience that's having a great time playing body-language translator. Seriously, we've never heard the Wookie talk this much in perhaps all the other movies combined. Director Ron Howard and Writer Lawrence Kasdan deserve credit for the not-terrible results of SOLO, the former striking a good balance with his actors and the latter knowing the Solo/Chewie story intimately, having written THE EMPIRE STRIKES BACK and directed RETURN OF THE JEDI.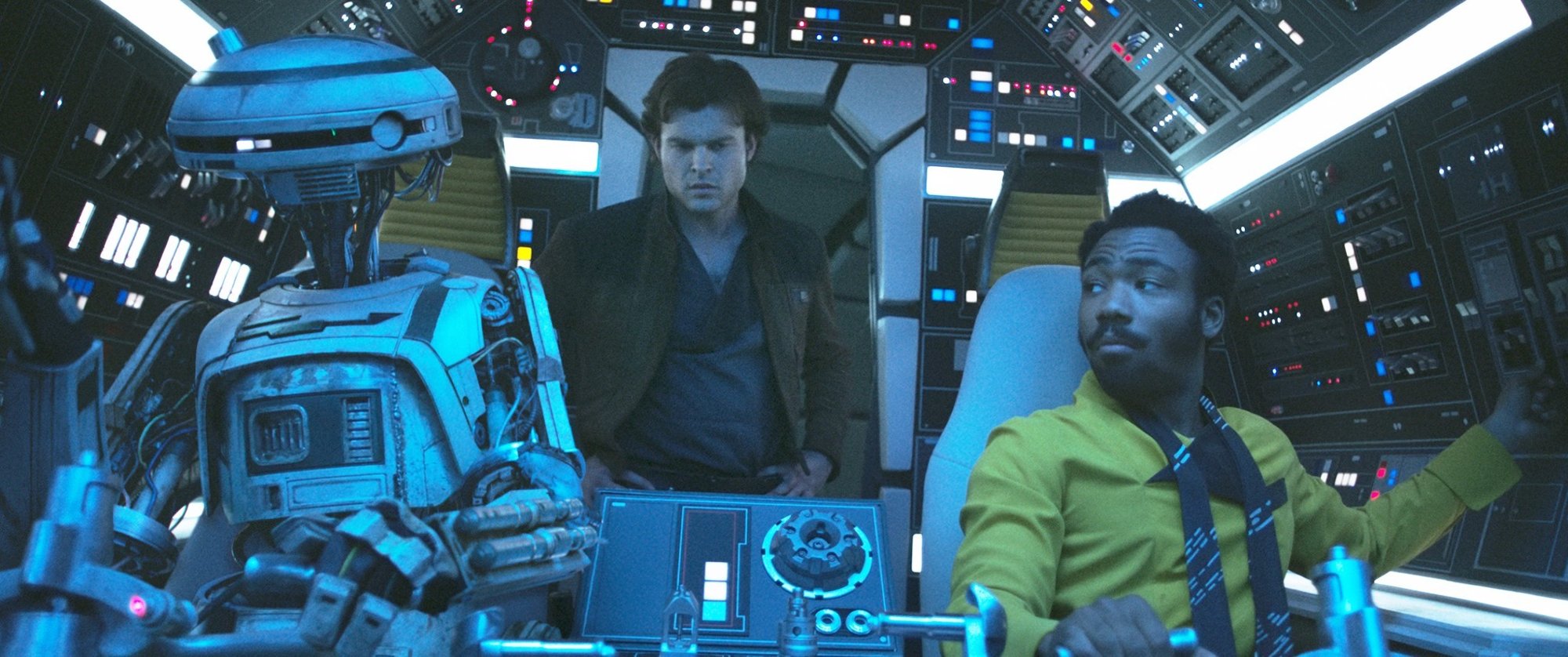 There were reports that Ehrenreich was saddled with an acting coach for most of the shooting, suggesting that his success in HAIL, CAESAR! was nothing more than a happy accident. I find this hard to accept, as he never lets Harrison Ford's aura overtake him, instead enjoying this universe and the well-bred cast that seems ready to push him at every turn. Harrelson plays both inspiration to Han and villain with such precision that it makes his outcome feel like a real betrayal for Solo. Ehrenreich and Clarke have good chemistry, sparking early and often as Han begins to transform into the scruffy Nerferder we've come to love. Clarke exudes refinement throughout, as does the fantastic Glover. He infuses the suavity of Billy Dee Williams with his own apparent stage presence to give us a character who's both obsessed with himself and making sure others know it. That juggling act never comes off as tiresome but instead consistently enlightening and pitch perfect.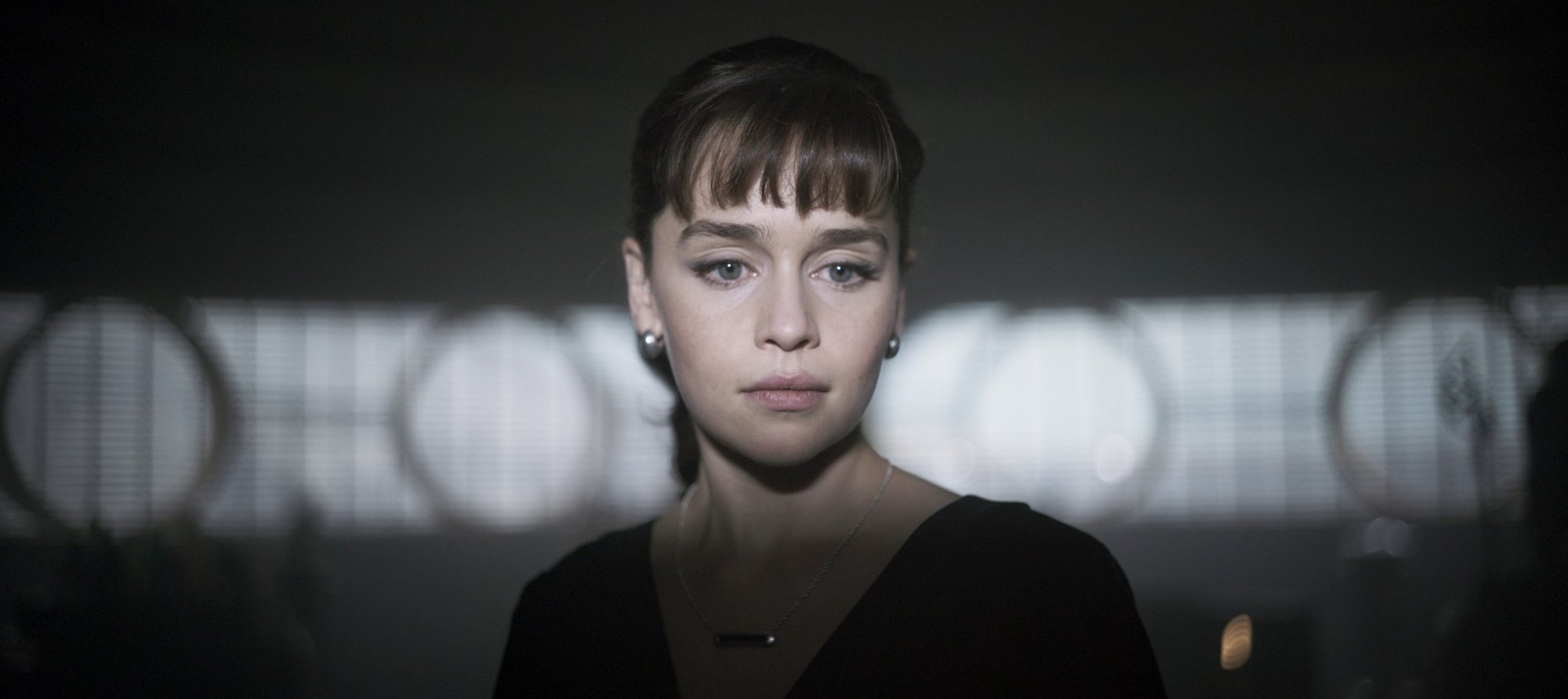 Much like ROGUE ONE, we are treated to a variety of off-world locations and the aliens who inhabit them. It's clear that by this time – and we're not quite sure when SOLO exists on the timeline – that the Empire is in full control, clamping down on human rights while allowing smugglers like Beckett to prosper. This universe feels as wide open as it's ever been, including a quirky 'robot rights' side story as the impetuous L3 bends the ear of Calrissian, some of which doesn't quite work. Near the end, there's a scene that does change up the story line of the prequels and will get fans talking as to its necessity. It's not poorly done, but I would have enjoyed it a lot more had another familiar Star Wars character appeared instead. Howard also shoots several key space action scenes a bit too close for me, or edits them just a tad too short for us to enjoy some of the great visuals. The Falcon is shown off enough, but it never gets the true attention it deserves.  I'm sure seeing SOLO more than once will help clear some of that up, and I definitely intend to do. It's exactly what I wanted: a buddy-space heist drama, ready for summer popcorning.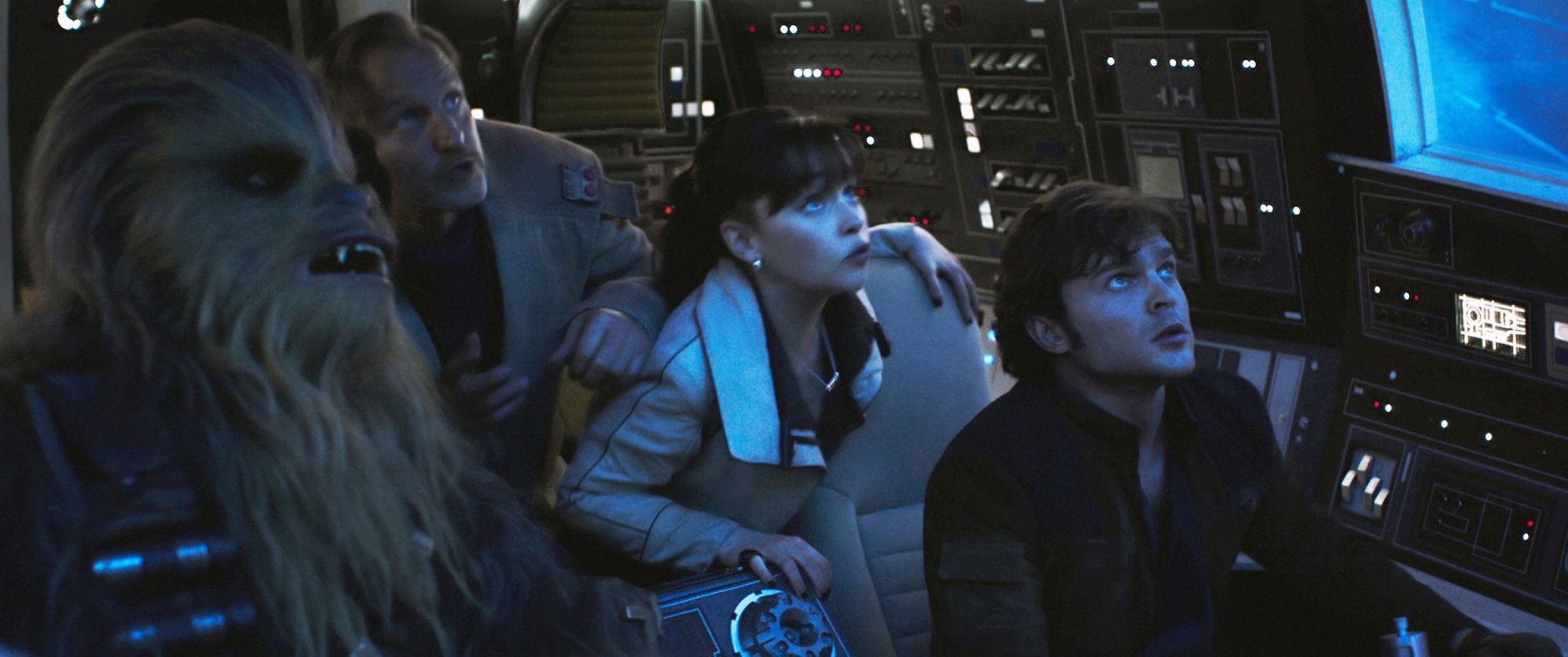 THE BOTTOM LINE
SOLO: A STAR WARS STORY rewards us with an effective origin story that we didn't know we needed or wanted. Having completed its checkboxes with workman-like efficiency, it's hard to wonder why we would need a sequel, but that appears to be Lucasfilm's plan, as Eidenreich's contract includes two more appearances. Scrounging up enough material for sequels seems Kessel Run-like in its difficulty, and the idea of a shrinking Star Wars universe isn't at all appealing. But when you're having as much fun as I did with this one, the idea of saddling up for future Solo/Chewie moments is hard to decline.
SOLO: A STAR WARS STORY is rated PG-13 for sequences of sci-fi action/violence and has runtime of 135 minutes.