The Movie

Video Quality

Audio Quality

Supplements
Max and Annie's weekly game night gets kicked up a notch when Max's brother Brooks arranges a murder mystery party — complete with fake thugs and federal agents. So when Brooks gets kidnapped, it's all supposed to be part of the game. As the competitors set out to solve the case, they start to learn that neither the game nor Brooks are what they seem to be. The friends soon find themselves in over their heads as each twist leads to another unexpected turn over the course of one chaotic night.
Purchase GAME NIGHT on Blu-ray Today!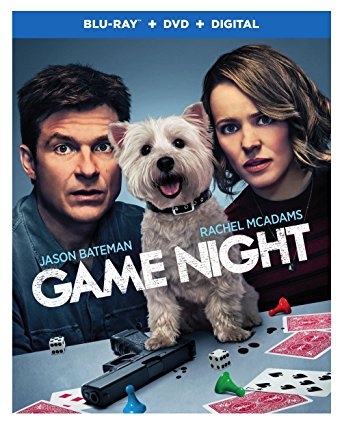 THE MOVIE:
GAME NIGHT is so far the best comedy of the year, and up there even in the past few years. It's unique, entertaining, and a great blend of characters and story lines all within a plot for the film. A great ensemble cast as well. The film did well at the box office so there is chance for a sequel and the Director was already on record having slightly mentioned that in the essence of the talk of a sequel since it has done well. It may be very hard to follow this up though, but if they do then we're talking a great new franchise ahead of us. Let your mind go wild as you could even have a sequel with an entirely different cast as so long as the script is good. They hey, bring on GAME NIGHT! And where is our ULTRA HD Blu-ray?
Put GAME NIGHT on your list of blu-rays to check out or purchase. It's at a value price right now! Check the link above.
VIDEO QUALITY:
GAME NIGHT looks amazing on Blu-ray and once again just wish we could have gotten this in Ultra HD Blu-ray. The best comedy of 2018 so far and so very unique and expertly done.
AUDIO QUALITY:
GAME NIGHT arrives on blu-ray with an exceptional DTS HD Master audio 5.1 track. While the track does the film well and the fronts and center channel bare most the load you are left to wonder how it would sound in 7.1 or Atmos. Lots of loud enough and dynamic scenes that likely could have benefited.
SUPPLEMENTS:
The Special features are slim pickings on this one, but I hope we see more in the future from this hidden gem of a comedy.
An Unforgettable Evening: Making Game Night: Short press kit of sorts
Gag Reel: Quite a few laughs here
The film was released on March 20, 2009, in the United States. The DVD and Blu-ray media were released on July 7, 2009. Knowing grossed $186.5 million at the worldwide box office, plus $27.6 million with home video sales, against a production budget of $50 million. It met with mixed reviews, with praise for the acting performances, visual style and atmosphere, but criticism over some implausibilities. – wikipedia