On June 12th I CAN ONLY IMAGINE comes to Blu-ray in a combo pack from Lionsgate.
Purchase I CAN ONLY IMAGINE on Blu-ray Today!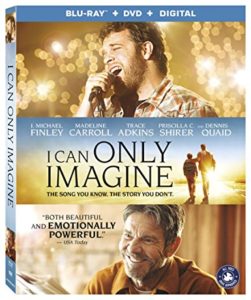 I Can Only Imagine is a 2018 American Christian drama film directed by the Erwin Brothers and written by Alex Cramer, Jon Erwin, and Brent McCorkle, based on the story behind the MercyMe song of the same name, the best-selling Christian single of all time.[3] The film stars J. Michael Finley as Bart Millard, the lead singer who wrote the song about his relationship with his father (Dennis Quaid). Madeline Carroll, Priscilla Shirer, Cloris Leachman, and Trace Adkins also star.