The Movie

Video Quality

Audio Quality

Supplements
I Can Only Imagine is a 2018 American Christian drama film directed by the Erwin Brothers and written by Alex Cramer, Jon Erwin, and Brent McCorkle, based on the story behind the MercyMe song of the same name, the best-selling Christian single of all time. The film stars J. Michael Finley as Bart Millard, the lead singer who wrote the song about his relationship with his father (Dennis Quaid). Madeline Carroll, Priscilla Shirer, Cloris Leachman, and Trace Adkins also star.
Purchase I CAN ONLY IMAGINE on Blu-ray Today!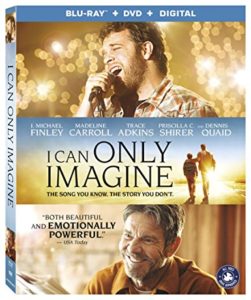 THE MOVIE:

Most songs are either based on something factual that happened to the person who is writing it or an inspiration influenced by an experience or chain of events. Some are that of pure imagination.
Most songs are that of 3 to 5 minutes long. And for those songs that are based on real life circumstances and experiences it can be quite hard to truly convey the entire story all within the confines of 5 minutes. (or in this case, 4 minutes and 6 seconds) I CAN ONLY IMAGINE takes you into the story of the drama behind the hit song that is the number 1 Christian single of all time. And what a story it is!
The movie follows Bart from the age of adolescents with his hard nose father whose negativity towards Bart's dreams is crushing. Family dysfunction is evident in this film and evident in so many of our lives today that it gives the audience much of which that we can identify with. Faith is strong in this movie as subject matter whether its leaning on one's faith or faith rescinding in certain moments. There are a lot of deep personal wounds in this movie that Bart deals with along his journey and the struggle to forgive, but it's forgiveness that this film leans heavy upon as Bart returns home to confront and try to make amends with his Father whom of which he is surprised to learn of his transformation. Without giving too much away, this film did exceptionally well at the box office and has great acting throughout that it's definitely worth checking out.
VIDEO QUALITY:

I CAN ONLY IMAGINE comes to blu-ray with a strong 1080p transfer presented in 16×9 widescreen 2.35.1. I CAN ONLY IMAGINE is a great representation of a film that fits well to Blu-ray and likely not much would be seen to the discernible eye in 4k resolution at normal viewing distances without the addition of HDR. However I'm a strong believer that not every film needs the 4K/HDR treatment. I CAN ONLY IMAGINE showcases beautifully with it different scenes adding a great template of color that blu-ray still astonishes viewers alike.
AUDIO QUALITY:

I CAN ONLY IMAGINE releases onto blu-ray with 5.1 DTS HD Master Audio that does an exceptional job for what we are offered. Though with a movie based on the story of the song it would have been nice to at least get a 7.1 track or Dolby Atmos even. Granted I can totally understand that the majority of viewers of this film won't be those with home theaters and instead be that of TV speakers, soundbars, and perhaps 5.1 set ups. Regardless the smash hit did well enough that one would have suspected we could have gotten the up tick in audio quality. But again, for what we are presented with it did a great job with the front speakers and center channel barring the bulk of the load.
SUPPLEMENTS:

I CAN ONLY IMAGINE releases to blu-ray with the following special features.
* 7 Deleted Scenes
* Mercy Me: The Early Days
* Imagine Forgiveness with Bart Millard
* Casting I CAN ONLY IMAGINE
* The Power of the Song
* Creating Imagine
* The Music of Imagine
* Dennis Quaid: "On My Way To Heaven"
* Audio Commentary
I Can Only Imagine was released in the United States on March 16, 2018. It grossed $85 million worldwide against a production budget of $7 million, and is the third highest-grossing music biopic of all-time in the United States. Some critics praised it as inspiring and noted it as an improvement compared to other faith-based films, while others called it flat and by-the-numbers. – wikipedia