Re-animator
Picture Quality

Sound Quality

Special Features

Film Rating
Summary
Umbrella Entertainment are really showing that they are major players in the Horror game with this release. Picture and Audio on display is excellent, with plenty of meaty special features to dig in to.
Re-Animate!!!!
Umbrella Entertainment have recently announced their 'Beyond Genres' line of releases, which is kick started by this release of Re-animator. Over the next week or so, I will be taking a look at the releases of Re-animator, Bride of Re-animator, and finally, Beyond Re-animator. So make sure you keep your eyes on the site for those.
Stuart Gordons Re-animator is one of the best cult horror movies the 80's has to offer us. Although there is the debate amongst fans of whether or not the sequel is superior, you really can't deny the impact that the movie has had on the horror genre and pop culture in general. From NECA releasing a Herbert West figure this year, to the excellent Rick and Morty parody sketch created by Lee Hardcastle, to even being turned into a musical!!
Synopsis from the Umbrella Entertainment website:
Adapted from H.P. Lovecraft's sepulchral 1922 pulp horror story, arguably the first such tale to ever consider scientifically affected corpses as zombies, Re-Animator is Stuart Gordon's cult classic trip into the realm of the living dead. Conducting clandestine experiments within the morgue at Miskatonic University, scientist Herbert West (Jeffrey Combs, From Beyond, The Frighteners) reveals to fellow graduate student Dan Cain (Bruce Abbott) his groundbreaking work concerning the re-animation of fresh corpses. West's secret reagent is a powerful injection with the capacity to give life where there is none – destined to capture the imagination of the entire scientific community. However, between life and death is a thin thread of understanding and when obsession gets the better of West, there is no stopping his wicked ways – dead or alive! Presented complete and uncut in gore-glistening HD, Re-Animator is a true gore-fest of mortal manipulation in the most demented sense.
Picture Quality
As many horror fans and collectors know, Re-animator is one of those movies which has had a fair few different releases over the years. The picture quality on this release is excellent, with some natural, very vibrant colours and sharpness on display. the feature is presented in a 1.77:1 ratio and you really can tell that effort has gone Into the transfer on display, as every detail looks sharp and excellent.
Sound Quality
I've got to admit, I'm a sucker for a great soundtrack, and this movie has one of the best. Presented in 5.1 DTS-HD MA, Richard Bands score sounds excellent on this release and there is no overbearing background noise or distortion throughout the films runtime. Dialogue is clear, with minimal drops in quality or signs of age on the audio transfer.
The Specs
Region Code: B
Aspect Ratio: 1.77:1 16:9 Widescreen
Disc Format: 1080P HD Colour
Audio Format: 5.1 DTS-HD Master Audio
Language: English
Subtitles: Disc 1: English, Disc 2: None
Running Time: 86 Minutes (Unrated Version), 104 Minutes (Integral Cut)
Special Features
Disc 1:
Unrated Version- 86 minute running time
Audio Commentary by Director Stuart Gordon
Additional Audio Commentary with Producer Brian Yuzna, Jeffrey Combs, Barbara Crampton, Bruce Abbott, and Robert Sampson.
Re-Animator Resurrectus Documentary
16 Extended and Deleted Scenes
Disc 2:
The Integral Cut- 104 minute running time
Interviews with: Stuart Gordon, Brian Yuzna, Denis Paoli, Richard Band, and the former editor of Fangoria Tony Timpone.
Music Analysis by Composer Richard Band
TV Spots and a Theatrical Trailer
Awesome Art
This release of Re-animator also comes with reversible cover art and a fantastic looking slipcover, which you can view below. The art on the Cover A and the slipcover was done by Artist Simon Sherry. You can find Simon over at Simonsherry.com and @simonsherry on Instagram.
Side A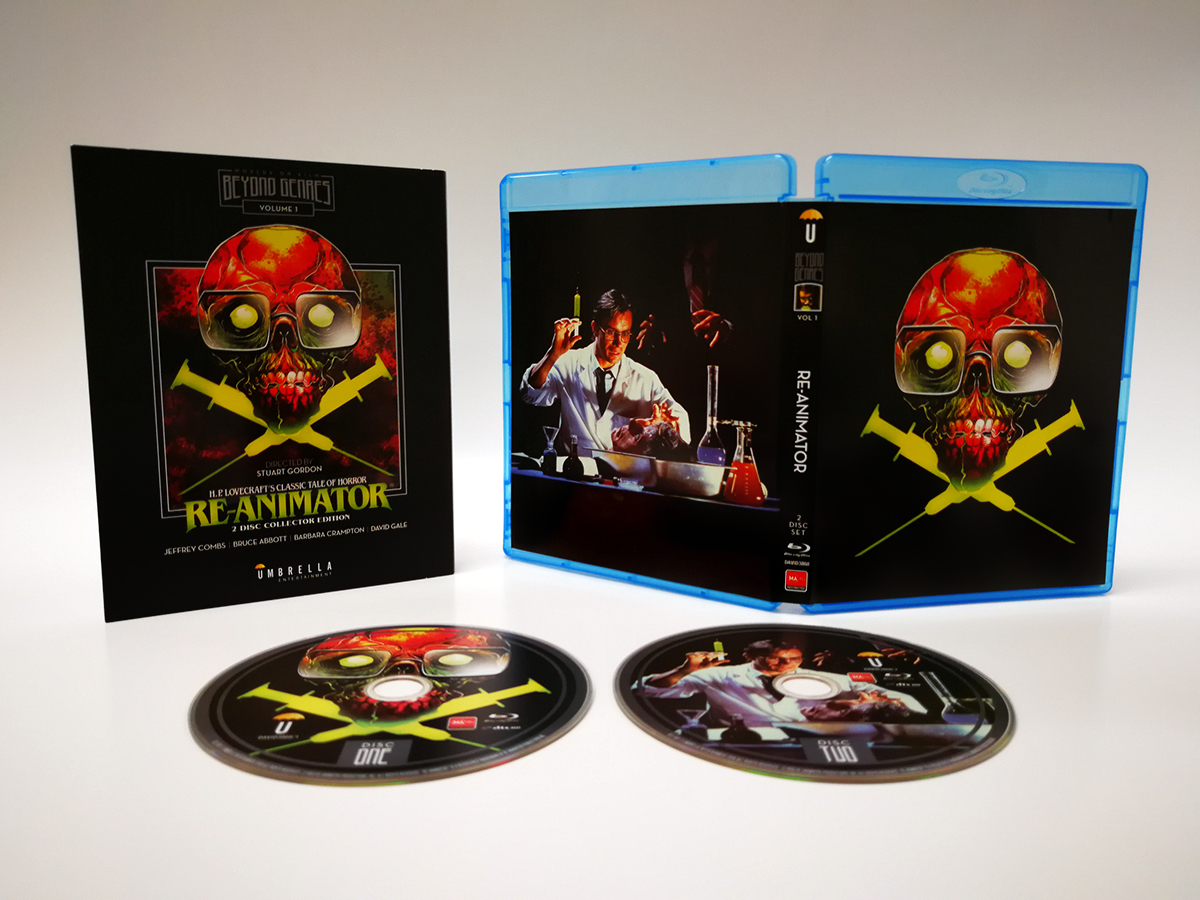 Side B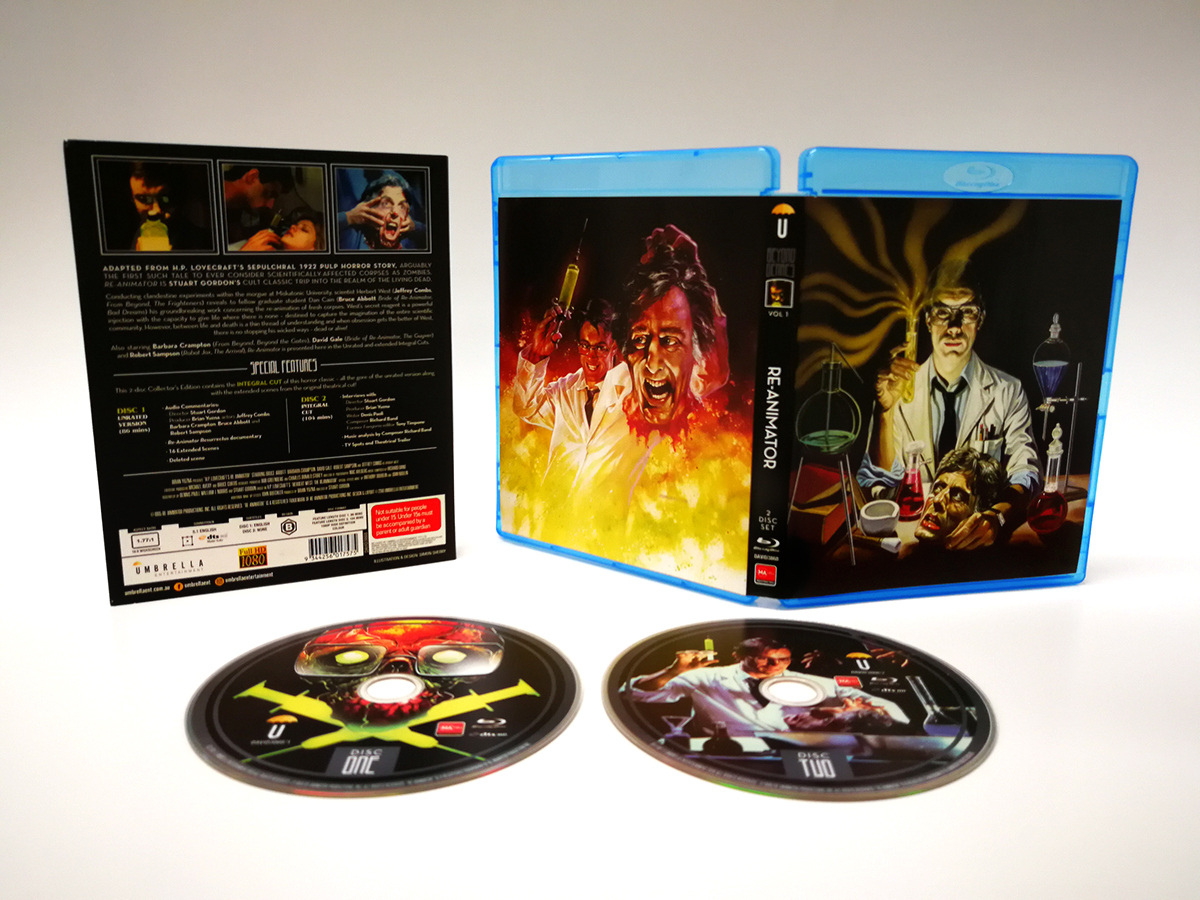 Re-animator is available to purchase directly from Umbrella Entertainment via their website. I recommend that you all snap this one up as soon as you can.