The Movie

Video Quality

Audio Quality

Supplements
Rampage is a 2018 American science fiction monster film directed by Brad Peyton, and loosely based on the video game series of the same name by Midway Games. The film stars Dwayne Johnson, Naomie Harris, Malin Akerman, Jake Lacy, Joe Manganiello, and Jeffrey Dean Morgan. It follows a primatologist named Davis Okoye who must team up with George, an albino gorilla who turns into a raging creature of enormous size as a result of a rogue experiment, to stop two other mutated animals from destroying Chicago. It is the third collaboration between Peyton and Johnson, following Journey 2: The Mysterious Island (2012) and San Andreas (2015).
Purchase RAMPAGE on Ultra HD Blu-ray Today!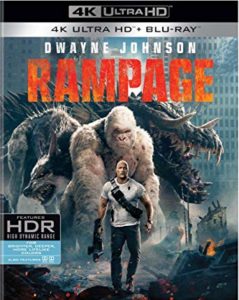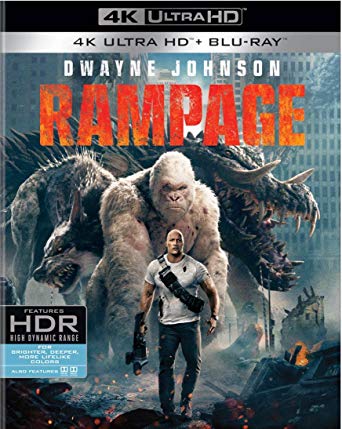 THE MOVIE:
I grew up with the Nintendo Entertainment System, the SNES and every video game console that has came after. I've owned pretty much every one worth owning there after as well. That said I have first hand experience playing the game in which this movie was loosely based on. RAMPAGE. From what I remember I logged many hours on the NES, thew away many quarters on the Arcade, and even bought some midway greatest hits of some sort for the ps2 which included a version of RAMPAGE. I remember when first being introduced to the game thinking it would be this boring game given the simple concept of it and having no internet to do any new age research. In those now innocent days we kids rented games from places like Blockbuster or bought them based off box art, video game magazine ads and reviews (gamepro etc) or word of mouth. So there was big surprise when this game just flat out "worked" with the so called "no wrong way to play" I had a blast just destroying everything in sight.
Flash forward some 20 years and we have a live action blockbuster starring the man whom Arnold passed the torch to (literally on screen) in The Rundown. Dwayne The Rock Johnson the biggest action star on the face of the earth is starring in the video game adaptation of RAMPAGE!? Who would have ever predicted that? Never the less the movie has what the video game was made famous for, destruction! Literal TONS of it. The movie has a lot of cheese ball moments, and I don't think anyone should have expected any Oscar writing and performances. Surprisingly its the highest grossing video game adaptation movie of all time! It's a fun popcorn flick with above average acting and insanity spread throughout. Go into it thinking lightly and you'll be pleasantly surprised.
VIDEO QUALITY:
Our review copy consisted of just the blu-ray edition. The Blu-ray looked great, and I can only suspect that added touch of HDR in 4k resolution would look even better. That said the Blu-ray disc can be had inside the 4k edition or obviously on it's own. Unless this is a fan favorite or if price is comparable then the blu-ray disc version might suffice. More on that in the next section. Modern action blockbuster with big budget CGI makes for a great blu-ray presentation on this blu-ray disc. No complaints.
AUDIO QUALITY:
The blu-ray disc version that we reviewed also has the Dolby Atmos track that the Ultra HD Blu-ray version does. A nice ear candy treat that your home theater system will adore. Our 5.1 set up for this track sounded amazing. This type of film is all about the audio in the crashing and destruction of the city which only RAMPAGE can bring. Monsters, military, chaos, destruction and devastation? Oh yes the perfect recipe for pure audio bliss.
SUPPLEMENTS:
Not A Game Anymore – From arcade sensation to movie monster epic, we explore how the Midway video game inspired the filmmakers to create the ultimate disaster film.
· Gag Reel – Hilarious outtakes and mishaps captured during production.
· Deleted Scenes – Deleted scenes that barely missed the final theatrical cut.
· Rampage – Actors in Action: Strap in for a wild ride as Dwayne Johnson, Joe Manganiello and the cast prepare for the film's demanding stunts and explosive set pieces.
· Trio of Destruction – Follow the innovative design team and the artists at Weta Digital as they bring to life the biggest and baddest monsters for the film's climactic battle royal.
· Attack on Chicago – Director Brad Peyton reveals the challenges of filming on-location in Chicago and turning digital destruction into a cinematic reality.
· Bringing George to Life – Discover the wonder of what it's like to be a gorilla, as movement coordinator Terry Notary teaches actor Jason Liles how to move, behave and become "George."
The film was released in the United States on April 13, 2018, by Warner Bros. Pictures and New Line Cinema, in 2D, RealD 3D and IMAX 3D formats. It has grossed over $425 million worldwide. It received mixed reviews from critics, with praise for Johnson and Morgan's performances and the visual effects, but criticism of the screenplay and storyline. – wikipedia