The Movie

Video Quality

Audio Quality

Supplements
The Quick and the Dead is a 1995 American western film directed by Sam Raimi, and starring Sharon Stone, Gene Hackman, Russell Crowe and Leonardo DiCaprio. The screenplay was written by Simon Moore but includes contributions from Joss Whedon.[5] The story focuses on "The Lady" (Stone), a gunfighter who rides into the frontier town of Redemption, controlled by John Herod (Hackman). The Lady joins a deadly dueling competition in an attempt to exact revenge for her father's death.
Purchase THE QUICK AND THE DEAD on Ultra HD Blu-ray Today!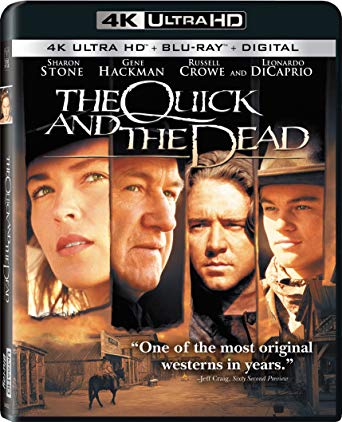 THE MOVIE:
What can be said about THE QUICK AND THE DEAD that hasn't already been said over the years. For newcomers, expect something a bit more fun then that of a serious western like UNFORGIVEN. Sam Raimi of horror and Spider-Man fame directs this western with total Hollywood Popcorn appeal (if you ask me) that has a star studded cast. Russell Crowe, Leonardo DiCaprio (barely out of diapers), Gene Hackman, and Sharon Stone who jumped on early as a co-producer. This seems a little bit reminiscent of desperado like with the special effects.
It's the special effects that really make this film stand out now and feel dated, but it still has its charm. Sharon Stone is the main protagonist whom comes into a town looking for revenge and joins a gun fighting competition that ultimately turns into "to the death" in which she has it out for Gene Hackman whom early on in the beginning you see killed her father when she was young.
It's the characters and directing style that give this movie it's flair some 20 years later.
VIDEO QUALITY:
This is likely the best we will ever see THE QUICK AND THE DEAD look, but despite having HDR it left a bit to be desired. Likely relevant to the original source, though this was soured from the original camera negatives. Never the less it does still look good and if you're a fan of the film, the star studded cast, or Sam Raimi's crazy and now dated take on a western then you'll be pleased. There is definitely a nice sense of authenticity with some slight film grain.
AUDIO QUALITY:
Likely the best part of this films release to Ultra HD Blu-ray is that of the Dolby Atmos track. Westerns pretty much guarantee gun shots, and couple that with Sam Raimi of horror and spider man fame and his take on a western is nothing short of loud. Your 5.1 setup will rock and you'll be instantly transported back in time that has a production stamp of 1995.
SUPPLEMENTS:
Here we have new extras in that of the following. So while its still not the amount of extras we would like to see it is however more than we've received before.
Deleted Scenes (HD, 5:15)
Theatrical Trailer (SD, 2:18)
This was Russell Crowe's American film debut and was Woody Strode's final performance (the film is dedicated to him), as well as the last theatrical release of Roberts Blossom who died in 2011. – wikipedia
I base my grading of "The Movie" section on comparing the movie to films in that movie's category. Example, If the movie is supposed to be a numb fun popcorn flick then it is graded as such and not compared to a "masterpiece" but instead it's peers.