As another San Diego Comic-Con passes one of the constants on the exhibit floor is the massive presence Sideshow Collectibles take up. It feels like each year they pack more and more figures into their booth space. Sideshow produces some of today's best collectible statues from Marvel, DC, Star Wars, and a host of other properties including their own line – Court of the Dead – each with amazing detail and accuracy. I was able to walk around the booth at take photos of all their products but as usual I'll mainly be focusing on Court of the Dead.
Court of the Dead
Court of the Dead follows the story of Death as he tries to bring balance to the afterlife. Assembling souls that he diverts from Heaven and Hell into the Underworld he has assembled the Court of the Dead including his Queen, generals, assassins and spies. Once in the underworld these souls divide into one of three factions (Flesh, Bone, and Spirit) each valuing different virtues. And while each faction stands alone they must remain together to protect the Underworld from the destructive forces of Heaven and Hell.
Court of the Dead continued to gain space within the Sideshow booth and this year with the successful funding of their Mourner's Call board game with Project Raygun the Court of the Dead side of the booth was buzzing all weekend with people going after the annual pin to people taking part in a chance to play the game and have dinner with the creator of Court of the Dead Tom Gilliland and the game designers. Unfortunately I did not win this opportunity.
Check out below some of the amazing products on display from Court of the Dead.
2018 SDCC Court of the Dead Pin
Court of the Dead also had their annual collectible pin. To get the pin you had to go on a journey to three different booths; Han Cholo, Badali Jewlery, and Insight Editions only upon returning could you collect your pin. Each company is cool in their own right!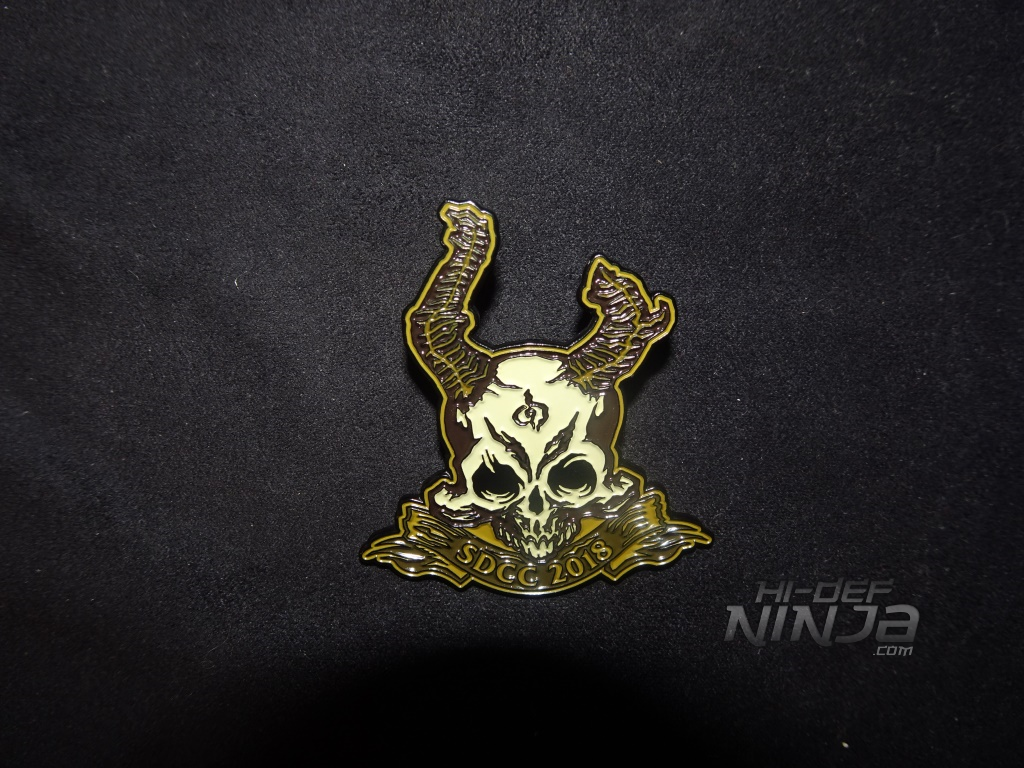 Sideshow
Taking up the larger footprint is the bread and butter of Sideshow. Statues upon statues were packed in the booth. Take a look below!

DC

Marvel

Star Wars

Misc. Properties

2018 SDCC Sideshow Pin
Of course Sideshow had to have their own pin – Thanos' Infinity Guantlet with Stones – which was equally difficult to get and limited to 500
each day!