The Movies

Video Quality

Audio Quality

Supplements
Predator is a 1987 American science fiction action directed by John McTiernan and written by brothers Jim and John Thomas.[4] It stars Arnold Schwarzenegger as the leader of an elite paramilitary rescue team on a mission to save hostages in guerrilla-held territory in an unspecified country in Central America. Kevin Peter Hall co-stars as the eponymous antagonist, a technologically advanced form of extra-terrestrial life secretly stalking and hunting the team. Predator was written in 1984, under the working title of Hunter. Filming ran from March-June 1986 and creature effects were devised by Stan Winston.
Purchase the PREDATOR COLLECTION on Ultra HD Blu-ray Today!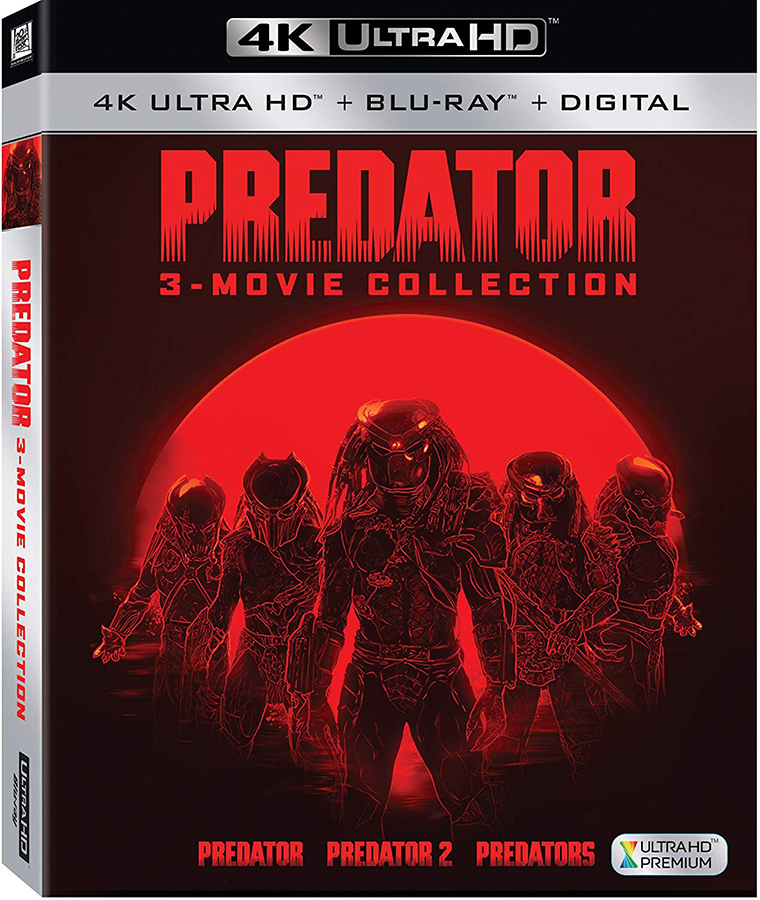 THE MOVIE:

Predator has become a cult hit phenomenon that has seen its fair share of products through licensing. With a new movie on the horizon it seems likely that is the big push for this set that contains Predator, Predator 2, and Predators. Unlike most I'm actually a fan of Predators and wish that would have continued over the past years since as the franchise in itself seems like one that is evergreen with money in regards to licensing much like Transformers that despite box office results the toys and merch seem to make up for it. Never the less here we are still awaiting another installment.
This collection makes these films look better than they have before, and if you dont know the plots of these films by now then you have all the more reason to purchase this set or all the Predator movies for that matter immediately.
VIDEO QUALITY:

This is the best the Predator films have ever looked. They've managed to avoid the noise and leave just the amount of film grain that is purposely intended. The foliage looks amazingly lush and green showcasing such great vibrant colors accessing the full spectrum of HDR on this certified premium release.
[AdSense-A]
AUDIO QUALITY:

All 3 films in this set come with DTS HD Master Audio 5.1 tracks which despite being stellar tracks still makes you wish and wonder why we didn't get the Dolby Atmos treatment. It appears that Fox have avoided Dolby on this release for the most part and just ported the blu-ray audio over. For those wishing to transport themselves back to the theatrical experience one cool thing is that Predator has the DTS 4.0 track
SUPPLEMENTS:

The Predator collection features the same special features from releases past except the only additional bonus is that the Commentaries are also on the UHD discs thus at least not having you watch the blu-rays only for those gems.
The film's budget was around $15 million. 20th Century Fox released it in the United States on June 12, 1987, where it grossed $59,735,548. Initial critical reaction was mixed; criticism focused on the thin plot. In subsequent years, critics' attitudes toward the film became positive, and it has appeared on a number of "best of" lists and is now considered one of the best action films of all time. – wikipedia