The Movie

Video Quality

Audio Quality

Supplements
American Psycho is a 2000 American black comedy horror film co-written and directed by Mary Harron, based on Bret Easton Ellis's 1991 novel of the same name.
Purchase American Psycho on Ultra HD Blu-ray Today!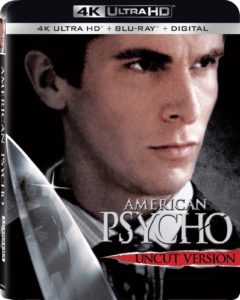 THE MOVIE:

American Psycho is quite the little film that has grown it's own cult following. An almost break out like role for Christian Bale who received much praise after the film's theatrical run, and has had many quotable lines since. "I need to return some videotapes" being just one of a few. Interesting that wikipedia would describe this as a black comedy horror film, but I guess films that stray away from so called regular humor get deemed as such. It does teeter on a thin line perhaps. I fondly remember The Cable Guy starring Jim Carrey being billed as such, and while the film may be a tad dark at times I would think that is somewhat debatable and only more so a black comedy due to his previous comedic roles. Much like The Cable Guy however American Pyscho seems to be a film that gets better with subsequent viewings.
There's something to be said about films that get better with subsequent viewings. Why exactly is that? Because the don't follow normal plot points so you need to know the path already that is to be taken to then fully understand and enjoy it? Seems like a good college essay could be written on the subject.
The film stars Christian Bale as Patrick Bateman and a cast that also includes Reese Witherspoon, Jared Leto, Willem Dafoe, Chloë Sevigny and Justin Theroux. Patrick Bateman originally was supposed to be cast as Leonardo DiCaprio. Bale definitely had the physique to pull this role off likely far better then Leo ever could have. Patrick Bateman is a bonafide psychopath and a narcissistic one at that. Introduced as a wallstreet yuppie who could also be classified as having an extreme case of OCD you quickly realize that he'll rape, kill, and dismember at the drop of a dime for the smallest bit of annoyance that comes his way.
If you like horror films, or dark humor, you'll love American Psycho. It's mad, it's crazy, and it's wild. Quotable and Avatar worthy, set in 1987 hence the famous line "I need to return some videotapes".
American Psycho is a train wreck roller coaster of a ride. Yes, in that order.
VIDEO QUALITY:

American Psycho has never looked better. Another film that while it still shows it's age, (and one of the first blu-rays to ever come out the gate in the first year of the format I do believe.) looks all the better in Ultra HD Blu-ray 4k with HDR. Beautiful Dolby Vision if your TV can handle. Ours looked much stronger with higher clarity and rich blacks that helped darken up some of the few scenes that the hue lends it's hand to. The white apartment definitely pops, and while there is still some film grain it feels more purposed then before. Some of the film is meant to feel drab, and in those instances it just feels more thickened.
AUDIO QUALITY:

There's nothing like the sound of a chainsaw ripping and roaring with multi-dimensional sound from Dolby Atmos as it falls from stories up hitting a victim below. Front heavy track, with rears coming into play mostly with ambient noise from like the restaurant scenes. A much needed improvement over prior releases.
SUPPLEMENTS:

The special features are on both the 4k and blu-ray disc aside from the NEW audio commentary and From Book to Screen which are on the 4k disc only.
* NEW Audio Commentary with writer/director Mary Harron
* Previously Recorded Audio Commentary with writer/director Mary Harron
* Audio Commentary with writer Guinevere Turner
* Deleted Scenes with optional director Audio Commentary
* "The '80s: Downtown" Featurette
* "American Psycho: From Book to Screen" Featurette
Producer Edward R. Pressman purchased the film rights to the novel in 1992. After discussions with David Cronenberg fell through, Harron was brought on to direct and cast Bale in the lead role. Lionsgate acquired worldwide distribution in 1997 and temporarily replaced Harron and Bale with Oliver Stone as director and Leonardo DiCaprio portraying Patrick Bateman. DiCaprio left in favor of The Beach and Harron and Bale were brought back. American Psycho debuted at the Sundance Film Festival on January 21, 2000, and was released theatrically on April 14, 2000. The film was a financial success and received generally positive reviews, with much of the praise directed to Bale's performance and the screenplay. – wikipedia