The Movie

Video Quality

Audio Quality

Supplements
Solo: A Star Wars Story (or simply Solo) is a 2018 American space western film based on the Star Wars character Han Solo. Directed by Ron Howard and produced by Lucasfilm, it is the second Star Wars anthology film following Rogue One (2016). Alden Ehrenreich stars as Han Solo alongside Woody Harrelson, Emilia Clarke, Donald Glover, Thandie Newton, Phoebe Waller-Bridge, Joonas Suotamo, and Paul Bettany.
Purchase SOLO on Ultra HD Blu-ray Today!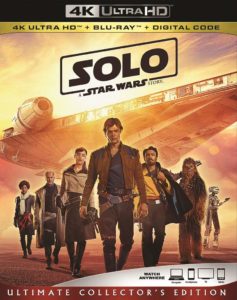 THE MOVIE:

Seems like SOLO received mixed reviews, and word on the street is that it bombed at the box office. I truly hope that isn't the global representation of the film as I hope it did well enough to surpass those negative perceptions as I thought SOLO was a fun filled adventure! The dreary, bleak and sometimes drab cinematography to the movie really set the tone and environment to me. I loved the story and Donald Glover did an amazing job as Lando. I had mixed thoughts going into the movie as I was never sold on the look of Alden Ehrenreich as Han Solo, but once the lights went off and the film was in motion I saw the gestures and character that I knew and grew up with. The legendary Han Solo.
Plenty of action in this film, and a story worth following along with. Climatic and entertaining to boot. Just a few lines that I felt weren't needed in the Star Wars Universe but still a great edition to the franchise and one that I feel was much better than The Last Jedi. In this film we learn the origin of the name SOLO. We take bark on the adventure that is flight academy for Han, where he is quickly expelled from just a few years later. He get's stationed as an infantryman only to discover criminals posing as Imperial Soldiers in which he tries to black mail them which only backfires landing him in a pit with a wookie that is supposed to eat him. Thus we witness the chance encounter of the infamous Chewbacca which history tells us Han will survive this and get a friend for life.
The two team up with Beckett and go on one mission after another in an attempt to steal coaxium to pay off Vos only to learn that Han's sweetheart is under his order. Like many Star Wars movies this all sets forth a plan in action for one more big mission in an effort to set things straight and everything go according to plan. But like most, things don't always go as planned! SOLO is out now on Ultra HD Blu-ray, Blu-ray, and Digital!
VIDEO QUALITY:

SOLO comes to Ultra HD Blu-ray 4K with HDR10 and once more a lack of Dolby Vision. Never the less, the picture quality does look quite well. It might be deceiving to many, but fear not unlike all other Star Wars films to date Solo was made to have a drab look at times. So the picture quality is stellar based upon source material and the DP's intentions. When factoring that in mind it allows my ranking for the video quality to still be quite well despite the lack of Dolby Vision.
AUDIO QUALITY:

SOLO comes to Ultra HD Blu-ray 4K with a Dolby Atmos track that in the end leaves a bit to be desired. The Blu-ray disc comes with 7.1 DTS HD Master Audio lossless track. The film had all it needed to have to be a contender for audio track of the year and while the blu-ray audio track is great for it's standards the Dolby Atmos track lacks that punch it needed to push it even further and really satisfy my thirst for an out of this world audio track. One could say we are nitpicking at this point, but Disney has had quite a little uproar in regards to audio tracks for their marvel films in the past.
SUPPLEMENTS:

Sadly there are no special features on the 4K disc. However there is a slew of extras, so many in fact that they are on their very own blu-ray disc that accompanies the release. Solo was a bit of a whirlwind filming process, and while many of us know and have heard of many rumors there isn't much light shed in that regard. The wealth of extras tho and some entertaining and intriguing ones at that make up for the lack of; oh what do the kids call it these days, tea.
DIGITAL AND BLU-RAY BONUS MATERIAL (may vary by retailer):
• Solo: The Director & Cast Roundtable
Sit down with director Ron Howard and the stars for an intimate and entertaining discussion of the film's making.
· Team Chewie
See what it takes to bring your favorite Wookiee to life in this lighthearted look behind the scenes.
· Kasdan on Kasdan
Iconic Star Wars screenwriter Lawrence Kasdan and son Jonathan share what it was like to write the movie's script together.
· Remaking the Millennium Falcon
Track the transformation of the most famous ship in the galaxy, from Lando's swank and impeccable pride and joy to Han's stripped-down hot-rod freighter with "special modifications."
· Escape from Corellia
Get behind the wheel for the making of this high-octane chase through the streets of Corellia.
• The Train Heist
Explore the challenges and thrills of creating this action-packed sequence, including its remote location and spectacular effects.
· Becoming a Droid: L3-37
Meet the newest droid—and the talented actor who helps bring her to life.
• Scoundrels, Droids, Creatures and Cards: Welcome to Fort Ypso
Take an in-depth tour of the rough-and-tumble bar where strangers mix and gamblers risk all in the legendary card game, Sabaac.
• Into the Maelstrom: The Kessel Run
Join Han and Chewie at the controls of the Millennium Falcon to see how this legendary moment in Star Wars history unfolds.
Deleted Scenes
o Proxima's Den
o Corellian Foot Chase
o Han Solo: Imperial Cadet
o The Battle of Mimban: Extended
o Han Versus Chewie: Extended
o Snowball Fight!
o Meet Dryden: Extended
o Coaxium Double-Cross
The Millenium Falcon: From Page to Park – An exclusive look at the history of the most famous ship in the galaxy, its origin and development, and how it will translate in one of the most anticipated expansions in Disneyland's history.
Star Wars creator George Lucas began developing a Han Solo prequel in 2012, and commissioned Lawrence Kasdan to write the screenplay. After Lucas sold Lucasfilm to Disney in 2012, Kasdan was hired to write Star Wars: The Force Awakens (2015), leaving his son Jonathan to complete the Solo script. Principal photography began in January 2017 at Pinewood Studios, directed by Phil Lord and Christopher Miller. The duo were fired in June 2017 following "creative differences" with Lucasfilm, and Howard was hired as their replacement. With an estimated production budget of $275 million. – wikipedia