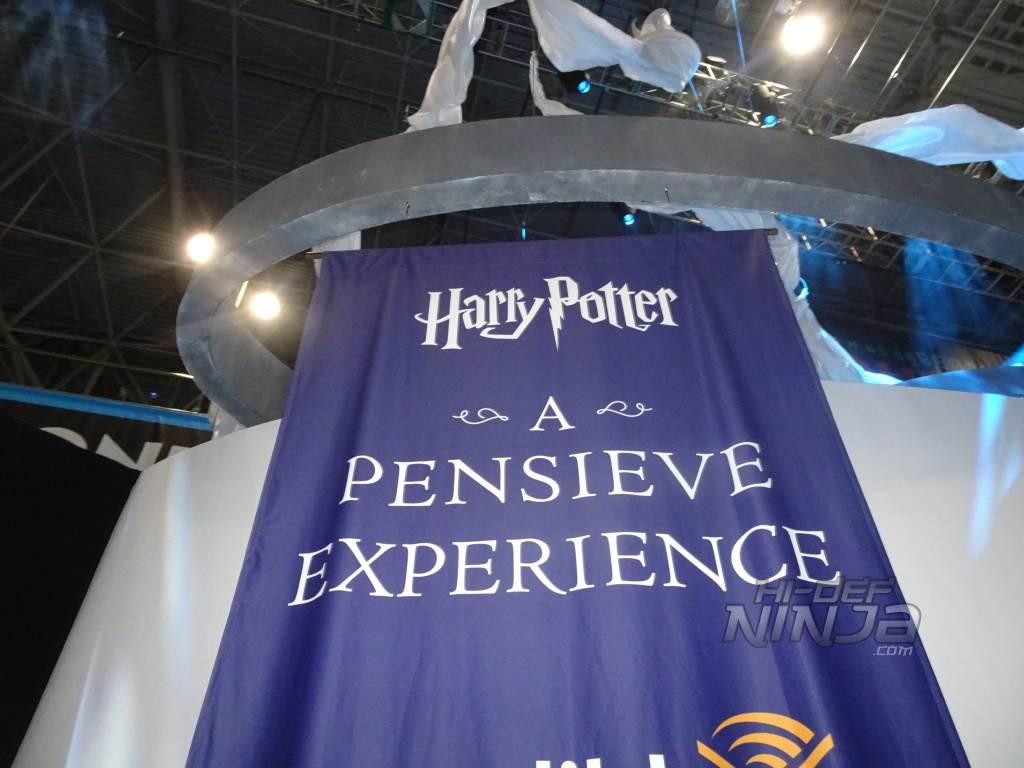 One of the big parts of any convention are the onsite activations and New York Comic Con is gearing up to have a lot of them this year. In celebration of the 20th Anniversary of Harry Potter Audible along with Pottermore Publishing have a unique interactive Harry Potter Pensieve activation at the show. Occupying their familiar spot in the concourse of the Javits Center the fan experience lets Potterheads relive some of the most memorable moments of popular characters in the series.
Hi-Def Ninja was lucky enough to get a preview of the experience that will be available to all fans attending the show starting tomorrow. To start fans choose a vial containing the memories of one of six main characters in the series including Ron, Hermonie, and Dumbledore among them. Once it is your turn to enter the pensieve you can make your way to any one of the four stations. Once there you place the memories from your vial into the pensieve and are treated to an audio memory of the character you selected. Once done head on over to the other areas for more memories. For my walkthrough I chose Professor Dumbledore and was treated to memories from Sorcerer's Stone, Order of the Phoenix, and Deathly Hallows. Other friends I was with chose different characters and were treated to scenes from the Chamber of Secrets, Prisoner of Azkaban, and Goblet of Fire. It doesn't matter where you start, but make sure you visit all four while inside.
Also while you are waiting to put your memories inside the pensieve you will be treated to more exceprts from the books, delightfully read by Jim Dale.
Choose your character wisely though as you can only choose one and I expect this to be a very popular activation throught the convention.
To round out the experience once you've made your way through all of the memories its time for your spell casting video. Select a wand from a character favorite and then you get to make a 10 second video clip of your spell casting; which is perfect to share on social as a great reminder of your experience.
Another nice souvenir you get to keep is the character vial with the name of the character on one side and the Pottermore logo on the other.