The Movie

Video Quality

Audio Quality

Supplements
Ant-Man and the Wasp is a 2018 American superhero film based on the Marvel Comics characters Scott Lang / Ant-Man and Hope van Dyne / Wasp. Produced by Marvel Studios and distributed by Walt Disney Studios Motion Pictures, it is the sequel to 2015's Ant-Man, and the twentieth film in the Marvel Cinematic Universe (MCU).
Purchase ANT-MAN AND THE WASP on Ultra HD Blu-ray Today!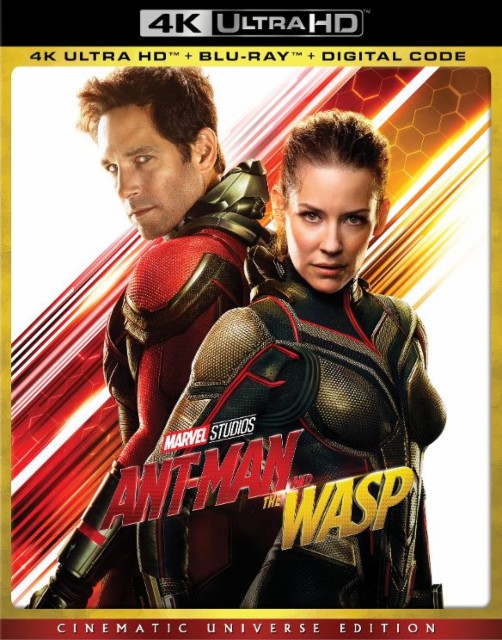 THE MOVIE:

Ant-Man and the Wasp is the 2nd installment in the Ant-Man franchise with Paul Rudd and the gang all reprising their roles. The original Ant-Man was a big time marvel favorite of mine easily in my Marvel top 5, and perhaps on a good day landing in the top 3 at the 3rd spot. *wink* So how does this sequel shake out? I'd have to say it's a worthy credible sequel to the original and it seems like the general mass gave it a great overall review. While I did thoroughly enjoy it somehow I liked the first film just a tad more. This one still brings plenty of humor and some new characters enter the scene what with Ghost, Dr. Bill Foster, and even Sonny Burch for that matter.
We get to see where and how X-Con is doing with Michael Pena and Co. Wasp, played by Evangeline Lilly is in hiding with Hank Pym who come back to answer Ant-Man's call when he has dreams and feelings that he is her mother, Janet Van Dyne. Things spiral out of control while comedy ensues due to Ant-Man being on house arrest due to his escapades with the Avengers. While meeting up with Sonny Burch the Ghost appears and steals the shrunken secret lab sending Ant-Man and the Wasp on a mission to recapture and save her mother from the subatomic realm.
VIDEO QUALITY:

Another stellar release in regards to the picture quality. The Ultra HD Blu-ray 4k is noticeably different from the accompanied blu-ray. Sharp and realistic skin tones, vivid brights and deep darks that are well saturated offer a great UHD viewing experience. Ant-Man films offer a diverse bag as it is and thus lend to the ability for a visual showcase and this Ultra HD Blu-ray 4K release doesn't disappoint.
AUDIO QUALITY:

Thankfully with this outing we received a Dolby Atmos track which is a definite improvement from some prior Disney Marvel releases. The track is loud and that's a plus with so many fight scenes and chase/car scenes that really lend to the track. Great immersive audio taking advantage of the fronts , center and rears quite nicely. For those with ceiling speakers you'll notice great background noise with cars whizzing by etc. Big improvement from Disney.
Audio Format(s): English Dolby Atmos, English Descriptive Audio 2.0 Dolby Digital, French (Canada) 5.1 Dolby Digital, French 7.1 Dolby Digital Plus, Spanish (Latin American) 7.1 Dolby Digital Plus, German 7.1 Dolby Digital Plus, Italian 7.1 Dolby Digital Plus
Subtitles: English SDH, French (Canada), French, Latin Spanish, German, Italian, Dutch, Swedish, Traditional Chinese, Cantonese, Korean, Thai, Swedish, Norwegian
SUPPLEMENTS:

Ant-Man and the Wasp at release comes with a lenticular slipcover for the Ultra HD Blu-ray release and digital copy along with the following special features:
Director's Intro by Peyton Reed – The talented creator behind some of Marvel Studios' funniest and most charming films will invite home audiences deeper into the world of "Ant-Man and The Wasp."
Making-of Featurettes:
Back in the Ant Suit: Scott Lang – Hero and all-star dad Scott Lang keeps the laughs coming for the audience, cast and crew.
A Suit of Her Own: The Wasp – Highly trained Hope Van Dyne is now the Wasp. See how some of her craziest stunts and action-packed scenes were brought to life.
Subatomic Super Heroes: Hank & Janet – Hank Pym's wife Janet was lost in the quantum realm. Trace the legacy of these characters and the iconic actors who portray them.
Quantum Perspective: The VFX and Production Design of "Ant-Man and The Wasp" – Explore the movie's visual effects and production design from a whole new viewpoint, in which every micro and macro detail counts.
Gag Reel and Outtakes – Audiences are treated to the hilarious quips that did not make the film as well as exclusive outtakes from Stan Lee and Tim Heidecker.
Gag Reel – Join in the fun with these outtakes from the set.
Stan Lee Outtakes – Stan Lee tries out a series of hilarious one-liners for the scene in which his car shrinks.
Tim Heidecker Outtakes – Check out Whale Boat Captain Daniel Goobler and his improvised whale-watching riffs.
Deleted Scenes (with commentary by Director Peyton Reed)
Worlds Upon Worlds – As Janet leads Hank through the surreal landscape of the quantum realm, they encounter an intelligent life form.
Sonny's on the Trail – On the hunt for Hank Pym and his lab, Sonny Burch and his henchmen check the security camera of a neighborhood bookstore.
10 Years of Marvel Studios: The Art of the Marvel Cinematic Universe – See what it takes to bring the MCU to life, and the role concept artists play in bringing Super Heroes from comic book to screen.
Online Close-Up Magic University – This commercial will inspire you to expand your mind and maximize your full potential!
Talks for a sequel to Ant-Man began shortly after that film was released. Ant-Man and the Wasp was officially announced in October 2015, with Rudd and Lilly returning to reprise their roles. A month later, Ant-Man director Reed was officially set to return; he was excited to develop the film from the beginning after joining the first film later in the process, and also to introduce Hope van Dyne as the Wasp in this film, insisting that she and Lang are equals. – wikipedia