New York Comic Con is over now but that doesn't mean all the fun has to stop. For the 13th edition of this show NYCC brought in an expected 250,000 attendees. The show held at the Jacob K. Javits Convention Center in Manhattan is a celebration of all things pop culture. Like any top tier convention there were a ton of things to do throughout the shows four days from Panels, Exhibit Floor, Artist Alley, and Offsites.
As there is so much to cover I've divided up my coverage into categories. Here I will be showing off some of the activations and offsites that companies like Starz, Amazon, Audible, HBO, and NBC Universal brought to NYCC. Some of the activations I have already covered separately or plan on splitting up so below is a selection of some of the more elaborate booths that were on display.
Starz – Outlander
Outlander – Website; Facebook; Twitter; Instagram
Outlander follows Claire Randall, a World War 2 British army nurse, who is transported to 1743. To survive there she marries Jamie Fraser, a warrior with a complicated past.  At the NYCC Panel, Starz surprised fans with a screening of Season Four's first episode, and was introduced by surprise guest, author of the Outlander book series Diana Gabaldon. The panel was moderated by Lola Ogunnaike and included Ronald D. Moore (executive producer), Maril Davis (executive producer), Caitriona Balfe (Claire Randall Fraser), Sam Heughan (Jamie Fraser), Sophie Skelton (Brianna Randall) and Richard Rankin (Roger Wakefield).
Part of Starz promotion at NYCC was a booth in the inner roadway which was split into two parts; one promoting Outlander and the other American Gods. I'll be focusing on the American Gods half in another post. The Outlander side of the booth featured an era accurate cabin, Fraser's Ridge, with two experiences.
The first side featured beauty brand Caswell-Massey, Americas first fragrance and personal care product company founded in 1752 with brand experts on hand to discuss the company and products. Fans were then able to choose from one of three specially co-branded bottles to take home, one of which 'Number Six' is the formula George Washington used at his inauguration speech.
The other half of the outlander booth saw Starz partner with Royce, a family owned leather goods company. Fans were given a luggage tag and then were able to have it customized with their monogram.
Finally fans were given a series key art limited edition tote!
Outlander returns to Starz on November 4 but check out the opening credits fro season 4 below:
Universal Pictures – Glass
Glass – Website; Facebook; Twitter; Instagram
M. Night Shyamalan brings together the narratives of two of his standout originals—2000's Unbreakable, from Touchstone, and 2016's Split, from Universal—in one explosive, all-new comic-book thriller: Glass. Following the conclusion of Split, Glass finds Unbreakable's David Dunn (Bruce Willis) pursuing Split's Kevin Wendell Crumb (James McAvoy) superhuman figure of The Beast in a series of escalating encounters, while the shadowy presence of Elijah Price (Samuel L. Jackson), known also by his pseudonym Mr. Glass emerges as an orchestrator who holds secrets critical to both men.
At NYCC the Glass booth was split into two parts. A pop up comic shop had props and art form the movie; racks of comic books and board games gave the booth a real comic book vibe. However once you were ready you were called into an assessment room where you were asked a bunch of moral questions. After your assessment it was determined if you were a Hero or Villain and fans were provided a custom movie poster with their photo.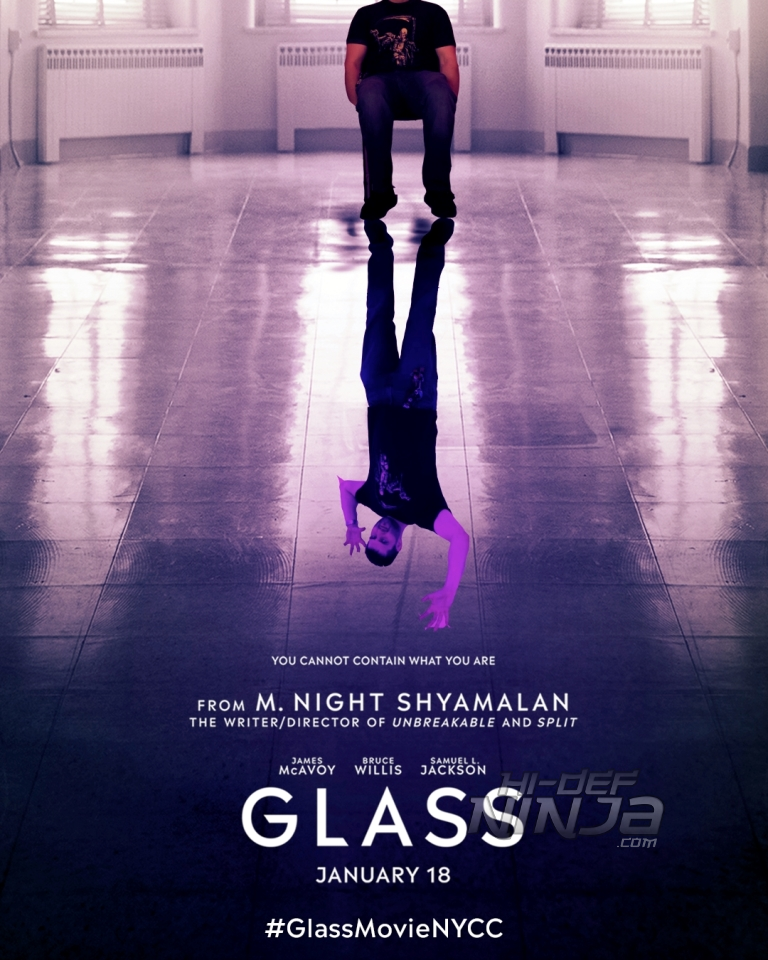 Glass releases January 18, 2019 but a new trailer was just released; check it out below!
Universal Pictures – Skyscraper
Skyscraper – Website; Facebook; Twitter; Instagram
Former FBI agent and U.S. war veteran Will Sawyer now assesses skyscraper security for a living. While on assignment at the world's tallest building in China, Will is framed for starting a fire. Will must now find those responsible, clear his name, and rescue his family who are trapped inside.
To promote the movie Universal had a VR experience on the show floor aptly named "Skyscraper: The Impossible Leap VR Experience." Participants were given the chance to make the crane jump, virtually, from this summer's blockbuster movie. Fans were given the chance to make the leap in either one or two jumps. For my chance I went for the glory and attempted it in one jump which I made it and based on the cheers of the people around me sounded like a few people struggled with making the leap in one try.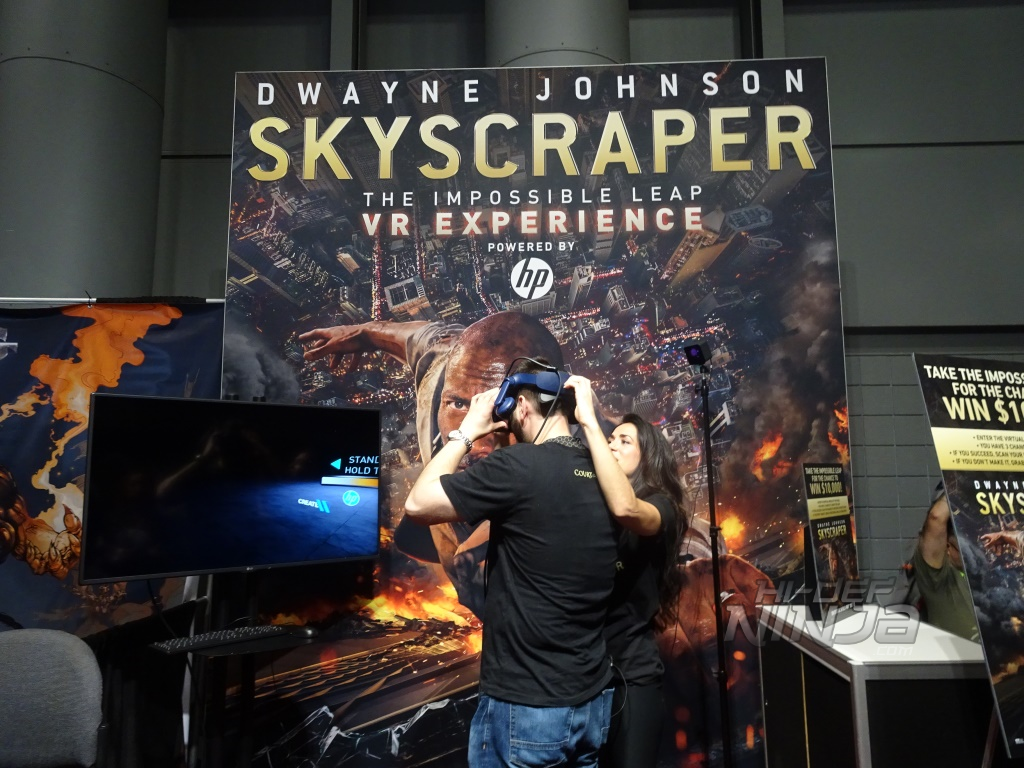 Skyscraper is available now on digital and Blu-ray.
Universal Pictures – Mortal Engines
Mortal Engines – Website; Facebook; Twitter; Instagram
Hundreds of years after civilization was destroyed by a cataclysmic event, a mysterious young woman, Hester Shaw (Hera Hilmar), emerges as the only one who can stop London — now a giant, predator city on wheels — from devouring everything in its path. Feral, and fiercely driven by the memory of her mother, Hester joins forces with Tom Natsworthy (Robert Sheehan), an outcast from London, along with Anna Fang (Jihae), a dangerous outlaw with a bounty on her head. Mortal Engines hits theaters on December 18.
To promote the upcoming movie Mortal Engines held a panel attended by Peter Jackson to promote the movie as well as an interactive experience on the show floor which was one of the more unique activations I have done at a convention. Fans were first given movie accurate clothing to wear and were then directed to a stage area. We were then given direction for acting out a scene where our home was being attacked by London. Afterwards our scenes were cut into a trailer for our own personalized trailer.
Unfortunately I won't be an actor any time soon!
https://eventsplatform.blob.core.windows.net/media/videos/5b9124fc02142311c0b23aef/5b91275502142311c0b23b0f/5ba40513021425460000b2e8/6a46953c78a9fbd7b2155af8108b4b09
HBO – Game of Thrones Johnnie Walker White Walker
Game of Thrones Website; Facebook; Twitter; Instagram
Johnnie Walker Website; Facebook; Twitter; Instagram
On top of a Funko Pop-Up shop HBO celebrated the release of their Johnnie Walker Game of Thrones White Walker Single Malt Scotch Whisky. Fans who attended were able to sample the new limited edition blend as well as purchase a bottle or two. The site was decked out with a generally north of the wall feeling with brand ambassadors on hand to pour and discuss the new Scotch.
Also on display was a sneak peak of the peak of the Game of Thrones Diageo Scotch Whisky collection that will be released later this year. Each of the Scotch's were paired with on of the leading houses as well as the Night's watch giving fans a taste of the Sevn Kingdoms. In the collection is House Tully Singleton of Glendullan Select; House Stark Dalwhinnie Winter's Frost, House Targaryen Cardhu Gold Reserve; House Lannister Lagavulin 9 Year Old; House Greyjoy Talisker Select Reserve; House Baratheon Royal Lochnagar 12 Year Old; House Tyrell Clynelish Reserve; and The Night's Watch Oban Bay Reserve.