The Movie

Video Quality

Audio Quality

Supplements
Buckle up for KING COHEN, the true story of writer, producer, director, creator and all-around maverick, Larry Cohen (Black Caesar, God Told Me To, Q: The Winged Serpent, The Stuff). Told through compelling live interviews, stills and film/TV clips, the people who helped fulfill his vision, and industry icons such as Martin Scorsese, John Landis, Michael Moriarty, Fred Williamson, Yaphet Kotto and many more
Purchase KING COHEN on Blu-ray Today!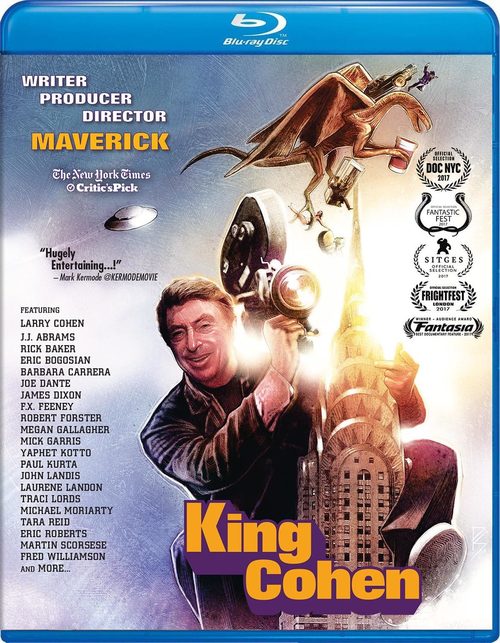 THE MOVIE:

KING COHEN is a documentary with loads of interviews from Hollywood actors and directors that have amazing stories to tell about what it was like to work with Larry Cohen. There's a charming allure to that of the stories and relationship that Fred Williamson has of Larry Cohen.
In this blu-ray we get to learn of his life and journey into film making and writing from the moment he caught his break. I'm very glad a CD is included because the score for this Documentary is feature film worthy. COHEN was famous for shooting films in his own home, be it outside or inside and many jokingly speculated that he only bought the house for that very reason. While BONE was not successful it lead to his entry into blaxploitation where his relationship with Fred Williamson really took place.
The film touches on how he accomplished a lot of his filming which was hilariously done a lot of times with out filming permits. Additionally there is great behind the scenes knowledge on IT'S ALIVE including its hiatus of release and into its smashing success. Lots of interviews by his peers and past colleagues and both his wife and ex-wife sharing great personal stories.
Highly recommended, and worth a watch!
FEATURE: Video: 1080p High Definition Widescreen (1.78:1) – Audio: English DTS-HD Master Audio 5.1 – English Subtitles – Running Time: 107 minutes
VIDEO QUALITY:
KING COHEN comes to Blu-ray with a fine blu-ray transfer that does an exceptional job for the genre. Beautiful hi-def blu-ray brights and deep darks that lend to a great video transfer.
AUDIO QUALITY:
How many Documentaries do you know that have a DTS-HD Master Audio 5.1 track? This screams the quality of those at hand. Someone who truly cares to give you a great product and experience as its equally important to he himself. Whether that credit is due to Cohen, Mitchell or both never the less it really makes the soundtrack from the master Joe Kraemer pop! Great use of rears while more frequently front heavy. A lovely soundtrack that is as loud as it is compelling whilst transitioning the film quite nicely from scenes.
SUPPLEMENTS:
SPECIAL FEATURES and TRAILER: Video: 1080p High Definition Widescreen (1.78.1) – Audio: LPCM Mono/Stereo 2.0
More than 100 minutes of additional SPECIAL FEATURES!
AN AUDIENCE WITH THE KING: Raw interview footage of Larry Cohen telling more great stories (47 min)
MORE STORIES FROM THE KING'S COURT: Raw interview footage featuring Barbara Carrera, Eric Roberts, Traci Lords, Eric Bogosian, Laurene Landon, Tara Reid, Michael Moriarty, Fred Williamson, Spiro Razatos, Paul Glickman and Daniel Pearl, A.S.C. (37 min)
MONSTERS ON THE TABLE: Larry at home with some monstrous friends. (4 min)
HELLO, WORLD!: Film Festival greetings by Larry Cohen (14 min)
THEATRICAL TRAILER (2.5 min)
SOUNDTRACK CD: Stereo – Running Time: 57:36