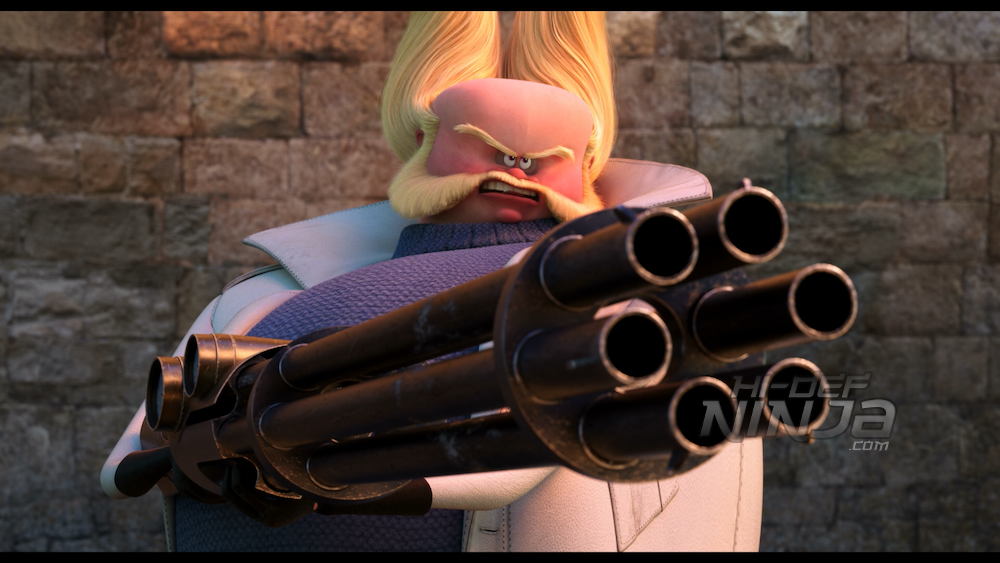 HOTEL TRANSYLVANIA 3: FAMILY VACATION Blu-ray Review
The Movie

The Video

The Audio

The Supplements
Over the centuries, a Van Helsing has been hunting Dracula and other monsters. After many, many attempts, Dracula finally defeats him and that's how he comes up with the idea to create the Hotel for monsters. Some time goes by and Mavis has married her human love Jonathan. They live at the hotel and they are trying to raise a family but Drac's friends are trying to help him find love. With so much stress looming on his head with wanting to meet someone, run the hotel, helping Mavis with her family, and keeping the fact that he is lonely from his daughter; she see his tree and plans a family cruise. Drac's friends also go on the cruise because it is something that no monster will want to miss.
HOTEL TRANSYLVANIA 3: FAMILY VACATION is directed by Genndy Tartakovsky and he has directed every movie in the series so far. This series takes the classic movie monsters and puts them on the screen in a hyper-stylized artwork. One of the things that I really enjoy about the series is that they leave not stone unturned when it comes to the creatures for the feature. Zombies, The Blob, The Kraken, and so many others are there if you search through the scenes. I also dig the animation style with simple things like bubble effects when the crew is scuba diving. This is just one of the little details where the animators show off their talents.
Cast
Adam Sandler as Count Dracula
Andy Samberg as Jonathan Loughran
Selena Gomez as Mavis
Kevin James as Frankenstein
David Spade as Griffin the Invisible Man
Steve Buscemi as Wayne: A werewolf
Keegan-Michael Key as Murray: An ancient mummy
Molly Shannon as Wanda: Wayne's werewolf wife
Fran Drescher as Eunice: Frankenstein's wife
Kathryn Hahn as Ericka Van Helsing
Jim Gaffigan as Abraham Van Helsing
Mel Brooks as Vlad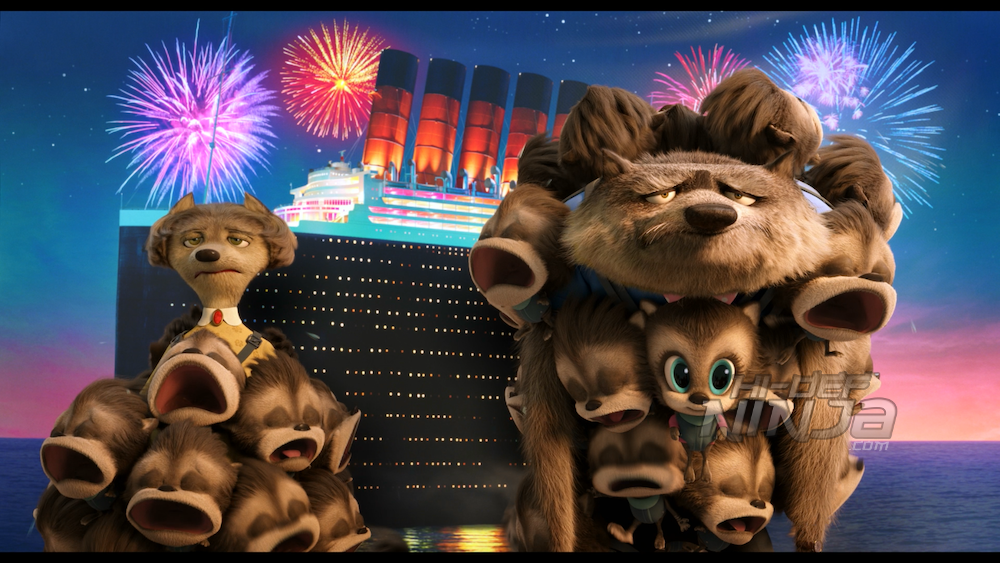 VIDEO QUALITY:
The video is a 1080p AVC presentation that is stunning. Animation always looks impressive in HD with smooth lines or sharp edges where they should be. All of the images are highly detailed and show of the various textures on things such as Vlad's skin or The Mummy's wraps. The solid blacks create strong contrasting and nothing ever looks muddled. The best part of the video is the coloring. For the sake of lighting and shadows, there can be several hues of one color at the same time.
AUDIO QUALITY:
The audio is a DTS-HD Master Audio 5.1 mix does plenty of work. Between the constant effects and music, all of the speakers get some sort of use. The sounds are clean and follow the movement of what's on as well as off screen. The LFEs hit hard from the music and also some of the pounding effects. The dialogue is prioritized well with the music and sound effects.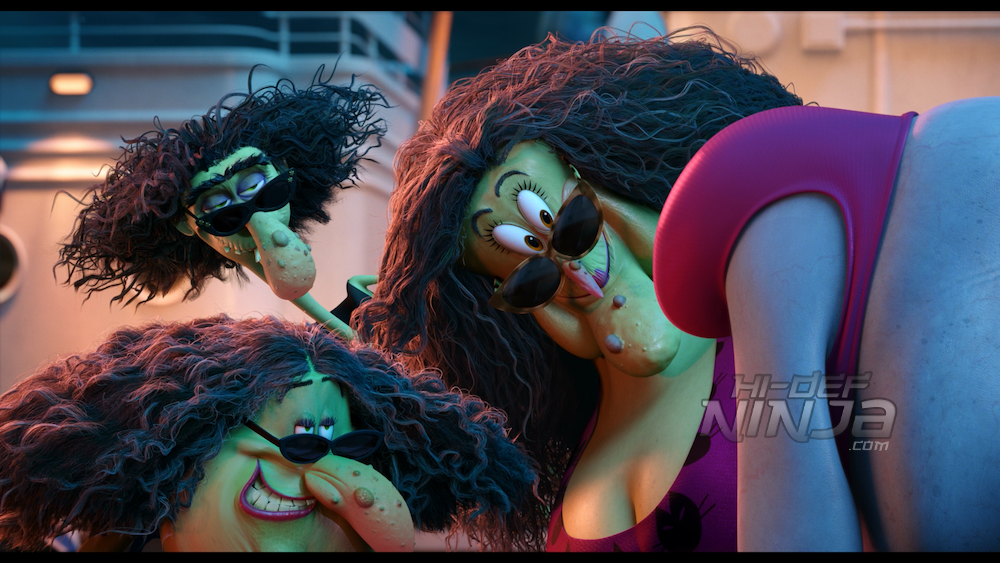 SUPPLEMENTS & PACKAGING
-Audio Commentary: with Director and Animators
-Original Shorts include:
Puppy!
Goodnight Mr. Foot
-Scary-Oke Sing Alongs
-Behind the Screams: The Voices of HOTEL TRANSYLVANIA 3: This is a look at the actors who voiced the various characters.
-Meet the New Characters: This shows off some of the new creatures and people to join the franchise.
-Johnny's Home Movies: These are Johnny's movies that explains why he is the way he is.
-Drac's Zing-Tastic Read Along
-Monster Activities!
Plan Your Own Spook-tacular Sleepover!
Vampire Make-Overs: Mavis and Drac Make-Up How To
How to Draw Dracula
Make Your Own Watermelon Jack-O-Lantern.
-"I See Love" Dance Party
-Lyric Videos
-Trailers
Hotel Transylvania Trailer
Hotel Transylvania 2 Trailer
Hotel Transylvania Monsters Mobile Game Trailer
Disc Details
2-disc set w/1 Blu-ray and 1 DVD
Digital copy
Running Time
97 mins
Edition Ratings
Rated PG
Region Coding
Region Free
Video Resolution
1080p AVC MPEG-4
Aspect ratio: 1.85:1
Audio Mixes
English DTS-HD Master Audio 5.1
French (Canada) Dolby Digital 5.1
Spanish Dolby Digital 5.1
Subtitles
English
English SDH
French
Spanish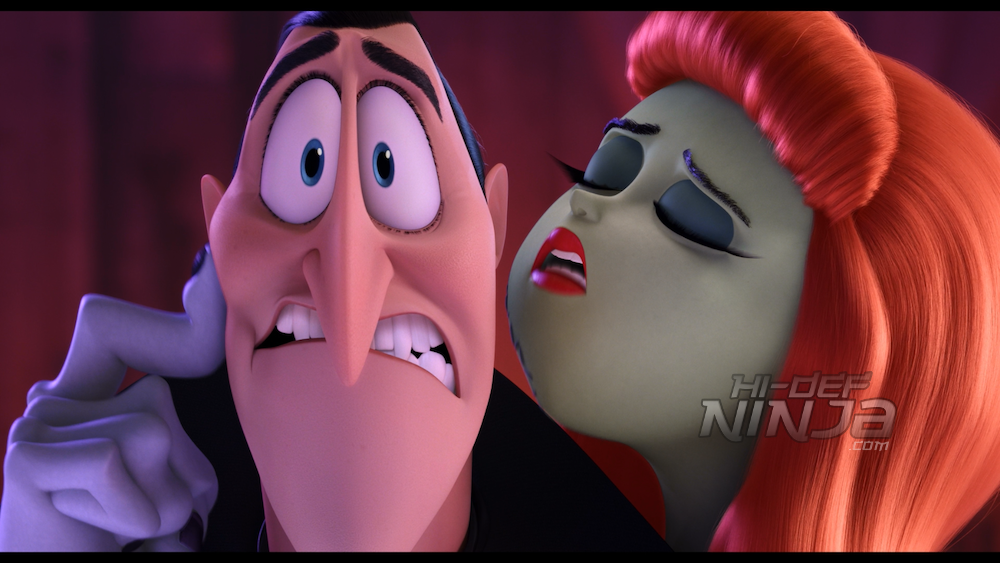 THE BOTTOM LINE:
HOTEL TRANSYLVANIA 3: SUMMER VACATION has some funny moments and it will definitely keep the family entertained. There are some moments that only adults would understand but they aren't the lewd type of jokes that parents might fear their kid saying. The animation is well done and loaded with little details everywhere. The video transfer is sharp and has really great color use. The audio is also very good with plenty happening in each channel. There are loads of extras and activities for kids to enjoy as well. Overall, this is a solid release from Sony and fans of the franchise and/or the movie are recommended to pick this one up.