The Series

Video Quality

Audio Quality

Supplements
Black Sails is an American historical adventure television series set on New Providence Island and a prequel to Robert Louis Stevenson's novel Treasure Island. The series was created by Jonathan E. Steinberg and Robert Levine for Starz. It debuted online for free on YouTube and other various streaming platform and video on demand services on January 18, 2014.
Purchase BLACK SAILS THE COMPLETE SERIES on Blu-ray Today!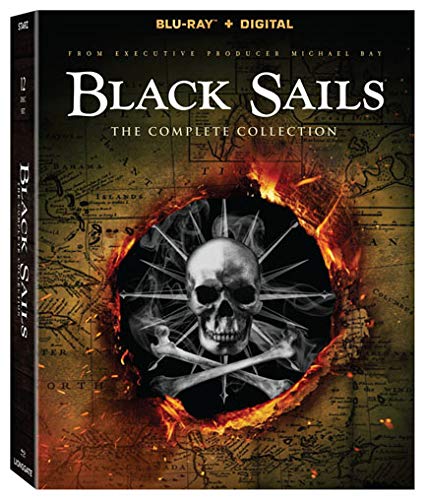 THE SERIES:

Black Sails the series has a timeline of about 20 years before the events of Treasure Island. At the heart and heyday of Pirate times and life. Captain Flint fights for the survival of New Providence Island, and in 1715 west indies there are threats of maritime trade in the area because of the pirates. All civilized nations declare them hostiles and enemies. Banding together the pirates respond with "war against the world".
During the show the pirates are on the hunt for the spanish treasure Galleon Urca De Lima. It isn't until season two that we see that the treasure is stranded on the coast of Florida guarded by Spanish soldiers. Not long after Jack Rackham takes the treasure back to New Providence Island. We learn a lot about how Flint turned into a pirate in this season and it isn't until the last two seasons that the war for control of the island really transpires.
You may recognize such historical pirates who are fictionalized including Jack Rackham, Charles Vane, Anne Bonny, Benjamin Hornigold, Ned Low, Israel Hands and Blackbeard.
VIDEO QUALITY:
.
Black Sails looks amazing in blu-ray and the cinematography is beyond measures when we're talking of perceived realism of the time period of pirates. The series has film grain, but most evidently purposeful and used tactfully. The special effects are top tier with Michael Bay on the project. Beautiful color palettes adorn this series that lead both to dark, warm, and dreary when visualizing ship life where as bright vibrant hues are showcased when on the islands in the day. No complaints to the video quality on this release as all seems Director and post production intended.
AUDIO QUALITY:

The crashing waves of the sea, the blasting of cannons, the yelling, the raining, the fighting, the bedroom endeavors. All of which comes to us in 7.1 Dolby True HD that suits this series extremely well. The thunder and lightning is so freakishly real when rocking around your home theater set up; with the fronts and rears simultaneously working in unison you'll swear the weather is exactly as such outside! Top notch production and budget is what gave us 7.1 when most tv series you're lucky to get 5.1 at best.
SUPPLEMENTS:
Season 1 Bonus Features:
"'Black Sails': An Inside Look" Featurette
"Dressed to Kill" Featurette
"Pirate Camp" Featurette
"Folklore Is Finished" Featurette
"A Place in History" Featurette
"Building the Behemoth" Featurette
Season 2 Bonus Features:
"Inside the World of 'Black Sails'" Featurette
"Man O'War" Featurette
"Expanding Worlds" Featurette
"High Seas Action" Featurette
"History's Influence" Featurette
Season 3 Bonus Features:
"Season Two Recap" Featurette
"Blackbeard: An 18th-Century Pirate" Featurette
"The Storm" Featurette
"A Pirate's Last Words" Featurette
"Woodes Rogers" Featurette
"Inside the World of 'Black Sails'" Featurette
Season 4 Bonus Features:
"Inside the World of 'Black Sails'" Featurette
"Creating the World" Featurette
"Roundtable: Women in Piracy" Featurette
"Roundtable: The Legends of Treasure Island" Featurette
"Roundtable: Fearless Fans" Featurette
Black Sails is set roughly two decades before the events of Treasure Island and during the Golden Age of Piracy. Feared Captain Flint brings on a younger crew member as they fight for the survival of New Providence island. According to the first episode, "In 1715 West Indies, the pirates of New Providence Island threaten maritime trade in the region. – wikipedia