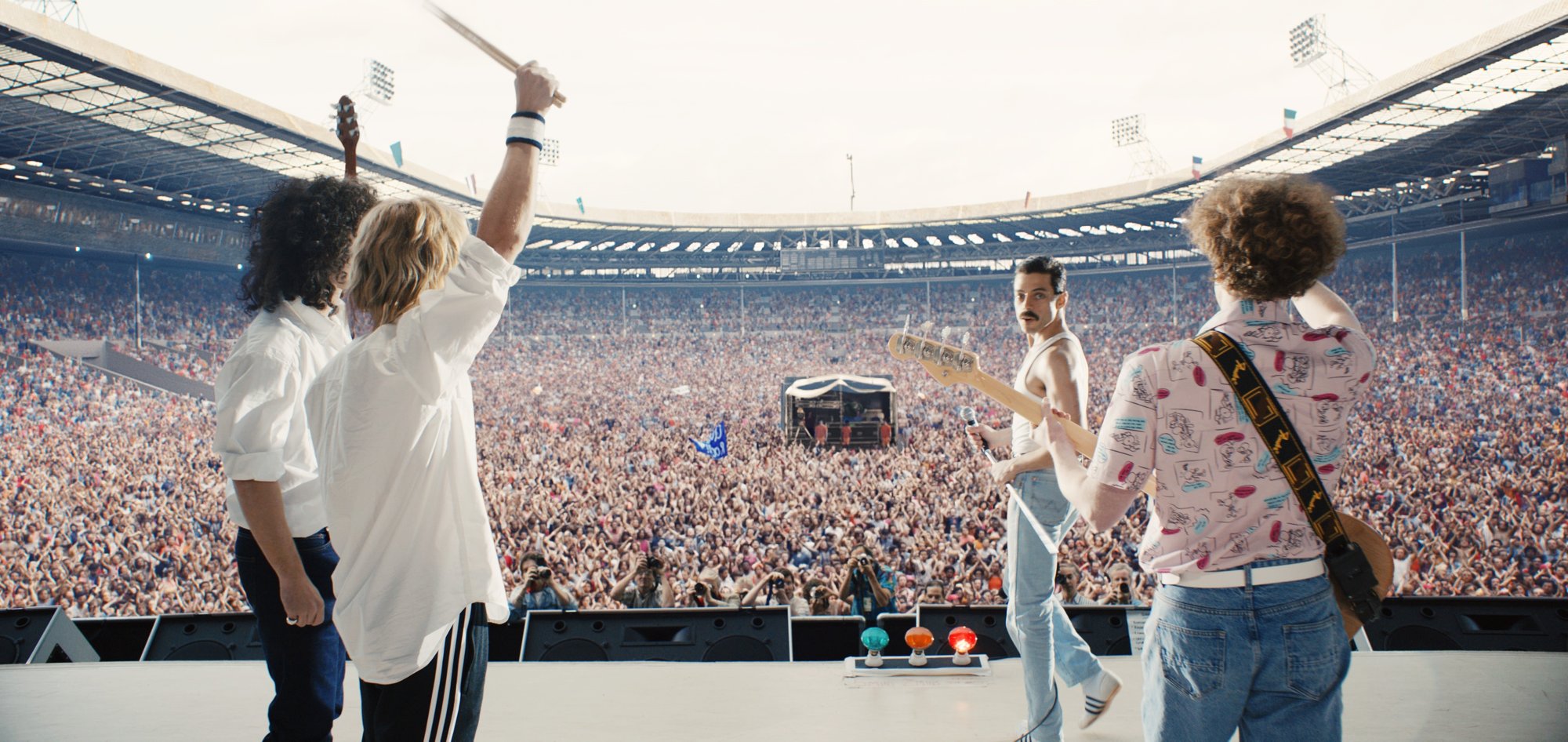 BOHEMIAN RHAPSODY rocks and rolls to a now familiar sexual trope.
By Matt Cummings
This admission definitely dates me, but I can tell you where I was when Live Aid, the superstar two-continent rock fest played on July 13, 1985 to televisions across the world. At that time, it seemed like the mammoth collection of talent wouldn't be enough to entice donations for human suffering in Africa, until Queen showed up. Having not played in several years, their addition to the lineup was last minute, but their performance was both magical and signaled their triumphant return to music. Unlike fellow progressive rockers Rush, Yes, pre-Collins Genesis and King Crimson, who struggled to even chart on top 40 radio, Queen's experimental sound scored two #1 hits and the one of the most iconic songs of all time, Bohemian Rhapsody. Its lead singer Freddy Mercury is the subject of an engaging but hollow biopic of the same name, which soars to familiar heights with its music, inspires us with its performances, but goes only skin deep into Mercury's struggles as he weighs coming out.
THE MOVIE
Freddy Mercury (Rami Malek) is a shy, bucktoothed guy working at Heathrow Airport who is also struggling to identify himself sexually. His conservative family – especially his father – doesn't get Mercury's wild antics, especially when he decides to lead a band after a spot becomes available. Mercury attempts to go straight, even asking his long-time friend Mary Austin (Lucy Boynton) to marry him…eventually. But it's clear that Mercury and his retooled band are in it to win it, sporting a lineup including founders Guitarist Brian May and Drummer Roger Taylor, along with Bassist John Deacon. As they set out to redefine rock, forces at the studio conspire to deny them, eventually forcing Queen to take drastic steps to get Bohemian Rhapsody on the air. When it becomes an immediate success, Queen is off to the races, riding a wave of touring and adoration that they themselves couldn't have imagined. But that success comes at a cost, as the members fight over creative differences and ponder Mercury's emerging sexuality. As the band dissolves and struggling to keep his personal life under control, Mercury soon learns that the worldwide epidemic of AIDS has hit home, that his time is limited, and that a career-defining moment at Live Aid awaits him and the band.
If that sounds like the basis for every episode of VH1's fantastic BEHIND THE MUSIC, it's because every successful band seems to suffer the same fate: after a meteoric rise, Band A's singer overtakes the group leading to internal strife before breaking up, only to come back together to experience less success. Queen suffered a similar fate that RHAPSODY tells quite well, thanks to Writer Anthony McCarten. He gives the band a personality, proving that Queen wasn't just Mercury but a combined effort lead by an electrical engineer and an astrophysicist. Comedic moments are dabbled into the script, but it's McCarten's decision to focus on Mercury's lifestyle decisions that are both the most interesting and yet serve as RHAPSODY's biggest disappointment. It dabbles in Mercury's sexuality without addressing it head-on, desiring to serve too many masters and doing all of them not quite as well as they could. Granted, those moments of the band experimenting in the studio are insightful and even fun, but it's unlikely to impress non-Queen fans.
What does work very, very well is Malek. He is as charismatic and bombastic as Mercury, channeling the singer in a career-defining performance. He inhabits Mercury, much like Gary Oldman did for Winston Churchill in DARKEST HOUR or Daniel Day Lewis in LINCOLN. Yes, he's that good. Malek portrays Mercury with both the sensitivity of a man struggling with his sexuality and a brilliant singer/performer who gains, loses, and the regains it all back before succumbing to AIDS-related pneumonia in 1991. Malek's band mates deliver solid performances as well, buoying the ship between operatic stage performances that are spot on, even if they're not performed by them. There's also a great appearance by comedian Mike Meyers, but you'll have to pick him out as he's largely (and smartly) unrecognizable. Boynton perhaps gets the biggest shaft here, used only as a plot device rather than as someone meaningful, trying to remain Mercury's moral anchor, especially when he's on his own as longtime associate Paul Prenter (Allen Leech) wraps his talons around Mercury, submerging him in gay sex and drugs.
There's also Live Aid itself, an important rock moment whether you were around to see it or not. And that's the problem: moviegoers might not feel the importance of centering the entire movie around this 20 minutes, even though it comes off as a great performance (albeit appearing lip-synced). There were significant issues on set, as Director Bryan Singer was fired for going AWOL near film wrap, which perhaps caused the apparent lack of focus that plagues the movie. But here's the crux of my concern: RHAPSODY tells a story that's become all too familiar and seems like something that should have been made 15 years ago. Granted, the story of Queen has needed time to mature, but the story of Mercury's coming out is consistently done better these days on television. For all the pomp and circumstance of Singer's efforts, the result feels all too familiar.
THE BOTTOM LINE
Like its characters, BOHEMIAN RHAPSODY feels like a film out of time. There are wonderfully funny moments here (thanks to May and Taylor co-producing it), sprinkled with some great rock anthems, but there's something deeper missing that is no way Malek's fault. This would have played better as a mini-series 15 years ago, giving time for all involved to tell a proper version of a story that's become all too familiar, both as a warning to up-and-coming bands and to those who struggle personally with the demons of their past.
BOHEMIAN RHAPSODY is rated PG-13 for thematic elements, suggestive material, drug content and language and has runtime of 134 minutes.