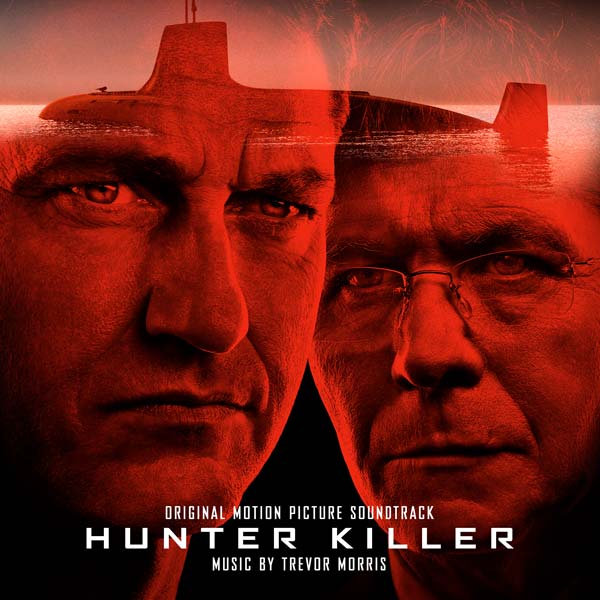 HUNTER KILLER – ORIGINAL MOTION PICTURE SOUNDTRACK pulses to a glorious war rhythm that's sure to please.
Review by Matt Cummings
If you're looking for a fun turn-off-your-brain action pick, perhaps the submarine adventure HUNTER KILLER is to your liking. Although it has a ton of problems, the score by Composer Trevor Morris isn't one of them. Bold and ready for battle, it requires immediate repeat listening as a perfect soundtrack for your workout or household vacuuming (don't ask me how I know the latter).
THE MOVIE
Deep underwater, a silent game of chess rages on between the US and Russia, each utilizing a fleet of nuclear submarines to keep track of the other's movements. But when a pair of subs go missing near the Russian border, each side suspects the other of foul play. Faced with the prospect of nuclear war, the US sends out one of its Hunter Killer subs, captained by the untested Captain Joe Glass (Gerard Butler), to find out what's happened. What he and his superiors don't realize is that elements within Russia's leadership have staged a coup and are planning to launch a full strike against the Americans. This touches off an effort to rescue the Russian president from a base deep inside their border, with SEAL team Captain Beaman (Toby Stephens) doing the rescuing and Glass' sub as the getaway car. Faced with peril from all sides, including the itchy Navy Joint Chariman Charles Donnegan (Gary Oldman), Glass must fight impossible odds to save the Russian president and any survivors from the downed subs in order to avert WWIII.
THE SCORE
A typical score has about 15 tracks, with some even approaching the low 20's; Morris' features a mammoth 47 and clocks in at over 95 minutes, which for the money can't be beat. Several tracks clock in under 1:30, yet it's nice to see what appears to be the entire score. Some might claim that a :55 track isn't worth the time, but I'd challenge you to hate Finale from STAR TREK: THE ANIMATED SERIES or the dozens of class television themes with similar runtimes. But that's just part of the reason behind HUNTER KILLER's success.
A track-by-track breakdown isn't practical for this review, so let's hit the highlights, of which there are many. No matter where you start, there's a bold and dark sound awaiting you. But one of the surprising elements is Morris' decision to use the pinging of sonar as a pulse point in selected songs like track #1's Under the Ice. It's a keen choice which pays off dividends as our ears are blasted with a bombast reminiscent of 90s scores like BROKEN ARROW. But this isn't all pounding hooves of war: Glass to the Arkansas and Glass Addresses Crew are nice little detours that remind us of Morris' collaboration with Hans Zimmer. Like Zimmer, Morris favors an electronic orchestra, something that I know still upsets soundtrackphiles, but it works quite well, such as track #8 Submerge the Ship (USS Arkansas Theme). He feeds us a steady diet of french horns, trombones and pulsing digital beats, which of course has become a defining soundscape in many recent action pics. It still works and satisfies here, even as the credits wrap 80 minutes later.
Morris has been around awhile, having scored THE TUTORS, THE BORGIAS, and VIKINGS. He's worked indirectly with Butler on LONDON HAS FALLEN and OLYMPUS HAS FALLEN, which of course favored a similar design aesthetic as HUNTER KILLER. What's interesting about Morris is his ability to dabble in multiple genres with such impressive results. HUNTER KILLER could have been this generation's HUNT FOR RED OCTOBER, but at least we can't fault Morris for delivering a totally satisfying score.
THE BOTTOM LINE
HUNTER KILLER – ORIGINAL MOTION PICTURE SOUNDTRACK is a screaming, pulsing, darkly-wound action score that takes us down into submarine warfare with grand style. It beats to a familiar rhythm but is a solid performer in every one of its 47 tracks. You can't match the value that Morris and team have assembled, and I award it top marks in that category. While you're at it enjoying the music, go see the film as well.
Lakeshore Records released HUNTER KILLER on October 26th as an Apple iTunes exclusive but it's not clear whether it will be released on CD. At the time of this posting, we were unaware of any special packaging or additional tracks.