The Movie

Video Quality

Audio Quality

Supplements
Law Abiding Citizen is a 2009 American crime thriller film directed by F. Gary Gray from a screenplay written by Kurt Wimmer. It stars Gerard Butler and Jamie Foxx and takes place in Philadelphia, telling the story of a man driven to seek justice while targeting not only his family's killer but also those who have supported a corrupt criminal justice system, intending to assassinate anyone supporting the system. Law Abiding Citizen was released theatrically in North America on October 16, 2009.
Purchase LAW ABIDING CITIZEN on Ultra HD Blu-ray Today!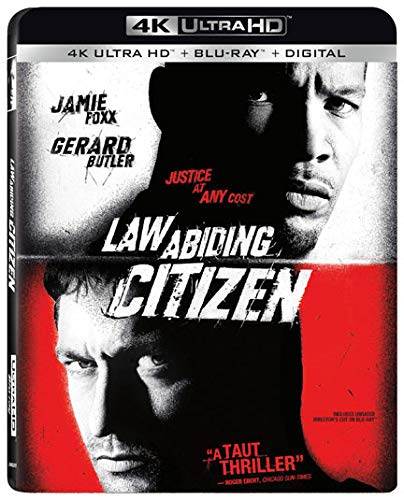 THE MOVIE:

One of the many hits from F. Gary Gray is that of LAW ABIDING CITIZEN. Personally I feel like LAW ABIDING CITIZEN didn't get the credit it deserved at the box office, but definitely found an audience and fan base in the home media market. I've never read on film forums of it being a bad film. Some take it more serious than others, and justly call it that of gem. Those underrated hits that often get looked over for one reason or another. I fall in the 2nd category of film lovers in that I think its a stellar film and shows us another great side of Gerard Butler's acting abilities.
Clyde Shelton (Gerard Butler) is an upstanding family man, until his wife and daughter are murdered in a home invasion. He hopes for justice, but a rising prosecutor named Nick Rice (Jamie Foxx) cuts a deal with one of the killers in exchange for testimony. Ten years later, that man is found dead and Shelton admits his guilt. Then he hands Rice an ultimatum: Fix the broken legal system or suffer the consequences of what's to come. Shelton has prepared and is ten steps ahead and makes him look like a genius psychopath.
VIDEO QUALITY:

LAW ABIDING CITIZEN comes to Ultra HD Blu-ray with Dolby Vision utilizing HDR with Dolby's proprietary technology. Dolby Vision looks amazing if you haven't already seen a UHD with this tech. It really brightens up the colorful scenes and darkens the blacks with a wide gamut and makes your picture look fuller and thicker if you get my drift. LAW ABIDING CITIZEN is a film of many different scenes and some real murky shots like that in the jail cell. Some of my nit picking comes more at parts that are the same of mine from the blu-ray disc, but are more so just caused by how things were shot. Overall its a slight improvement and a good upgrade over the BD but nothing reference material.
AUDIO QUALITY:

The better part of the release has to be the Dolby Atmos. Granted the lossless track before did a very good job for the film, but the Atmos just takes it over the edge a bit more. Immersive sound that plays well with this film, and those explosions sure do rock the walls. Dialogue seems much crisper, and helps to amplify this track in your front speakers very well. You won't find any complaints.
SUPPLEMENTS:

The Special Features are that of the Blu-ray disc ported over.
Audio Commentary: Producers Lucas Foster and Alan Siegel are on the commentary track.
The Justice of Law Abiding Citizen (HD, 6 min)
Law in Black and White (HD, 15 min): Behind the scenes look.
Preliminary Arguments (HD, 7 min)
Trailers (HD)
The film was nominated for a Saturn Award as the Best Action/Adventure/Thriller Film of the year, but lost to Inglourious Basterds. The film also garnered NAACP Image Awards nominations for both Jamie Foxx (Outstanding Actor in a Motion Picture) and F. Gary Gray (Outstanding Directing in a Motion Picture). – wikipedia