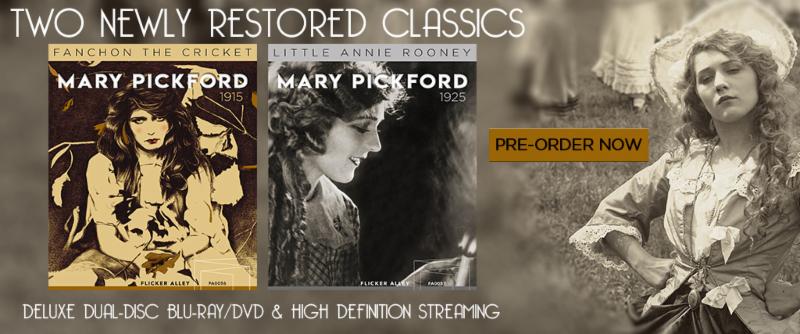 LITTLE ANNIE ROONEY
Mary Pickford plays a "tomboy of the tenements" in this comedy drama, which she also wrote. Filmed over ten weeks, Little Annie Rooney was shot entirely on a set created by art director John D. Schulze at the Pickford Fairbanks Studio. Co-starring William Haines and a wide-ranging, multi-ethnic cast, Little Annie Rooney met with huge critical and commercial success upon its original release, proving fans and critics alike wanted the then-33-year-old Mary to stay a child forever.
Created from the original tinted nitrate print in Mary Pickford's personal collection at the Library of Congress, Little Annie Rooney was preserved photochemically by the Academy of Motion Picture Arts and Sciences Film Archive. A new 35mm preservation master was then scanned at 4K high definition so that the Mary Pickford Foundation, in cooperation with AMPAS, could create a digital version to perfectly match the original nitrate tints and tones. The Mary Pickford Foundation commissioned Andy Gladbach to compose a new, original soundtrack performed by a 12-piece orchestra including three percussionists.
Little Annie Rooney includes a souvenir booklet featuring rare photographs, essays by Cari Beauchamp, and an article on the composing of the new score.
FormatBlu-ray/DVD Combo (NTSC)
RegionRegion Free
DirectorWilliam Beaudine
FeaturingMary Pickford, William Haines, Walter James, Gordon Griffith
ComposersAndy Gladbach
Year1925
LanguageEnglish
Length114 min.
UPC6-17311-68579-8

_________________________________________________________________________________
FANCHON THE CRICKET
Fanchon the Cricket based on an "adult fairy tale" by George Sand, stars Mary Pickford as the title character, a strong-willed waif ostracized by "acceptable society" until she shows them the power of love and understanding. Directed by James Kirkwood and boasting exquisite cinematography by Edward Wynard, Fanchon the Cricket was filmed on location in Delaware Gap, Pennsylvania. A natural, sensual and uninhibited Pickford breaks through today's stereotype of her as "the girl with the curls." It is also the only surviving film in which both Jack and Lottie Pickford appear with their sister.
Once believed to be a lost film, Fanchon the Cricket restoration is the result of a unique international collaboration between the Mary Pickford Foundation, the Cinémathèque Française and the British Film Institute. A new negative and 35mm prints were created from the restored digital version and the Mary Pickford Foundation paired the film with a new, original score by Julian Ducatenzeiler and Andy Gladbach.
Fanchon the Cricket includes a souvenir booklet featuring rare photographs and essays by Cari Beauchamp.
FormatBlu-ray/DVD Combo (NTSC)
RegionRegion Free
DirectorJames Kirkwood
FeaturingMary Pickford, Jack Standing, Lottie Pickford, Jack Pickford, Gertrude Norman, Russell Bassett, Richard Lee
ComposersJulian Ducatenzeiler and Andy Gladbach
Year1915
LanguageEnglish
Length115
UPC6-17311-68569-9