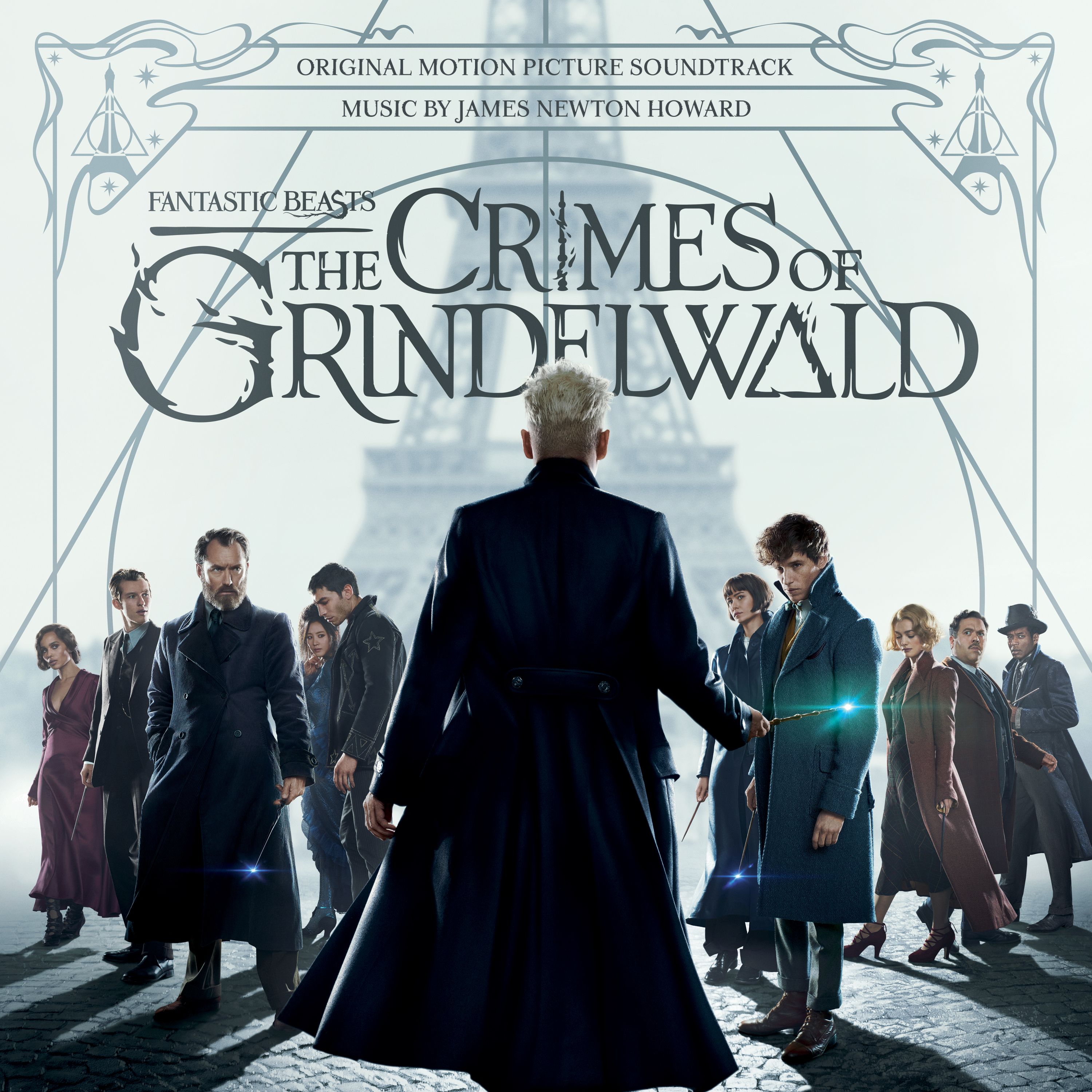 FANTASTIC BEASTS – THE CRIMES OF GRINDELWALD ORIGINAL MOTION PICTURE SOUNDTRACK pulses to a glorious war rhythm that's sure to please.
Review by Matt Cummings
I've been a huge James Newton Howard fan since his epic – and totally underappreciated score – for 1991's GRAND CANYON. Since then, he's become one of the Hallowed Five, a cadre of Hollywood's top living composers that include John Williams and Hans Zimmer. Howard has scored THE HUNGER GAMES and co-scored the Christopher Nolan BATMAN series, as well as one my faves of 2018, RED SPARROW. His music for FANTASTIC BEASTS – THE CRIMES OF GRINDELWALD is big and bold, helping to rescue the disappointing film from itself with deep mysteries and epic moments.
THE MOVIE
After a daring escape, the mastermind Grindelwald (Johnny Depp) begins to cement his following, taking over a lavish apartment and recruiting disenfranchised wizards to his cause. He wants Muggles removed from the chess board and thus hatches a daring plan: he will manipulate the powerful but tormented Credence (Ezra Miller) by exposing a dark family secret that has brought Credence to Paris. The British Ministry of Magic is hot on their trails, having failed to recruit Newt Scamander (Eddie Redmayne) to hunt down Credence. With his travel visa revoked, Newt is visited by his former Hogwarts teacher Albus Dumbledore (Jude Law) who implores him to find Credence before he either dies at the hands of the Ministry or joins Grindelwald. Newt has his own problems which has left his friendship with Tina (Katherine Waterston) at a crossroads. When their paths eventually cross (as the American Ministry is also following Grindelwald), Newt has already enlisted the help of his Muggle friend Jacob (Dan Fogler) and his girlfriend mind reader Queenie (Alison Sudol). But that might not be enough, forcing a violent showdown that sees Newt's friends, the Ministry and his brother (Callum Turner) exposed to the deadly wrath of the terrorist mastermind Grindelwald.
THE SCORE
From the moment Howard's score begins, it's clear he's going for big themes. Although that boldness also includes tender moments throughout the 25 tracks (which includes Track #2's Newt and Leta and #4's The Kelpie), he's really going for music that matches the greatness of a wizarding world. He effortlessly blends the world John Williams created with SORCERER'S STONE and Alexandre Desplat finished with THE DEATHLY HOLLOWS. Those Harry Potter moments with Williams' theme permeate the score, but Howard is also laying new ground with themes for Nagiri (Track #6) Dumbledore (Track #3). Just like with the score of Trevor Morris' massive HUNTER KILLER score, Howard throws in most of the music he used to score GRINDELWALD, and it's a mostly enjoyable experience.
We are sadly past the golden age of soundtracks, with big themes replaced by filler environmental tracks, but Howard does his best to mix things up with LORD OF THE RING choirs, scary horns, and parading strings. A good example of this is Track #9's Irma and the Obscurus, setting into place a war footing that will return near the end. The very next track – Blood Pact goes in another direction, softening the mood to accompany a huge reveal in the movie. And of course, there's always time for a little Hogwarts theme to drop by, like Track #12's Traveling to Hogwarts. I also really like the Newt Scamander theme in 14's Salamander Eyes; it's probably my favorite.
But the very next track, Howard is back to the dark, drumming up the epic again with #15's Matgots. It's such a difference from Salamander, but proof that Howard can command both elements equally well. I also really dig the end tracks, including #18's Vision of War but especially Spread the Word, perhaps the biggest (and best?) cinematic theme as Grindelwald rallies the troops. As the score moves to its inevitable conclusion, you normally get the credits theme before wrapping things up. Here, Watertower Music has also added three exclusive tracks not included in the movie; they're stripped down piano pieces played by Howard himself and reveal the DNA of a well-constructed organic score.
THE BOTTOM LINE
FANTASTIC BEASTS – THE CRIMES OF GRINDELWALD ORIGINAL MOTION PICTURE SOUNDTRACK bolsters what is otherwise an uneven and thin film. James Newton Howard is comfortable now in his role as the franchise's composer, dealing out both epic sounds and pretty mood pieces with equal acumen. I felt differently about the original FANTASTIC BEASTS after a second viewing, and maybe one day I'll feel the same about this one; but I can say that I love this score. I'm glad to see Howard getting tentpole films, and here he doesn't disappoint.
Watertower Music released THE CRIMES OF GRINDELWALD on November 9th on digital, and plans to release the CD on November 30th. They will also produce an exclusive vinyl version which will be released on November 30th.