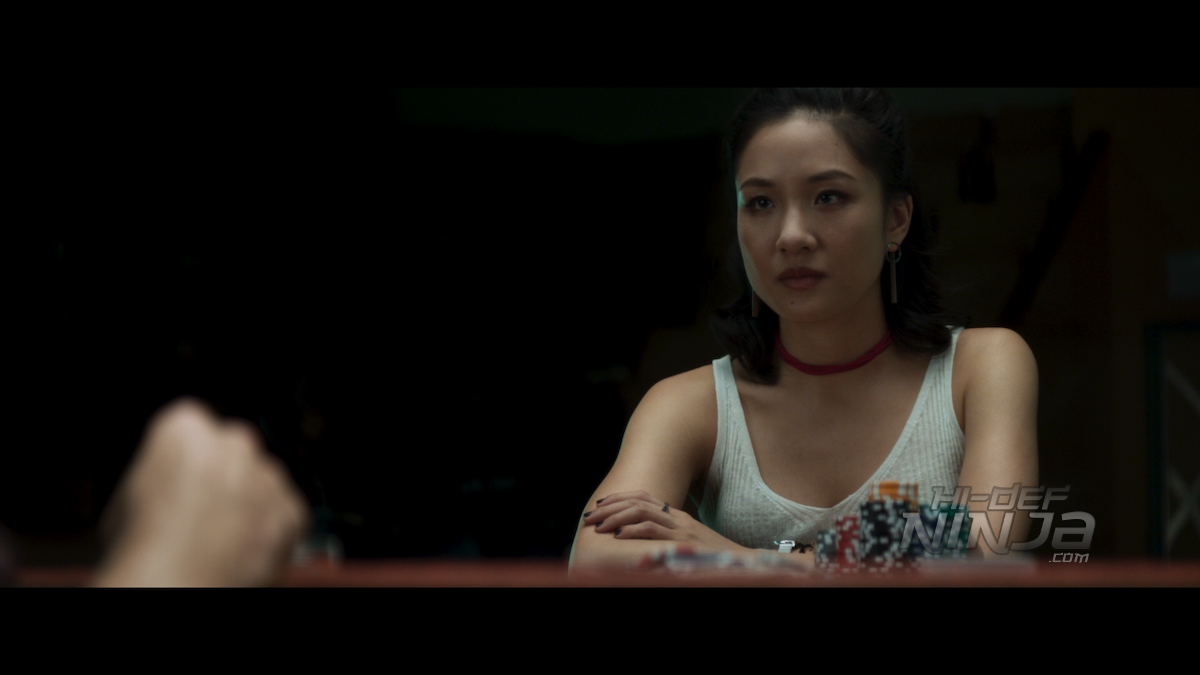 CRAZY RICH ASIANS Blu-ray Review
The Movie

The Video

The Audio

The Supplements
Rachel Chu is an economics professor at NYU who loves what she does. She is dating a man named Nick Young and they're pretty serious. Nick is invited to his best-friend's wedding back home in Singapore. Rachel is also excited that she will get to see her college friend Peik Lin while there are there. On the plane ride over, she is expecting to fly economy but Nick booked them for a first-class suite. He goes on to tell them that his family has money and he doesn't look at it as being his at all. When they arrive, Peik Lin and her family let Rachel in on who she is dating. The Young family are like The Royals in Singapore. They are the richest family in the country but not just rich, crazy rich.
Jon M. Chu directs CRAZY RICH ASIANS and it is based on the 2013 novel of the same name by Kevin Kwan. This is an all-Asian cast with some of the most hilarious people in entertainment today. The lead is Constance Wu and she is best known as Jessica from FRESH OFF THE BOAT. One of the characters that completely steals the show is Awkwafina as Peik Lin. She was in OCEAN'S 8 and her personality makes almost everything that she says hilarious.
Apparently, the richest Asian families are practically a secret society and don't really let outsiders in. The extravagance of everything that they do for the wedding is unbelievable. The ceremony is done with the help of CG effects but it works. It is beautiful and elegant but shows off the money.
Cast
Constance Wu – Rachel Chu, Nick's girlfriend and Kerry's daughter
Henry Golding – Nicholas "Nick" Young, Rachel's boyfriend
Michelle Yeoh – Eleanor Sung-Young, Nick's domineering mother
Gemma Chan – Astrid Leong-Teo, Nick's cousin and Michael's wife
Lisa Lu – Shang Su Yi, Nick's grandmother
Awkwafina – Goh Peik Lin, Rachel's best friend
Ken Jeong – Goh Wye Mun, Peik Lin's father
Sonoya Mizuno – Araminta Lee, Colin's fiancée
Chris Pang – Colin Khoo, Nick's best friend and Araminta's fiancé
Jimmy O. Yang – Bernard Tai
Ronny Chieng – Eddie Cheng
Remy Hii – Alistair Cheng
Nico Santos – Oliver T'sien, Nick's second cousin
Jing Lusi – Amanda "Mandy" Ling, Nick's former girlfriend
Pierre Png – Michael Teo, Astrid's husband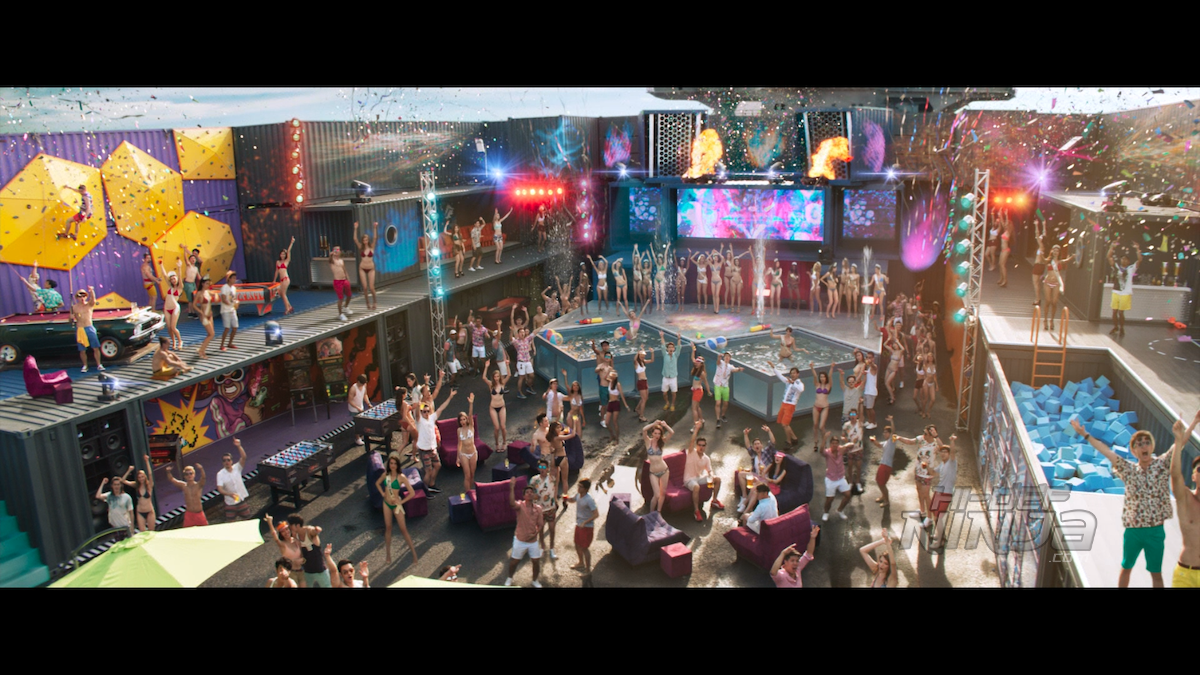 VIDEO QUALITY:
The video is a 1080p AVC presentation that is bright and colorful. The coloring is brilliant from the fireworks in places to the clothing and the settings. It was shot digitally and the clean images show that. People's faces have sharp details but so does pretty much everything else. The clothing is "high fashion" and the patterns are clearly shown.
AUDIO QUALITY:
The audio is a DTS-HD Master Audio 5.1 mix that has a solid sound. There is a lot of bass in the music for the clubs and bachelor party plus the score has some nice moments from a cello. The flight in the helicopters out to the bachelor party have seem really deep bass tones. The ambient sound makes the scenes have a lively feel. Scenes on the streets have city noise with cars and people walking around. Dialogue is clear and easy to hear.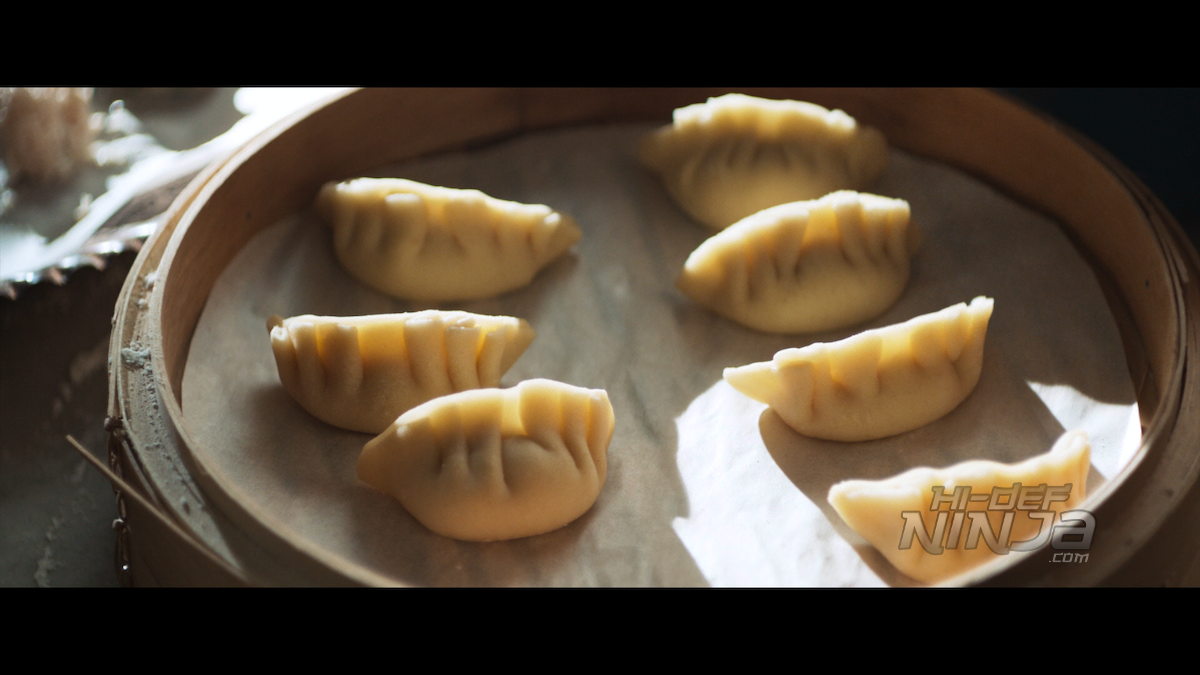 SUPPLEMENTS & PACKAGING
-Audio Commentary: with Director Jon M. Chu and Novelist Kevin Kwan
-Crazy Rich Fun: This is an EPK with interview with the cast and crew about making the movie.
-Deleted Scenes
-Gag Reel
Disc Details
2-disc set w/1 Blu-ray and 1 DVD
Digital copy
Running Time
121 mins
Edition Ratings
Rated PG-13
Region Coding
Region Free
Video Resolution
1080p AVC MPEG-4 AVC
Aspect ratio: 2.40:1
Audio Mixes
English: DTS-HD Master Audio 5.1
French (Canada): Dolby Digital 5.1
Spanish: Dolby Digital 5.1
English: Dolby Digital 5.1
Subtitles
English SDH
French
Spanish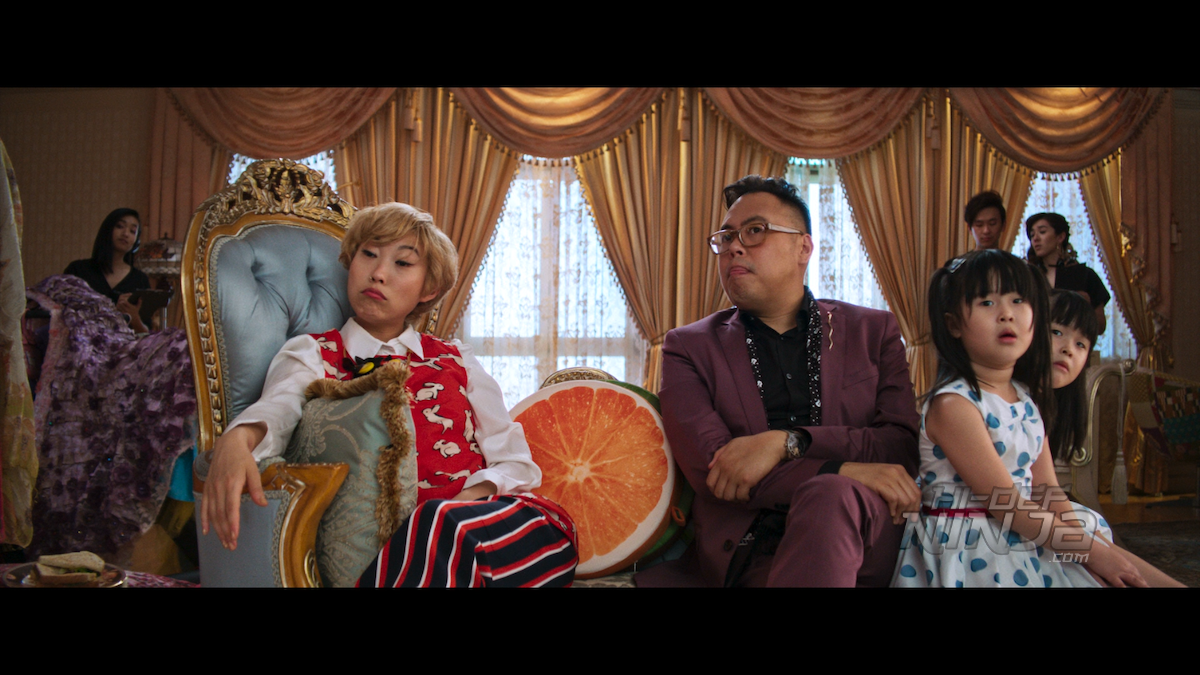 THE BOTTOM LINE:
CRAZY RICH ASIANS is a really funny movie with a collection of some of the best actors in the business. Some of the jokes are subtle but they make for a lot of laughs. It has plenty of amazing visuals and, as I mentioned, the extravagance of the places in this film are breathtaking and make for great visuals. The Blu-ray has a really nice transfer and a great audio mix. The extras are decent but there aren't enough of them. Either way, this is a fun movie and has a lot of appeal; I highly recommend it.