This sizzling four-film collection celebrates two of Hollywood's greatest: the on- and off-camera team of tough guy Humphrey Bogart and cool gal Lauren Bacall. Their love of their craft, as well as each other, and the gift of their timeless talent are showcased in this glorious 4-disc set, full of action, laughs, suspense, danger and, above all, a romance that forever sparks a flame in the hearts of all movie fans.
Purchase Bogart and Bacall's Complete Collection On Blu-ray Today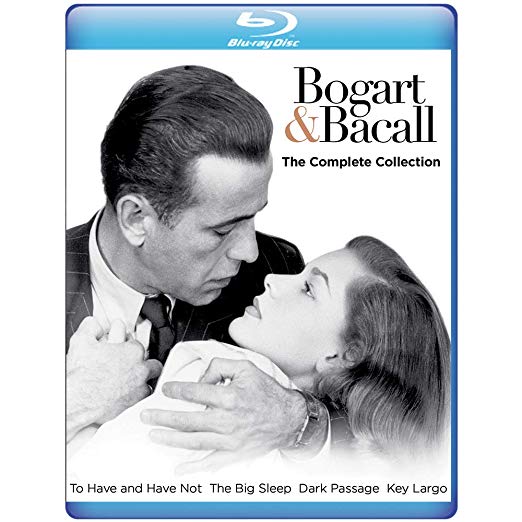 Check Out Bogart and Bacall On Blu-ray Here Directly At Warner Archives
VIDEO QUALITY / AUDIO QUALITY:
From 1944 to 1948 these classics from the archives of not only Warner Brothers but that of Humphrey Bogart and Lauren Bacall set sail unto America that captured the hearts of millions. These Black and White films look glorious on blu-ray as not surprisingly many black and white films so seemingly do. Presented in 1080p 4×3 1.37:1 each film includes bonus features and a DTS HD Master Audio track and 2.0 Mono. A great release onto blu-ray to have these in an individual set.
TO HAVE AND HAVE NOT (1944)
BD50
NEW 2016 1080p HD MASTER
1.37:1
DTS HD-Master Audio 2.0 – English Mono; Subtitles: English SDH, Francais & Espanol
100 Min
Special Features: Vintage Merrie Melodies Short "Bacall to Arms" (Remastered in HD); "A Love Story: the Story of To Have and Have Not" featurette; Lux Radio Broadcast starring Bogart and Bacall; Theatrical Trailer (HD)
THE BIG SLEEP (1946)
B&W-114 Min.
BD-50
DTS HD-Master Audio 2.0 – English, DOLBY DIGITAL 2.0 – Spanish, DOLBY DIGITAL 2.0 – French
Subtitles: English, French, Spanish SDH
Special Features: Theatrical Trailer, Alternate 1945 Pre-release Version with previously unissued INTRODUCTION by UCLA Film Preservation Officer Robert Gitt, THE BIG SLEEP 1945/1946 COMPARISONS – Uncut Robert Gitt "Lecture" Version (30 Minutes). Nearly twice the length of the Comparisons feature as seen on DVD.
DARK PASSAGE (1947)
BD50
NEW 2016 1080p HD REMASTER
1.37:1
DTS-HD Master Audio: English 2.0 Mono, Dolby Digital: Français 2.0 Mono & Español 2.0 Mono (Both Castillian & Latin)
Subtitles: English SDH, Français & Español
Special Features:
"Hold Your Breath and Cross Your Fingers: The Story of Dark Passage" Featurette
"Slick Hare" Theatrical Animated Short (in HD!)
Theatrical Trailer (in HD!)
KEY LARGO (1948)
B&W-105 Min.
BD-50
DTS HD-Master Audio 2.0 – English, DOLBY DIGITAL 2.0 – Spanish, DOLBY DIGITAL 2.0 – French
Subtitles: English, French, Spanish SDH
SPECIAL FEATURES: Theatrical Trailer (HD)