Take elite commandos, send them on a do-or-die assignment – and sit back and watch the action explode. The men-on-a-mission formula that worked in 1967's The Dirty Dozen and in Where Eagles Dare (released in the U.S. in 1969) provides another salvo of volatile screen adventure with this strike force saga released in 1968. Rod Taylor and Jim Brown are among a mercenary unit rolling on a steam train across the Congo, headed for the dual tasks of rescuing civilians imperiled by rebels and recovering a cache of diamonds. The film's violence is fierce, unforgiving, ahead of its time. Quentin Tarantino would offer a tribute of sorts to this red-blooded wallop of a cult fave by using part of its compelling score in Inglourious Basterds (2009).
Purchase DARK OF THE SUN On Blu-ray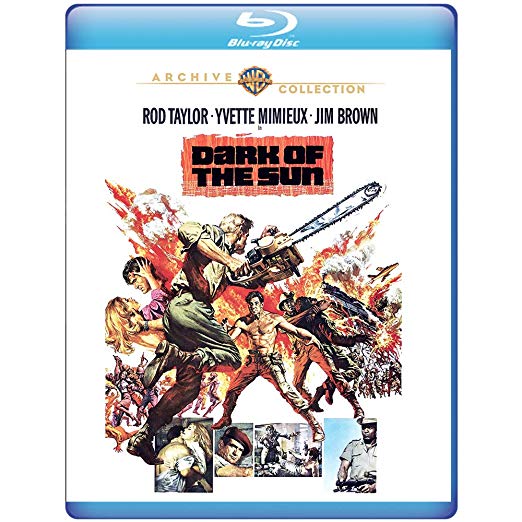 Check Out DARK OF THE SUN On Blu-ray Here Directly At Warner Archives
VIDEO QUALITY / AUDIO QUALITY:
Absolutely stunning 1080p transfer for DARK OF THE SUN as this film has never looked better! The film also has a great audio commentary with the fine folks from Pure Cinema Podcast and Trailers from Hell and adds a lot of insightful info and critique to the film. DARK OF THE SUN comes with a DTS HD Master Audio Track and the English 2.0 Mono track. The menu screen's audio of the score playing is sharp and pulse pounding in your 5.1 home theater set up. I knew right then I was in for a treat. The video quality likely also benefits from so many scenes shout outdoors which I presume camera wise allowed for such great shots. Lovely release from Warner Archive and highly recommended.