Christopher Lee and Peter Cushing, Britain's premier masters of the macabre, bring the Horror of Dracula to vivid, full-color death in this retelling of Bram Stoker's spellbinding vampire tale. Dracula (Lee), a centuries-old Transylvanian nobleman damned to an eternal half-life, regularly finds new victims. He also finds Dr. Van Helsing (Cushing), a scientist who becomes the Count's implacable foe in a deadly game of bat-and-mouse.The dread is here – as are the power and pathos of this genre landmark by which Hammer Studios ushered in a new era of screen chills from classic evildoers. Tremble through that era again. Unleash the horror.
Purchase HORROR OF DRACULA On Blu-ray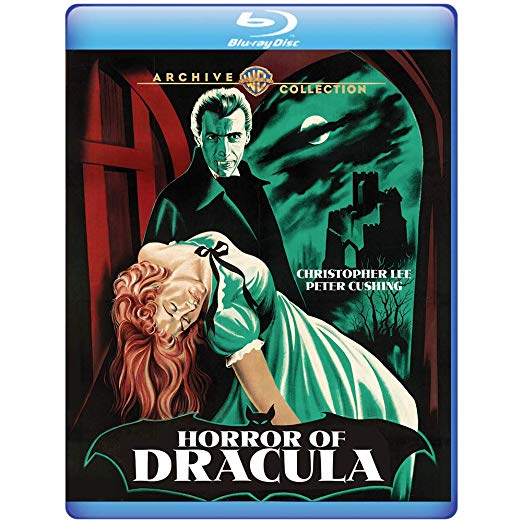 Check Out Horror of Dracula On Blu-ray Here Directly At Warner Archives
VIDEO QUALITY / AUDIO QUALITY:
And again we get yet another Hammer Film that has made its way to blu-ray through the Warner Archive collection. HORROR OF DRACULA has a DTS HD Master Audio Track as well as the English 2.0 Mono track. The audio is clear and piercing from the first moment you ever see Dracula in the film atop the stairs. The video transfer is deep with a full look in many scenes and even dark scenes look exceptionally well. At times the picture can be a tad muddled, but it does not detract one bit and its only a testament to the film's age and not that of the restoration and blu-ray transfer. Titled at film start the film bears the name DRACULA as the presentation is based on the restored 2007 release from the British Film Institute.