Brewster McCloud (Bud Cort) lives deep within the cavernous underground of the Houston Astrodome, but his dreams rise much higher. He aims to fly. Not in a plane. But with strapped-on wings he's designing – encouraged by a mysterious woman (Sally Kellerman) who may be his guardian angel.But Brewster McCloud, Robert Altman's wild, anarchic cult fave, isn't about dreams as much as it is about the highs and lows of humanity. It's a serial-killer mystery. A frenetic car-chase flick. A crazy circus-finale comedy. Shelley Duvall debuts as the tour guide whose seduction of Brewster may lead to his undoing. Ah, love. The thing that at once shapes and unravels us. The thing that may or may not give us wings.
Purchase BREWSTER McCLOUD On Blu-ray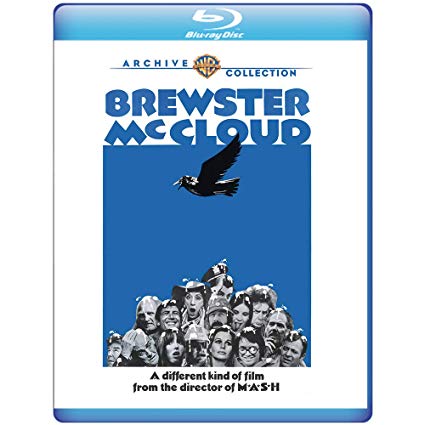 Check Out BREWSTER McCLOUD On Blu-ray Here Directly At Warner Archives
VIDEO QUALITY / AUDIO QUALITY:
Brewster McCloud is a title of great interest to me and being able to watch this for the first time on beautiful 1080p blu-ray is very exciting! Having grown up in Houston and attended Astros games at the Astrodome the moment I read the plot of this involved a man living underneath the Astrodome I was sold! BREWSTER McCLOUD comes with a DTS HD Master Audio Track and the English 2.0 Mono track. The film looks and sounds amazing and the best it's ever sounded. Clear dialogue in a front heavy track and thus the quality you can expect from that of titles with the Warner Archive label. As is typical for 2.0 but exceptionally clear none the less.