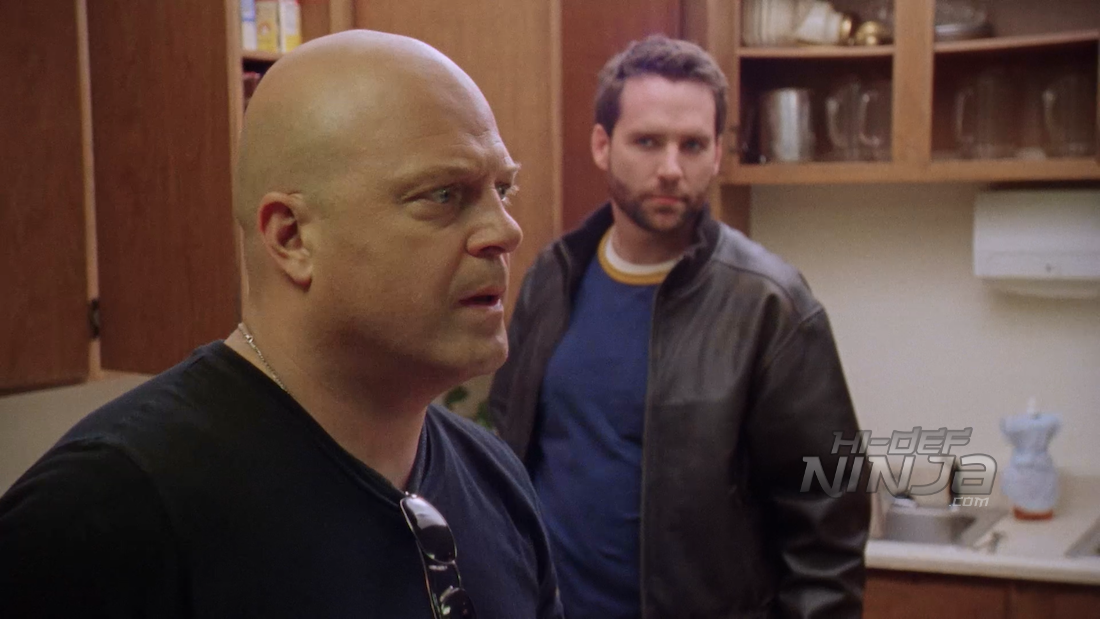 THE SHIELD The Complete Series Blu-ray Review
The Series

The Video

The Audio

The Supplements
In the Farmington district in Los Angeles, there is an experimental branch of the police department to handle the neighborhood. There are problems with drugs, gangs, prostitution, murder, and violence. Their base of operations is a converted church that they call The Barn and they're equipped to handle all of the problems in the neighborhood. Vic Mackey and his Strike Team are the cops on the street and, on the surface, they work with the local people for info, leads, and CIs for making arrests. What the team really does is bend/break the rules to manipulate both the local gangs and the department to make money plus maintain control. The other members on the team are Shane Vandrell, Curtis, Lemansky or "Lem", and Ronnie Gardocki. The Captain, David Aceveda, wants to dissolve the team because he knows that they are playing by their own rules.
The series was created by Shawn Ryan and ran for 7 seasons of what is arguably the best police show ever on TV. There was a time where I didn't watch television at all. I was purely into cinema and if there was a show that heard good thing about, I would pick up the first season and go from there. THE SHIELD hooked me from the jump. It is raw with grit, excellent cinematography, strong characters, and an amazing plot. Not to mention the superb acting from the entire cast. Each character has been fleshed out over the 88 episodes and by the end, you feel like you really went through something. Michael Chiklis is so good in this role. He is convincing as this emotional bull in a china shop who is trying to balance his work life with his personal life.
Now, I have a friend who used to be a cop and I'm sure what I'm about to say doesn't apply to all police but he has repeatedly told me that this is the most authentic portrayal that he has ever seen. This is just a side note of something he always tells me when we talk about the series but it lends to the show's authenticity.
Cast
Michael Chiklis – Vic Mackey
Walton Goggins – Shane Vendrell
Kenny Johnson – Curtis "Lem" Lemansky
David Rees Shell – Ronne Gardocki
CCH Pounder – Claudette Wyms
Jay Karnes – Holland "Dutch" Wagenbach
Catherine Dent – Danielle "Danny" Sofer
Michael Jace – Julien Lowe
Benito Martinez – David Aceveda
Cathy Cahin Ryan – Corrine Mackey
Glen Close – Monica Rawling
Reed Diamond – Terry Crowley
VIDEO QUALITY:
The video is a 1080p AVC presentation that looks stunning. The show has been remastered to a 4k restoration of each episode. The images have been cleaned up to look the best that ever have. The show was reformatted to widescreen for streaming due to it previously being 4×3 during the original broadcast and DVD releases. The picture, in general, has been made bolder so colors have a brilliance that wasn't ever there before. The grain is still there so that adds to the tone that is always felt from the series. The details bring out so much in the images that have probably never been seen prior to the remaster. Skin tones are warm and natural. There are some minor contrasting ticks from the grain but this seems solely from the grain from filming.
AUDIO QUALITY:
The audio is a DTS-HD Master Audio 5.1 mix and it gives this lively TV series some teeth. In Farmington, there is always something happening in the foreground and the background. The characters are constantly having conversations front and center but then you'll hear a crowd at a scene or a helicopter fly by. Ambient sound comes off perfectly so that you never feel like a scene is empty. Some of the best constantly changing sound is when one of the cops chases someone through the streets and alleyways. They'll cross through a market, pass a car with music playing, and by some civilians just hanging around the neighborhood. As always, the dialogue is clear and well prioritized.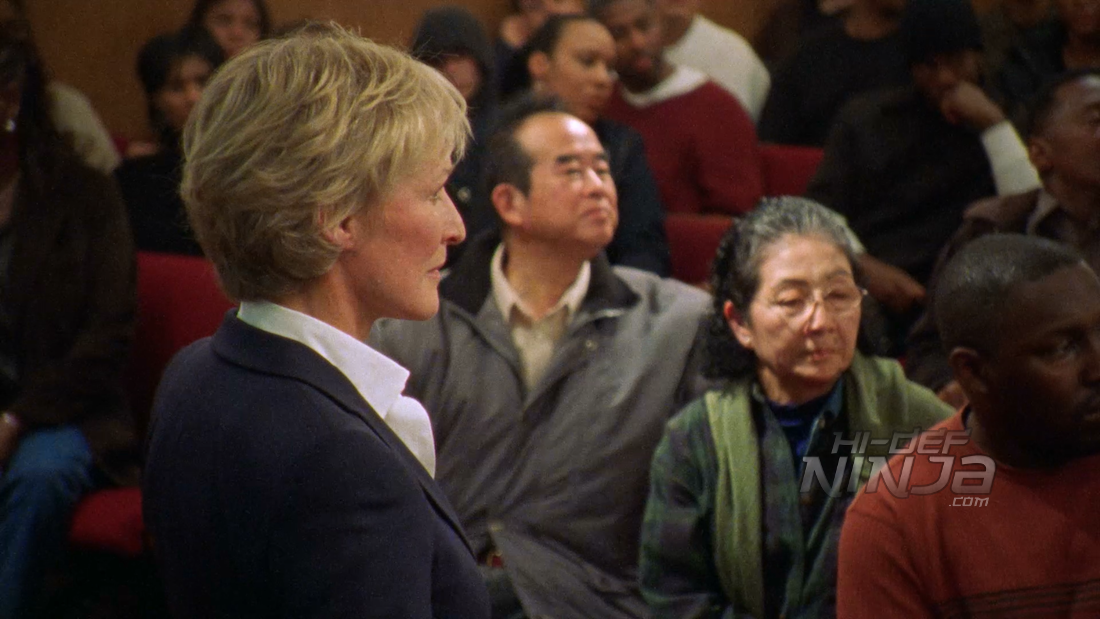 SUPPLEMENTS & PACKAGING
This is one of the best packaging for a TV series release to date. Mackey is on the cover and the main cast is on the magnetic flap. The book-like section inside houses the 18-disc set with a raised, gold badge on the front that lines up with the cut out to the outside. The design of the badge is the same as what you see in the credits to open the show. Each page gives the disc information along with the episode's number and titles.
Disc 1
Cast and Crew Commentary on Every Episode
Deleted Scenes
Episode 1 Epilogue
Disc 2
Cast and Crew Commentary on Every Episode
Deleted Scenes
Episode 1 Epilogue
Disc 3
Select Episode Cast and Crew Commentary
Deleted Scenes
Disc 4
Select Episode Cast and Crew Commentary
Deleted Scenes
Wrap Day
Season 3 Teaser
Disc 5
Select Episode Cast and Crew Commentary
Deleted Scenes
Disc 6
Select Episode Cast and Crew Commentary
Deleted Scenes
Disc 7
Select Episode Cast and Crew Commentary
Breaking Episode #315 Making-of Documentary
Deleted Scenes
Disc 8
Select Episode Cast and Crew Commentary
Deleted Scenes
Disc 9
Select Episode Cast and Crew Commentary
Deleted Scenes
"Under the Skin" Featurette
Disc 10
Cast and Crew Commentary on Every Episode
Deleted Scenes
Disc 11
Cast and Crew Commentary on Every Episode
Deleted Scenes
"Delivering the Baby" Featurette
Wins and Losses – Season 6 Prequel
Disc 12
Select Episode Cast and Crew Commentary
Deleted Scenes
Disc 13
Select Episode Cast and Crew Commentary
Deleted Scenes
Featurettes:
Saturn's Sons
Two Directors
Full Circle: Franka Potente
Disc 14
Cast and Crew Commentary on Every Episode
Deleted Scenes
Disc 15
Cast and Crew Commentary on Every Episode
Deleted Scenes
Disc 16
Cast and Crew Commentary on Every Episode
Deleted Scenes
Nobody Expects to Lose
Nobody Expects to Die: THE SHIELD's Final Season
Last Call: The Final Episode
Disc 17
-Crossing the Line: Go past the yellow tape to experience the inspiration and background of making the series.
Behind THE SHIELD Featurette
THE SHIELD FX Featurette
Rampart Documentary
I.A.D. Featurette
-Framing Farmington: From set design to filming to post-production, learn the steps of creating the world of the Strike Team.
Raising the Barn
Making a Scene
The Editing Room
Sound Surgery
A Place We Called Home
-Strike Team Only!: Watch auditions and interviews with the cast and crew as they pushed boundaries with each season.
Cast Auditions
Director's Roundtable
Panel Discussion with Michael Chiklis, Forest Whitaker, and Shawn Ryan
-Scott Brazil Tribute: The patriarch of THE SHIELD, Scott Brazil was one of the first producers to join Shawn Ryan and part of the series' DNA until his death in 2006 from Lou Gehrig's Disease.
Disc 18
-2018 Cast Reunion with Shawn Ryan: Join creator Shawn Ryan, for a "family meeting" 10 years after the series finale. Featuring Michael Chiklis, Catherine Dent, Paula Garces, Walton Goggins, Kenny Johnson, Jay Karnes, David Marciano, Benito Martinez, Cathy Cahlin Ryan, David Rees Snell, and CCH Pounder.
-ATX Television Festival: THE SHIELD Writer's Room Panel: Featuring Shawn Ryan, Kurt Sutter, Glen Mazzara, Scott Rosenbaum, and Chris H. Eglee. Moderated by Lynette Rice.
-Beyond the Badge Retrospective: From pilot script to Emmy and Golden Globe-winning series, THE SHIELD paved a new road in the television industry. Go in-depth with the producers, executive, and TV critics who watched the fierce, unrelenting seven-season run.
Episode List:
Season 1
1. Pilot
2. Our Gang
3. The Spread
4. Dawg Days
5. Blowback
6. Cherrypoppers
7. Pay in Pain
8. Cupid & Psycho
9. Throwaway
10. Dragonchasers
11. Carnivores
12. Two Days of Blood
13. Circles
Season 2
1. The Quick Fix
2. Dead Soldiers
3. Partners
4. Carte Blanche
5. Greenlit
6. Homewrecker
7. Barnstormers
8. Scar Tissue
9. Co-Pilot
10. Coyotes
11. Inferno
12. Breakpoint
13. Dominoes Falling
Season 3
1. Playing Tights
2. Blood and Water
3. Bottom Bitch
4. Steaks and Tips
5. Mum
6. Posse Up
7. Safe
8. Cracking Ice
9. Slipknot
10. What Power is…
11. Strays
12. Riceburner
13. Fire in the Hole
14. All In
15. On Tilt
Season 4
1. The Cure
2. Grave
3. Bang
4. Doghouse
5. Tar Baby
6. Insurgents
7. Hurt
8. Cut Throat
9. String Theory
10. Back in the Hole
11. A Thousand Deaths
12. Judas Priest
13. Ain't That a Shame
Season 5
1. Extraction
2. Enemy of Good
3. Jailbait
4. Tapa Boca
5. Trophy
6. Rap Payback
7. Man Inside
8. Kavanaugh
9. Smoked
10. Of Mice and Lem
11. Postpartum
Season 6
1. On the Jones
2. Baptism by Fire
3. Back to One
4. The New Guy
5. Haunts
6. Chasing Ghosts
7. Excited
8. The Math of the Wrath
9. Recoil
10. Spanish Practices
Season 7
1. Coefficient of Drag
2. Snitch
3. Money Shot
4. Genocide
5. Game Face
6. Animal Control
7. Bitches Brew
8. Parricide
9. Moving Day
10. Party line
11. Petty Cash
12. Possible Kill Screen
13. Family Meeting
Disc Details
18-disc set
Edition Ratings
Rated TV-MA
Region Coding
Region A
Video Resolution
1080p AVC MPEG-4
Aspect Ratio: 1.78:1
Audio Mixes
English DTS-HD Master Audio 5.1
Subtitles
English SDH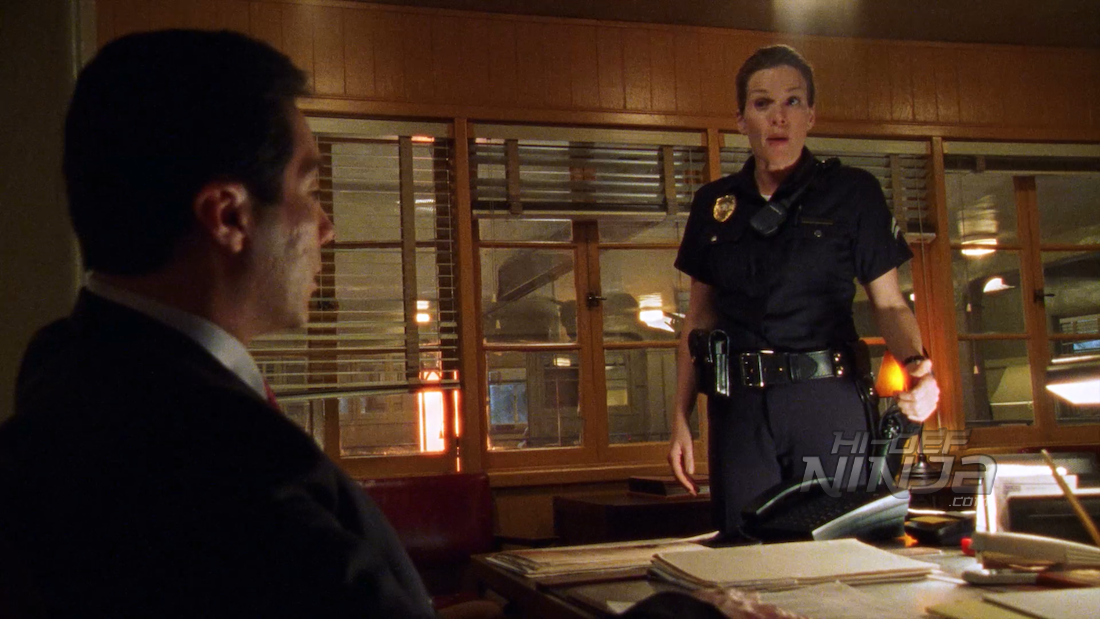 THE BOTTOM LINE:
THE SHIELD is a series that is a poetic journey for Vic Mackey. Of course, it follows the other officers in the department but Mackey is the focus. As for the release itself, this is hands down the best offering of the series so far with the cleaned up picture and excellent sound. The extras included on each disc are really great but the 2 discs with all of the newer supplements are awesome. The cast reunion alone is something that every fan will want to watch. I highly recommend this definitive set to any fan or anyone interested in the series.