The Hate U Give is a young adult novel by Angie Thomas. It follows events in the life of a 16-year-old black girl, Starr Carter, who is drawn to activism after she witnesses the police shooting of a childhood friend.
Purchase The Hate You Give on Ultra HD Blu-ray Today!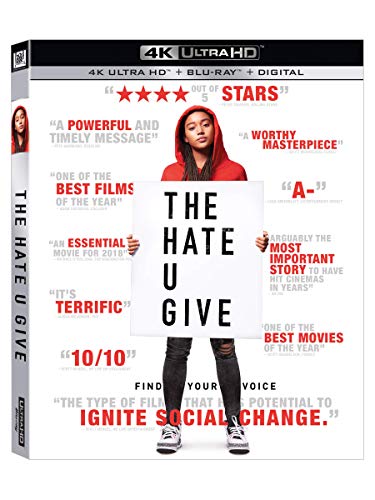 THE MOVIE:

THE HATE YOU GIVE is a hard hitting, touching, yet politically relevant and poignant film! An absolute much watch for those in America to see life through a different lense to help better understand the hardships of ethnicity in the United States. As much as one may presume it's exaggerated for Hollywood, it's just as much reality and can't be dismissed. While films like Black Klansman is being nominated for Oscars, THE HATE YOU GIVE is another film much deserving of that same spotlight.
THE HATE YOU GIVE shows the struggles and hardships that not only minorities face, but also the police officers in our Communities. It's a worthy watch and likely eye opening experience for many.
Amandla Stenberg's performance is Oscar worthy!
VIDEO QUALITY:

Fox has once again given this title it's HD Premium label. One would think that would need Atmos and Dolby Vision, but once again this proves otherwise. Available is HDR and admittedly its a clean and wonderful 4K Transfer with nothing to complain about, but I was a bit surprised this got the Premium label. Never the less the film looks great in both blu-ray and Ultra HD Blu-ray.
AUDIO QUALITY:

THE HATE YOU GIVE comes to Ultra HD Blu-ray with a DTS HD Master Audio 7.1 Audio Track. The film has everything that is needed to impress in an audio track given that it has fires, gun shots, riots, yelling, great music, and more! Even the menu has a sensational title track that you just cant help but have the feels.
SUPPLEMENTS:

The Hate You Give comes to UHD and Blu-ray with the following Special Features.
Starting a Conversation
The Talk
Code Switching
The Heart of Georgia
Thank U Georgia
Starr: Shine Your Light (4K Ultra HD™ and Blu-ray™ only)
Audio Commentary by George Tillman, Jr., Amandla Stenberg, Russell Hornsby, Angie Thomas and Craig Hayes
Fox 2000 optioned The Hate U Give for a film adaption in March 2016, shortly after the book's auction. George Tillman Jr. and Amandla Stenberg were immediately attached to the project (to direct and act, respectively). The movie also features Issa Rae, Regina Hall, Russell Hornsby, Algee Smith, KJ Apa, Lamar Johnson, Common, and Sabrina Carpenter based on a screenplay by Audrey Wells who died one day before it was released- wikipedia