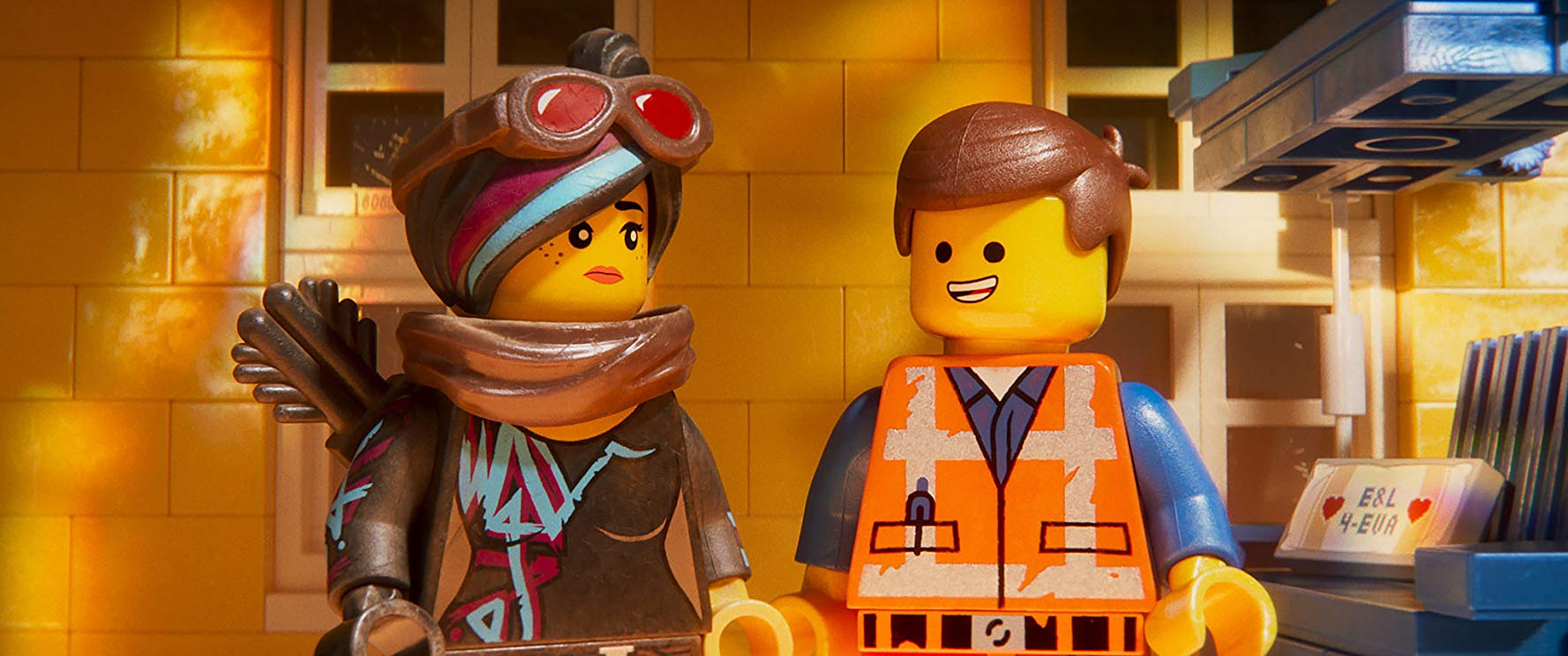 Everything is definitely not awesome in the follow-up..and that's OK with me.
By Matt Cummings
It appears that no film genre today – not even animated movies – can shake off the political and social division that's now part and parcel of our daily lives. THE LEGO MOVIE 2: THE SECOND PART tackles that head-on in a follow-up that is still very funny, aimed mostly at adults, but lacks the inventive genius of the first.
THE MOVIE
Set five years after the events of the original, Emmet (Chris Pratt) and bestie Lucy (Elizabeth Banks) live in what uses to be Bricksburg, which was leveled by alien invaders from the "Systar System."  Systar's General Mayhem (Stephanie Beatriz) returns to kidnap Benny the astronaut (Charlie Day), Unikitty (Alison Brie) and Batman (Will Arnett) and are brought to their ruler, a collection of morphing blocks called Queen Watevra Wa'Nabi (Tiffany Haddish). Meanwhile, Emmett worries that this event will trigger "ourmomigeddon," ending the LEGO universe as he knows it, and thusly sets out to rescue his friends.
The references to "mom" and "Systar" make for zero surprises here, but the film does its best to hide that potential resolution by toying with a pseudo-INFINITY WAR ending.  Still, the shock of the original's reveal – that Emmett was living in a LEGO city built by a human – really moved that film to a new level; this one tries that apocalyptic tease, but doesn't achieve the same stunning effect. Some of the failure here could have something to do with the change of the creative team. The first film's writers and directors, Phil Lord and Chris Miller, returned to co-write and produce SECOND, but gave the sequel's directing duties to a collection of others, including LEGO BATMAN MOVIE helmer Chris McKay and Mike Mitchell. Something was lost in the transfer, whether it was the spirit of the original, the risk-taking that its ending actually played out, or the quick-witted references that are somewhat diluted here.
Not only does SECOND miss Lord and Miller's unique directing style, it's clear that some of the bite from the original is also missing. This one seems most closely marketed to adults and late teens, although there are more songs in this one. As a result, many of the children in our test audience sat quietly while the adults (myself included) uttered the vast majority of the guffaws, snorts, and outright bursts of laughter. But while many jokes do hit and the creative team keeps chipping away at us, the darkness of the original palette creeps in especially with that INFINITY WAR reference. And that's where the movie could have taken another bold turn but chooses otherwise, and it's understandable. Without spoiling it, consider the "ourmomigeddon" reference and you'll better understand what SECOND threatens – and then refuses – to do. Such an ending would have been catastrophic for younger audiences, but it's the corner that SECOND paints itself into, setting the film up to falter later on. Even the insanely catchy "Everything is Awesome!" song is rewoked to suggest that things are in fact not awesome, but that it's OK. That message will either serve as a seminal Mister Rogers moment or will torpedo a series that many have to come rely upon for its quirky but otherwise positive nature.
I'm not sure how much more that Warner Bros. can mine from the LEGO Cinematic Universe, but THE LEGO MOVIE 2: THE SECOND PART tries its best to win us over. It's hilariously funny, features incredibly technical sets, and even breaks the fourth wall with Emmett's new friend Rex Dangervest (also voiced by Pratt) and an end credits theme by Lonely Island that should encourage you to stay. But it's also missing the spark that took LEGO MOVIE to new heights, something you won't realize until after those funny end credits are done rolling. It will make serious bank in the process, but the overall future of this franchise appears – like its premise – to be at a self-inflicted crossroads.
GLASS is rated PG for rude humor and has runtime of 106 minutes.