No need to land the plane when Tarzan flies to India. Just fly over an inland lake and the loin-clothed hero will leap into its blue depths! Jock Mahoney, who two years earlier portrayed Tarzan's foe in Tarzan the Magnificent, makes his splashy debut as Tarzan in this tale about the Ape-Man's rescue of elephants who will be doomed when a newly built dam unleashes its waters. John Guillermin (Tarzan's Greatest Adventure, The Towering Inferno) directs, combining colorful subcontinent locales with battles large and thunderous (massive bull elephants), small and fierce (cobra versus mongoose), cunning and treacherous (Tarzan against human foes). No matter where the jungle, there is but one jungle lord!
Purchase TARZAN GOES TO INDIA On Blu-ray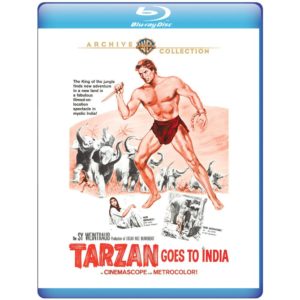 Check Out TARZAN GOES TO INDIA On Blu-ray Here Directly At Warner Archives
VIDEO QUALITY / AUDIO QUALITY:
The 87 minute feature Tarzan Goes to India looks superb on blu-ray. Presented in 16×9 2.4.1 the film that is over 50 years old still looks incredible in 1080p. The audio track is pretty par for the course with most Warner Archive releases of these old gems in that of a 2.0 DTS HD Master Audio Track Mono. Subtitles include SDH and the film is region free.