"No stranger from Africa can turn the course of our destiny." But never underestimate a stranger named Tarzan (Jock Mahoney). Over miles and obstacles, he will lead a young heir to Thailand's spiritual throne to his ordination and undo warlord Khan's (Woody Strode) plot to secure the title for his son. First however, the Ape-Man must prove to the heir that he is Tarzan by passing tests of skill, strength and wisdom. Ahead lies a still greater challenge: Tarzan vs. Khan in a bungee-jumping, sword-clanging, flame-dancing death duel! This second and last of Mahoney's Tarzans (filmed to colorful effect in Thailand) was not without real-life challenges: Illness caused Mahoney to lose 40 pounds from his taut, athletic frame.
Purchase TARZAN'S THREE CHALLENGES On Blu-ray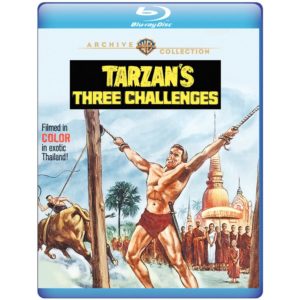 Check Out TARZAN'S THREE CHALLENGES On Blu-ray Here Directly At Warner Archives
VIDEO QUALITY / AUDIO QUALITY:
Tarzan's Three Challenges comes to blu-ray from Warner Archive with a manufactured on demand disc that is presented in 16×9 2.35:1. The audio track is that of a DTS HD Master Audio 2.0 English Mono Track. Subtitles included are SDH. Tarzan's Three Challenges clocks in at 100 minutes and was released a year later then Tarzan Goes to India. It was filmed in color in Thailand and is quite remarkable to hear of Jock Mahoney losing 40 pounds due to an illness and likely perhaps some thought or reasoning for it being his last Tarzan film.
A fun flick of yester years that deserved some new shine today, and I'm very happy to recommend this to those who seek out such films.