The Movie

Video Quality

Audio Quality

Supplements
Overlord is a 2018 American war horror film directed by Julius Avery and written by Billy Ray and Mark L. Smith. It stars Jovan Adepo, Wyatt Russell, Mathilde Ollivier, John Magaro, Gianny Taufer, Pilou Asbæk, and Bokeem Woodbine. The film was produced by J. J. Abrams, through his Bad Robot Productions banner, and Lindsey Weber. The plot follows several American soldiers who are dropped behind enemy lines the day before D-Day and discover secret Nazi experiments.
Purchase OVERLORD on Ultra HD Blu-ray Today!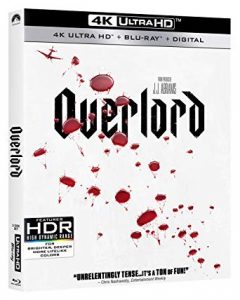 THE MOVIE:

Set on the eve of D-Day a group of paratroopers must drop in behind enemy lines with a mission to destroy a radio transmitter. Not only does that landing go horribly wrong, little to their surprise there is much more going on in this village that demands their attention. This war film with a mash of horror elements was critically acclaimed and had enough success that a sequel or prequel seems likely. Upon discovering a secret lab, and witnessing nazi experiements it isn't long that a sequence of events take place that forces their hands to inject one of their own.
It's about this time the entire film goes bonkers, but the insanity that ensues while bat shit crazy, is also very entertaining. A fresh take on the experiments taking place during World War II even if its obviously exaggerated. Check your film snob pass at the door, bust out the popcorn, and have fun.
VIDEO QUALITY:

A film that has an extremely dark tone with many night scenes in Germany is one that is ripe for Ultra HD and HDR to bring in 10x the black levels and DV that brings up to 40x brighter colors. Super rich darks look lavish on this UHD and any grit seems intentional to the style of the film. CGI and practical make up sfx looks amazing. I have no complaints in the video quality department.
AUDIO QUALITY:

Excelling strongly is the Dolby Atmos track of Overlord that captures all the great sound effects this film has to deliver. Great audio tracks and war films are most normally a match made in heaven. Which is quite the anomaly. War/Heaven. Never the less this film has plenty of scenes which allow for the audio to impress. Explosions, MP40's, all sorts of weaponry from the WWII theater and mad crazy Nazi super soldiers.
SUPPLEMENTS:

The Following is the special features included on the 4K ULTRA HD COMBO, BLU-RAY COMBO & DIGITAL:
The Horrors of War
-Creation
-Death Above
-Death Below
-Death No More
-Brothers in Arms
Overlord was released in the United States on November 9, 2018, by Paramount Pictures. The film received positive reviews from critics and grossed over $41 million worldwide on a budget of $38 million. – wikipedia