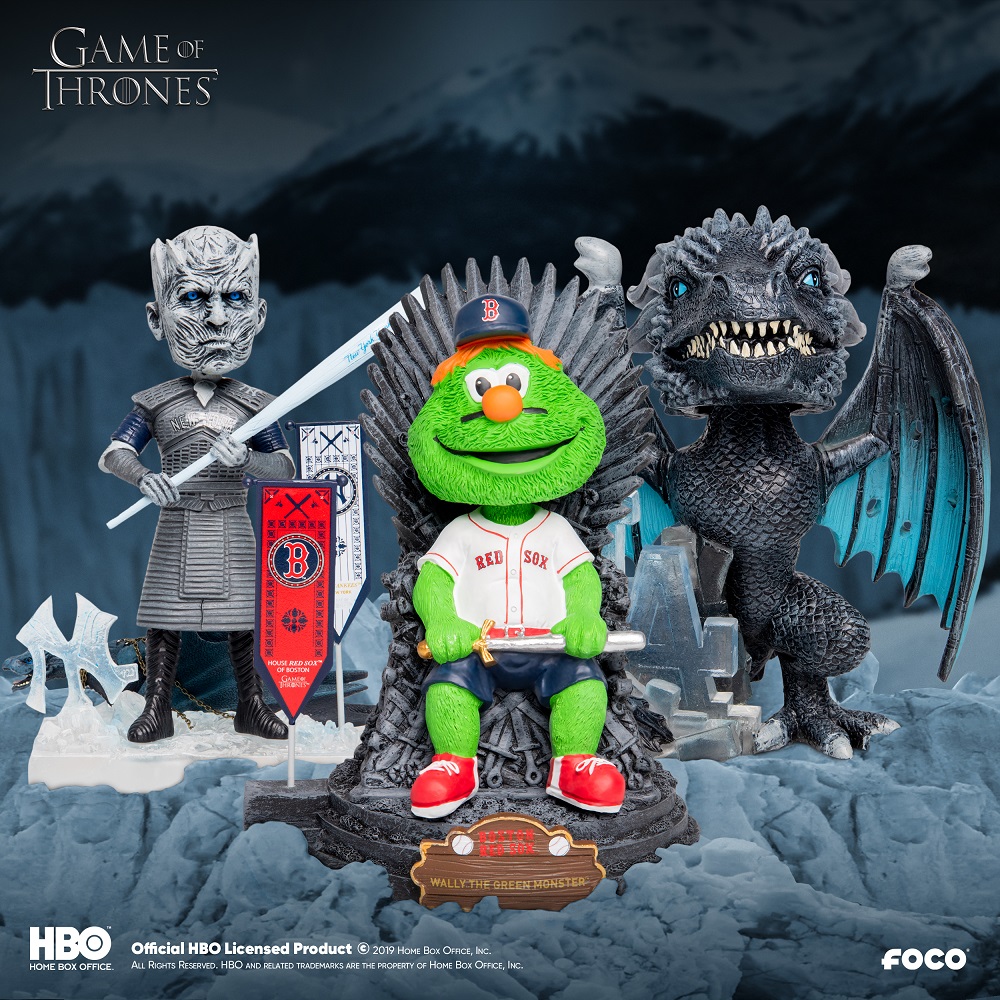 FOCO, a leading manufacturer of sports and entertainment merchandise, announced a collaboration between the HBO®'s original series Game of Thrones® and Major League Baseball.
Featuring three distinct bobblehead styles, The Iron Throne, the Ice Dragon and the Night King, and representing all 30 MLB teams these bobbleheads merge the two worlds with fan favorite MLB players and mascots as well as Game of Thrones characters and settings.
The Iron Throne Bobbleheads depict MLB stars and mascots sitting upon a detailed recreation of the iconic Iron Throne. Each player or mascot holds a sword and sits beside a banner featuring Game of Thrones imagery and MLB team logos.
Also included in Series 1 is a bobblehead version of the infamous Viserion who made its debut in the final episode of Season 7. The figurine is highly detailed and features a replica ice dragon, posing beside a translucent, ice-textured MLB team logo.
The final bobblehead being offered in Series 1 is the Night King Bobblehead, featuring the ominous villain wearing team-themed armor and holding a baseball bat made of ice with a team wordmark displayed on it. The base features a miniature ice dragon modeled after the famous last scene from season seven.  The Night King stands beside a banner that features Game of Thrones imagery and MLB team logo.
Each bobblehead is hand painted, measure approximately six to eight inches tall and limited out of 2,019 pieces; making these perfect additions to any collection at home, or any desk at work or school.
The Game of Thrones MLB Bobblehead series will be available at the end of March at select retail partners online and in store.  Fans can pre-order now at FOCO.com as well as at The National Bobblehead Hall of Fame and Museum for $45 – $60 each plus S&H.
The Game of Thrones MLB Bobbleheads are just a few of the many collectable bobbles available at FOCO. Feel free to check out their larger line of superstars, mascots, memorable plays and iconic moments throughout the world of sports and entertainment at FOCO.com.