Corruption. Extortion. Sometimes, even assassination. For the tradition-bound mob bosses of Manhattan's Chinatown, there are age-old ways of running things. And now there's police captain Stanley White's way.
Purchase YEAR OF THE DRAGON On Blu-ray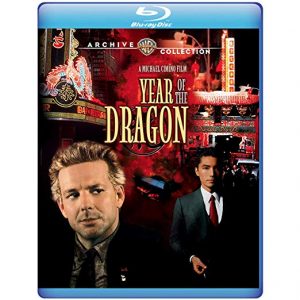 Check Out YEAR OF THE DRAGON On Blu-ray Here Directly At Warner Archives
YEAR OF THE DRAGON comes to blu-ray from Warner Archive on a manufactured on demand blu-ray disc in 1080p with a DTS HD Master Audio 5.1 surround track. YEAR OF THE DRAGON is a film from Mickey Rourke's early days and a little hidden gem for those who have a great appreciation of film. On this blu-ray disc the film has never looked or sounded better. It's no telling how long they will allow this to be produced so if your interested in this title you'd likely want to order it this year.
YEAR OF THE DRAGON also comes with a commentary track with Director Michael Cimino, and the original theatrical trailer.
Mickey Rourke portrays White, a war veteran who has a Vietnam-sized chip on his shoulder when dealing with an emerging blood feud in Chinatown. John Lone plays the crime lord standing in the line of fire of White's relentless campaign. And Academy Award®-winning* director Michael Cimino (The Deer Hunter, Thunderbolt and Lightfoot), working from a screenplay based on the novel by Robert Daley (Prince of the City) and coscripted by Oliver Stone, fills the screen with adrenaline rushes of action and excitement.