Ben Stiller and Owen Wilson bring a playful chemistry to the roles of undercover detectives Starsky and Hutch. Todd Phillips (The Hangover trilogy) directs this '70s groove in which our guys are stripped of their badges, duped by a drug kingpin (Vince Vaughn) and totally ripped off in a disco contest. So, yeah, they've got some scores to settle. Snoop Dogg is in fly funkadelic mode as urban coolster Huggy Bear. And Juliette Lewis and others make for nonstop fun. If inducing laughter is a crime, they're all guilty as charged!
Purchase STARSKY AND HUTCH On Blu-ray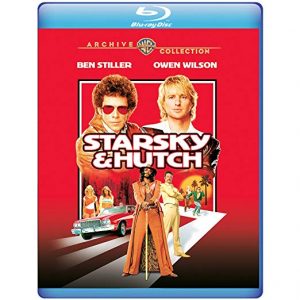 Check Out STARSKY AND HUTCH On Blu-ray Here Directly At Warner Archive
STARSKY AND HUTCH comes to blu-ray from Warner Archive on a manufactured on demand blu-ray disc in 1080p with a DTS HD Master Audio 5.1 surround track. STARSKY AND HUTCH is an extremely underrated comedy that I suppose many skip on thinking its just typical cheese. However it's downright hilarious, and the chemistry between Ben Stiller and Owen Wilson is quite obvious. The two kind of had the same coming out party in the hills of Hollywood, but their isn't that many finer dual performances co-starring together then their pairing for STARSKY AND HUTCH. Of course their Zoolander and Meet the Parents outings are up there as well. There are many buddy cop movies, but not as many total pure on buddy cop comedy movies. STARSKY AND HUTCH is definitely up on that list of buddy cop comedies and worth checking out if not owning for your collection.
STARSKY AND HUTCH comes to blu-ray from Warner Archive also with the following special features.
Gag Reel
Deleted Scenes
Fashion Fa Shizzle Wit Huggy Bizzle
Last look of making-a-mocumentary
Commentary by Director/Co-writer Todd Phillips
The picture quality is crisp and clear and does the job while the audio is exceptionally well delivering a punchy and at times immersive track through the 5.1 spec. My fronts and center channel bore most of the load while the sub got plenty of action as well.