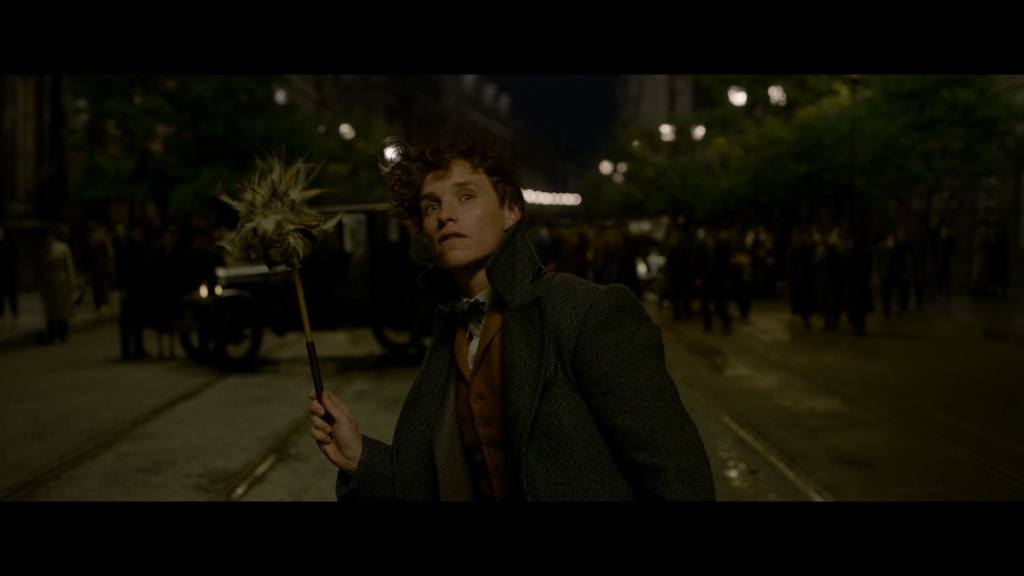 FANTASTIC BEASTS: THE CRIMES OF GRINDELWALD Blu-ray Review
The Movie

The Video

The Audio

The Supplements
In 1927, after the events in New York that led to his capture, Gellert Grindelwald is being transferred from a prison in the USA to London. He is to be tried for his crimes in Europe but even with all of the precautions by both the Magical Congress of the United States of America and The Ministry of Magic, he escapes.
Three months later, Newt Scamander is asked to come into the Ministry by his brother Theseus because Newt has had a traveling ban on since he returned from New York. If he works for the Ministry to find Credence and his obscurial, they will lift the ban but Newt isn't interested unless it's working with magical creatures. He refuses the position and walks out. He gets a moment to speak with Theseus' fiancé Leta Lestrange but its a little awkward because they have an unspoken thing.
After leaving, Newt is summoned by Albus Dumbledore to meet in secret. Albus also asks Newt to search for Credence but he doesn't give him a definitive answer. Newt also gets a surprise visit from Queenie and Jacob. They tell Newt that Queenie's sister Tina is searching for Creedence and Tina believes that Newt is engaged to Leta. It turns out the article she saw was a mistake. Newt has to make it right because he still cares for Tina.
FANTASTIC BEASTS: THE CRIMES OF GRINDELWALD is directed by David Yates. He has been involved in the Harry Potter universe since he directed HARRY POTTER AND THE ORDER OF THE PHOENIX. Because he has vast experience with the Wizarding World, he understands the characters, visuals, and even the politics that are apart of the series. The characters reprising their roles are excellent at it as well. It was good to see more of Johhny Depp as Grindelwald because you really get to know his ruthlessness in this sequel.
Cast
Eddie Redmayne – Newt Scamander
Johnny Depp – Gellert Grindelwald
Katherine Waterston – Tina Goldstein
Dan Fogler – Jacob Kowalski
Alison Sudol – Queenie Goldstein
Ezra Miller – Credence Barebone
Zoë Kravitz – Leta Lestrange
Callum Turner – Theseus Scamander
Claudia Kim – Nagini
William Nadylam – Yusuf Kama
Jude Law – Albus Dumbledore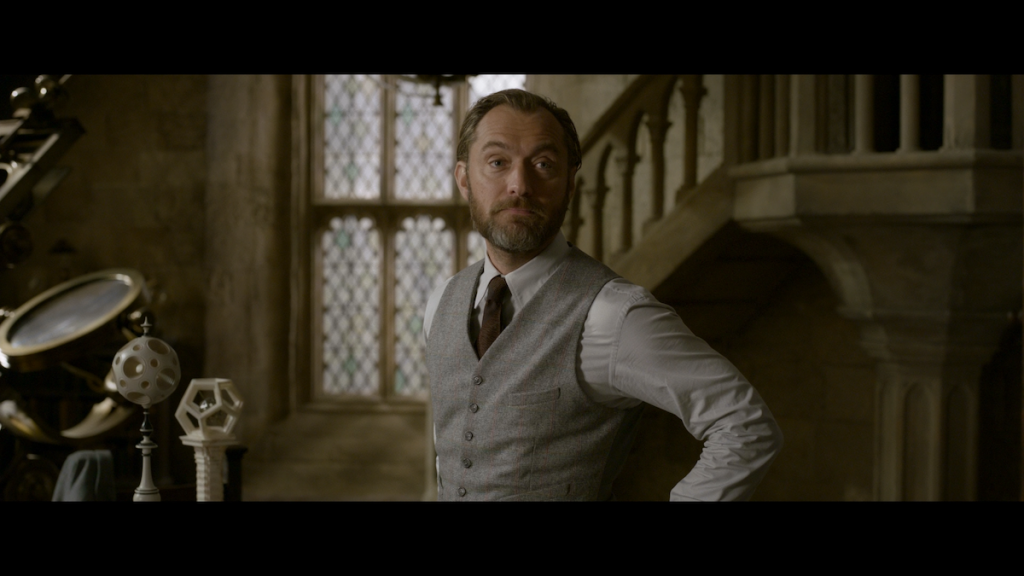 VIDEO QUALITY:
The video is a 1080p AVC presentation that is a beautiful representation and consistency of Yates' vision of The Wizarding World. There seems to be a lot of gloomy imagery and scenes at night. This makes a lot of the clothing drab and the colors muted. There is one particular scene in Paris where Newt and Jacob are following a trail during the day where the colors are considerably brighter. The golds and other colors on the street are some of the brightest in the film. Clothing from the time period with a lot of wool knits have strong textures and this is also seen in the people's faces. A certain old alchemist has some heavy wrinkles and you are able to see every line. Skin tones are actually fairly accurate. Shadows and contrasting are properly dark.
AUDIO QUALITY:
The audio is a Dolby Atmos mix that defaults to a Dolby TrueHD 7.1 mix depending on your equipment. The mix gives the speakers no downtime at all. Not only with the use of magic or the movements from Credence's obscurial but things like rain immerses for a superb experience with the overhead speakers. Some other points where there are things flying also use the overheads well. LFEs are powerful and some of the larger effects from creatures make sure to work the subs. Dialogue has been prioritized well and work well with the effects.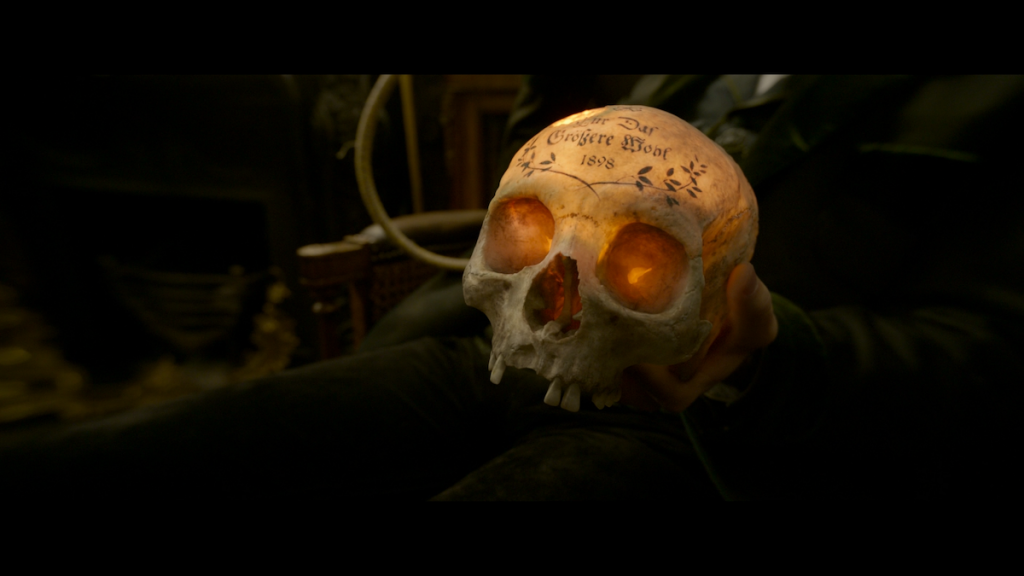 SUPPLEMENTS & PACKAGING
-J.K. Rowling: A World Revealed:
This featurette is with author/producer J.K. Rowling and how she expanded The Wizarding World. Also has some words from director David Yates and producer David Heyman.
-Wizards on Screen, Fans in Real Life:
This nearly 20-minute featurette is with Ezra Miller who plays Credence Barebone and Evanna Lynch who played Luna Lovegood from the HARRY POTTER films as they talk about their love for the universe.
-Distinctly Dumbledore:
This is with director David Yates, producer David Heyman, costume designer Colleen Atwood, and the new Albus Dumbledore Jude Law as they get into taking this character and debate him for this series of films.
-Unlocking Scene Secrets:
This has cast and crew talking about some of the more memorable scenes from the movie.
-Deleted Scenes


Disc Details
2-disc set w/ 1 Blu-ray and 1 DVD
Digital copy
Running Time
Theatrical Cut: 134 mins
Extended Cut: 142 mins
Edition Ratings
Rated PG-13
Region Coding
Region Free
Video Resolution
1080p AVC MPEG-4
Aspect ratio: 2.40:1
Audio Mixes
English Dolby Atmos
English Dolby TrueHD 7.1
Spanish Dolby Digital 5.1
French Dolby Digital 5.1
Subtitles
English SDH
French
Spanish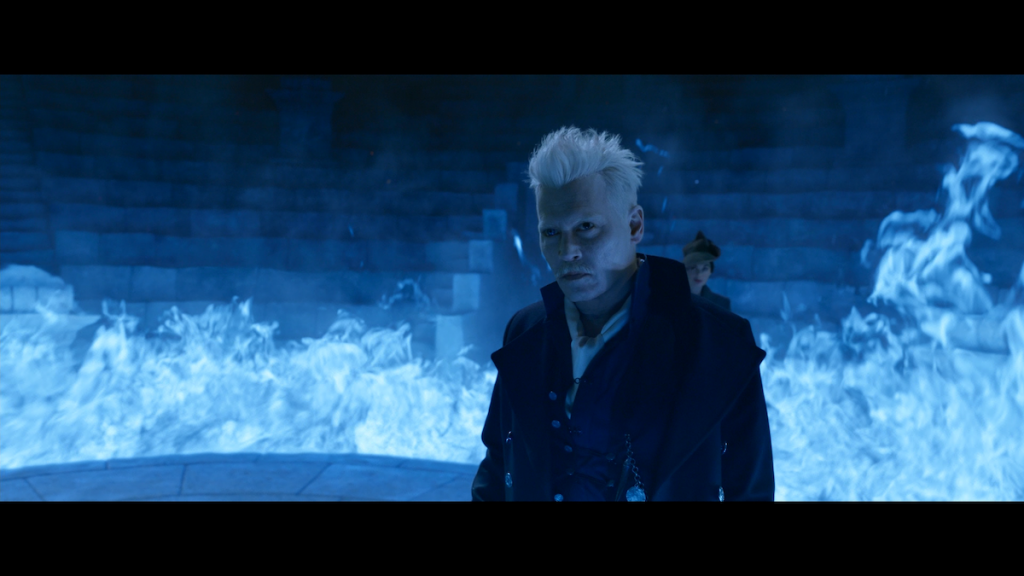 THE BOTTOM LINE:
FANTASTIC BEASTS: THE CRIMES OF GRINDELWALD is a great sequel to follow the story from the first installment. That being said, there are some holes in the plot that I don't find glaring but they are there to make the audience think. The video is near perfect with a consent transfer. The audio is incredibly well done and immersive. The extras are decent but more interviews with the cast is something that I feel like viewers would appreciate. The movie is entertaining and the release is impressive overall. I highly recommend it.