He's the lone survivor of a lost civilization…thrust into ours. A giant storm tosses ashore a being who is both human and a creature from the deep. Mark Harris is the name given to him by the astonished scientists who study and protect their remarkable find. Harris is equally astonished, a fish out of water eager to learn about us.
Purchase MAN FROM ATLANTIS on Blu-ray Today!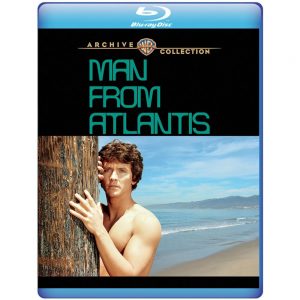 Check Out MAN FROM ATLANTIS On Blu-ray Here Directly At Warner Archive
Video / Audio Quality Details:
MAN FROM ATLANTIS comes to blu-ray in 1080p HD from Warner Archive as part of the Warner Archive Collection on a made to order Blu-ray. The film has an audio track of DTS HD Master Audio 2.0 Mono and SDH. The film is 96 minutes and stars a young Patrick Duffy as the atlantean where later 3 more films were made prior to the TV series to come. The blu-ray looks and sounds great and is recommended for films of this franchise.
Patrick Duffy (a year before beginning his legendary run on Dallas) plays the Atlantean in the origin movie that (along with three more films) preceded the cult classic Man from Atlantis TV series. In this adventure, Harris uses his amazing underwater abilities to save mankind from a madman's (Victor Buono) plot to launch missiles from all the world's nuclear submarines!