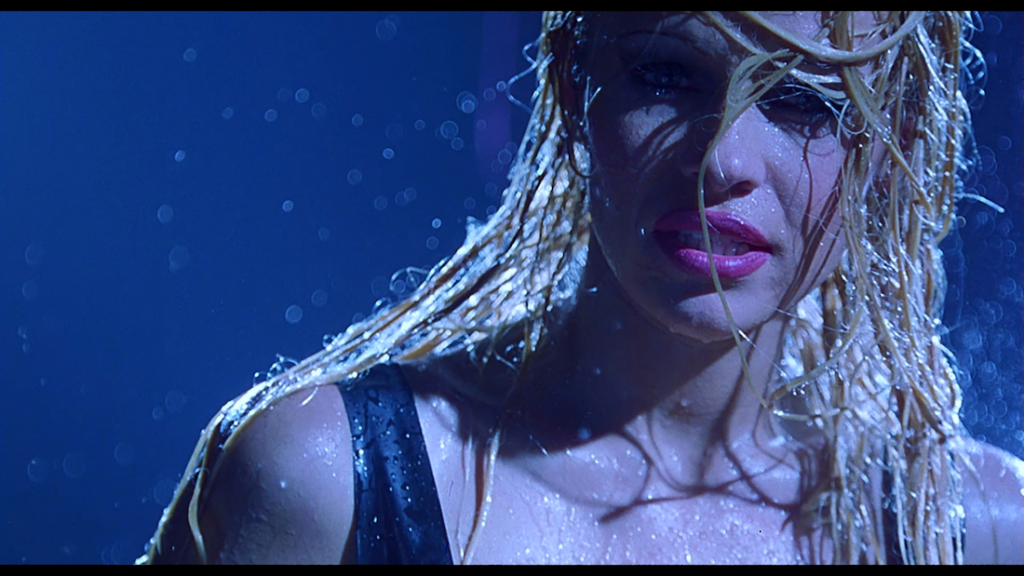 [wp-review id=""] In 2017 during what is called the "Second Civil War", a woman by the name Barb Wire owns the Hammerhead Nightclub and does ok. It is in Steel Harbor, the last free city in the US. She's also a mercenary/bounty hunter to make ends meet and she is no stranger to raids from the police. One read has the police looking for an ex-government scientist Cora D because she has knowledge about a nasty bioweapon made by Colonel Pryzer of the Congressional Directorate. She wants to go public with the info and needs some help.
BARB WIRE is directed by David Hogan and his resumé is loaded with music videos. The movie is based on the Dark Horse Comics title of the same name. This was released when comic book movies were still trying to figure out the audiences and they were swaying towards characters in leather. Movies like Marvel's BLADE went the darker and more serious route but the genre as a whole went campy. This birthed JUDGE DREDD and The Schumacher Batman films so that's where BARB WIRE comes in. Anderson was a BAYWATCH star and couldn't really get away from that stigma so this was her way to branch out. I do wonder if a decade later and before the tsunami of comic book movies, might this have done better with the different climate?
Cast
Pamela Anderson – Barbara "Barb Wire" Kopetski
Temuera Morrison – Axel Hood
Victoria Rowell – Dr. Corrina "Cora D" Devonshire
Jack Noseworthy – Charlie Kopetski
Xander Berkeley – Alexander Willis
Udo Kier – Curly
Steve Railsback – Colonel Pryzer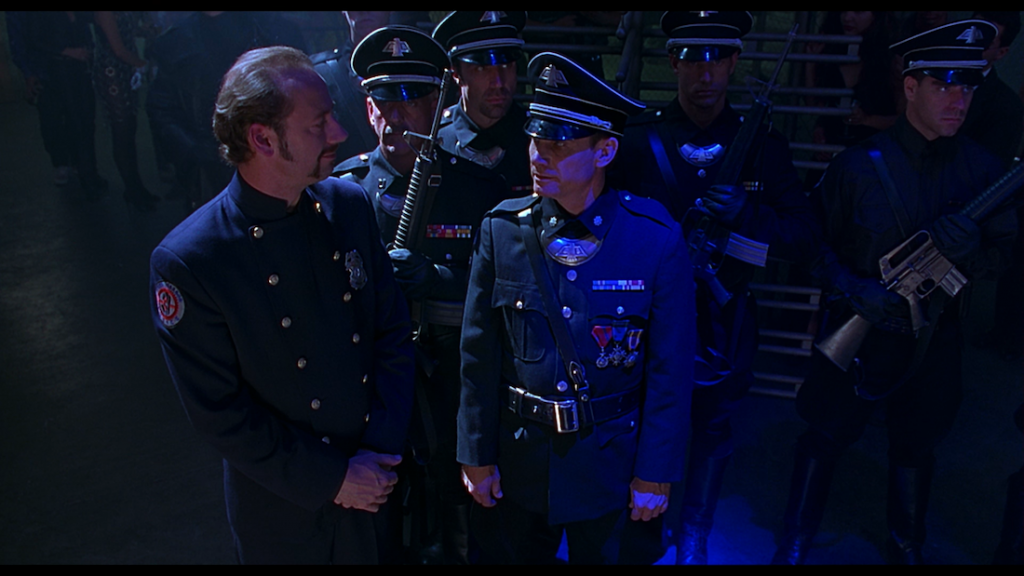 VIDEO QUALITY:
The video is a 1080p AVC that doesn't have the best presentation. The video looks like it was transferred and upscaled from a DVD master. There is a ton of EE on all of the lines with some very small upticks in detail. It somewhat reminds me of the transfer of GLADIATOR in the early days of the format where the images look unnatural. Glancing at the images, you catch some of the blemishes in people's skin but then they seem to lose their sharpness. Some colors look good but they never have that HD look that the format typically offers. There is also a lot of crushing in the blacks and shadows.
AUDIO QUALITY:
The audio is a lossless DTS-HD Master Audio 5.1 mix. There isn't enough depth or precision in the audio given what is happening on screen. Gunfire punches the bass in a big way, There is a lot happening in all of the speakers but it feels erratic and overdone. The voices are clean and prioritized well.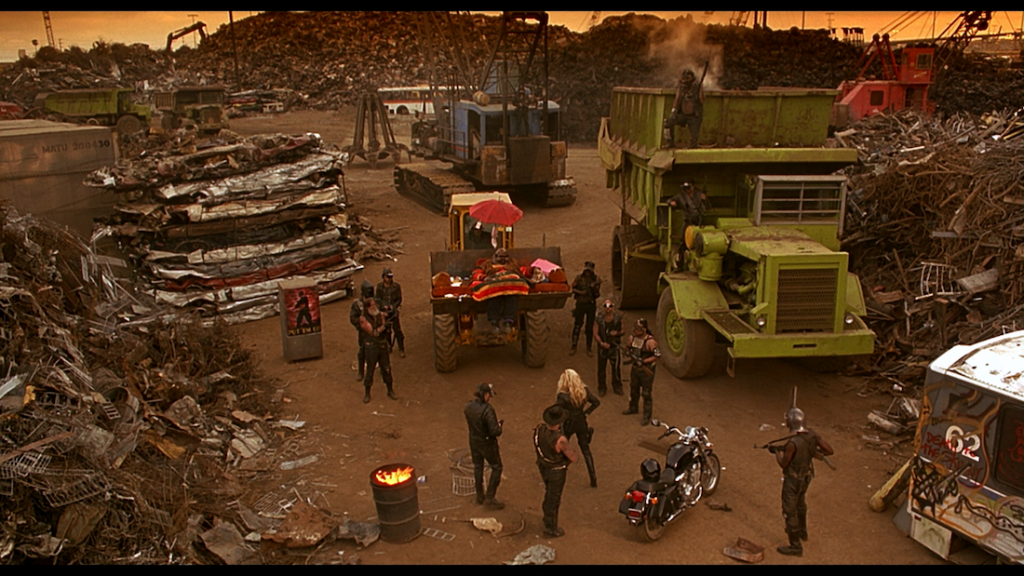 SUPPLEMENTS & PACKAGING
No Extras Included
Disc Details
1 Blu-ray Disc
Running Time
98 mins
Edition Ratings
Rated R
Region Coding
Region A
Video Resolution
1080p AVC MPEG-4
Aspect ratio: 1.85:1
Audio Mixes
English DTS-HD Master Audio 5.1
Subtitles
English SDH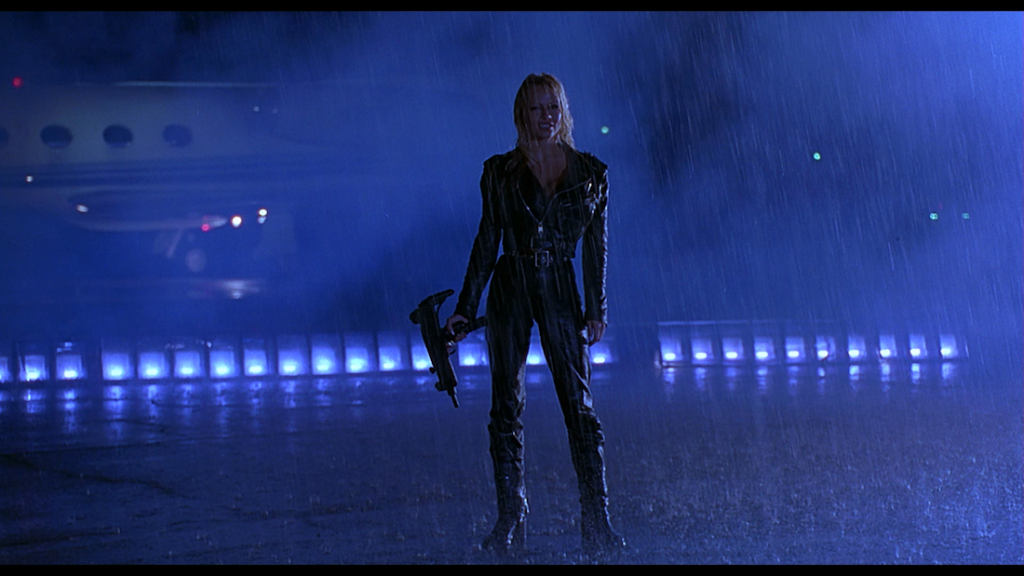 THE BOTTOM LINE:
BARB WIRE is a comic book movie that suits the time period but that doesn't make it good. It has its issues and I'm sure there are some fans of the movie/Anderson who enjoy it. The release has a less than average video transfer and an audio mix that has strength but needs focus. There are no extras included so even if you're a fan, maybe take a look at this before making a purchase.